Cajas Internacionales S.A. de C.V. (CAISA), an El Salvador-based packaging plant financed by Korean
and US investors, has begun operations and now offers complete packaging and shipping solutions to
exporters operating in Central America. PROESA, El Salvadors national promotion and investment
agency, assisted CAISA in establishing the plant and will continue to provide support through its
aftercare program.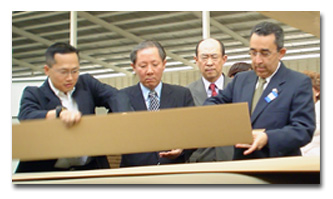 PROESA President Carlos Quintanilla Schmidt (right) inspects CAISA's production with Korean
Ambassador Don Ock-Joo Kim (second from left) and CAISA investors.

"The establishment of CAISA is the result of a lot of hard work by PROESA to attract foreign
investors that strengthen the supplier network for the regions textile and garment manufacturers
and all manufacturers who export from Central America," said Carlos Quintanilla Schmidt, president,
PROESA; and vice president, El Salvador.
CAISA plans to invest approximately $30 million in the region, according to Kevin Ahn,
CAISA's president. The company manufactures packaging materials in El Salvador from raw materials
it imports from the United States and Canada; and offers express delivery services, product
inventory management and packaging solutions to its customers, which include Wal-Mart, Gap and
Target, among others. The plant has the capability to produce 4 million square meters of boxes
monthly, which the company anticipates will be used in business generated through the Central
American Free Trade Agreement.

May 2004