Switzerland-based Rieter Machine Works Ltd. has sold its 500th ComforSpin® machine to China-based
Lu Thai, a vertically integrated company with spinning, weaving and knitting plants, as well as
finishing and garment manufacturing operations. During a ceremony to commemorate installation of
the machine, Rieter representatives Kurt Schneeberger, head, combing/ring-spinning business unit;
Werner Haltner, sales engineer, China; and Jianglin Lei, sales engineer, China, presented a
gold-plated perforated drum and a rock crystal to Lu Thai's management team, comprising Li Tongmin
and Wang Fang Fhui.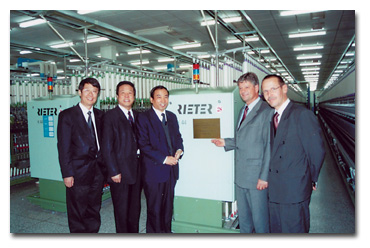 Left to right: Jianglin Lei, Rieter; Li Tongmin and Wang Fang Fhui, Lu Thai; and Werner
Haltner and Kurt Schneeberger, Rieter, commemorated the installation of Rieter's 500th ComforSpin®
machine in a formal ceremony.
In other company news, Rieter recently expanded its sales and service network in China with
the opening of a new office in Jinan, Shandong Province.
April 2004