Leveraging the yarn-forward rules of the Caribbean Basin Trade Partnership Act, Washington,
N.C.-based National Spinning Co. has opened a new sweater manufacturing operation in the Miramar
Free Zone in El Salvador. Fuenta de Ropa de las Americas (FRASA) will utilize a new installation of
H.Stoll GmbH & Co. flat-bed knitting machines and Jumberca circular knitting machines to
provide sweater packages to a variety of customers in the United States. James W. Chesnutt,
National Spinning president and CEO, stated the objectives of the new company are to provide a knit
product at the quality, price and timeliness demanded by the company's sweater jobber and ladies
apparel customers.
"We began this process by meeting with 14 sweater jobber clients and four ladies apparel
suppliers," he said. They had a growing dissatisfaction with imported garments and were seeking
alternate supply. This operation will allow us to not only use our acrylic yarn spun and dyed in
the United States, but also will enable us to source other US yarn, including cotton yarns."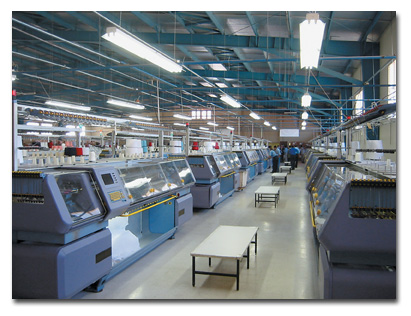 H. Stoll flat-bed knitting machines have been installed at National Spinning's new sweater
facility in El Salvador.

Photograph courtesy of Mike Todaro, American Apparel Producers Network

Regarding the new operation, Chesnutt spoke highly of Bill Wilson, vice president, apparel
marketing and sales, FRASA. Wilson brings his past experience in El Salvador, as well as in
logistics, quality and production management to FRASA.
"I can't say enough about the folks at PROESA [El Salvadors investment promotion agency] as
well. Patricia Figueroa [executive director] and her team really helped with the decision to locate
in El Salvador," Chesnutt said. We are talking about making 300,000 to 500,000 sweaters out of US
yarn that previously were made in China. That is good for the United States and good for the
hemisphere."
The apparel division operates under Matt Rauschenbach, president, who brings 20 years of
experience to the position. He is based out of National Spinning's headquarters. Stuart Mays,
formerly with Beldoch Industries, manages the El Salvador facility.

April 2004