.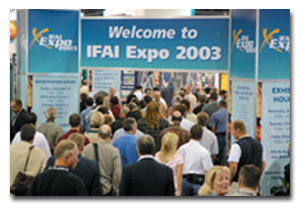 Las Vegas proved to be a good venue for IFAI Expo 2003, held recently at the Las Vegas
Convention Center. The annual industrial fabrics trade show, sponsored by the Industrial Fabrics
Association International (IFAI), Roseville, Minn., attracted 7,425 attendees and exhibitors, the
second-largest number of participants in the shows history. The IFAI Expo 1999, held in San Diego,
holds the record with 7,542 participants. Last years show in Charlotte attracted 7,356.Participants
traveled to Las Vegas from a record 55 countries. The show had 480 exhibitors including more than
90 companies that exhibited for the first time.We are getting more international exhibitors, said
IFAI President Steve Warner. They are showing more specialized-type products. A lot of companies
will walk the show one year and then decide to exhibit the next.As a whole, exhibitors were pleased
with both the quantity and the quality of visitors. They also were optimistic about business
conditions.Kevin Crean, vice president, Avondale Mills Inc., Specialty Fabrics Division,
Graniteville, S.C., reported good traffic at the expo. We have a lot of customers here, and we had
some good meetings with them including some new customers on the job-finishing side, he said.We are
committed to this show, said Marty Colwell, sales manager, American Dornier, Charlotte. Its a good
show for us because we have so many customers present.Glen Raven Moves IndoorsAt last years show in
Charlotte, Glen Raven drew big crowds with its Sunbrella® Graphics System. The system is used to
apply graphics to Sunbrella awning fabrics using 3M Scotchcal ElectroCut Graphic films.Weve had
good acceptance, and people are doing some fantastic work with it, said Harry Goble, marketing
director for Glen Raven Custom Fabrics LLC, Glen Raven, N.C. Its still growing. We are trying to
get the word out to the commercial sector. We will be doing a bit more advertising and promotion
there, now that we have a manufacturing base established. It has been very well received.This time
around, Glen Raven showed more of the jacquard and decorative fabric side of its business. The
company is taking its well-known Sunbrella brand inside for performance interior fabrics.Whether
its [for the] sunroom or any room of the house, [Sunbrella] has the soft hand, cleanability and
fade resistance that is pretty much unmatched in residential fabrics, Goble said. Our biggest
challenge right now is to get it to furniture manufacturers and to the public in general.When asked
about business conditions and industry trends, Goble pointed to strong sales in the western United
States, a strong recreational vehicle industry and a recovery in boat sales as positive indicators.
Tight inventories and shorter lead times have made it tougher to gauge this market.People are
holding much tighter inventories, he said. Everyone is playing things very close to the vest.
Between the economy, the war and the weather in the Eastern half of the country, 2003 has been a
little less than stellar. But we have seen gradual improvement late-season, which is a little odd
in the awning and marine business. I think people had to deal with a backlog.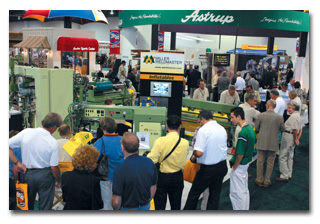 IFAI Expo 2003 featured 480 exhibitors, more than 90 of which were first-time
participants.Avondale Mills Sees GrowthThe subject of inventories came up again and again at the
show. Clearly, good inventory management is becoming a critical skill in the industrial fabrics
business.Our business is very strong, Crean said. There doesnt seem to be any planning ahead on
purchasing. Everybody today wants it immediately. Customers dont seem to know when their customers
are going to order. So you have to be prepared and watch your inventories. Its all about inventory
keeping it as low as possible, yet running the business.Avondales solvent-coating capability has
been a major contributor to the Specialty Fabrics Divisions success.Our largest area of growth in
our fiscal year ended August 29 was with our job-finishing business, and we expect to see that
growth continuing as we move forward, Crean said. The growth is driven by our ability to do solvent
coating with such chemistries as urethane and vinyl.SI Expects Carpet ComebackWe are continuing to
see softness in sales, said Kemp Harr, vice president of marketing for Furnishings and Flooring, SI
Corp., Chattanooga, Tenn. We are optimistic, however, that business in 2004 could come back to the
level we saw in 2000.SI Corp. is involved in four core businesses carpet backing, fiber-reinforced
concrete, geotextiles and high-performance materials. Half of the companys business is
manufacturing carpet foundations including primary and secondary backings.The residential side has
been fairly robust because of the builder segment, Harr said. But almost 75 percent of residential
carpet purchases are replacement. People can voluntarily extend the time that they live on that old
carpet waiting for better economic times. Its a deferrable purchase. Next year, we hope to see more
in that segment. The life of residential carpet is averaging 10 to 12 years, so we feel like there
is some pent-up demand. We are looking forward to a turnaround in that area.The company has gone to
cellular manufacturing in its plants. For example, its 2.5-million-square-foot plant in
Chickamauga, Ga., used to operate as one plant. Now it is considered to be seven different plants
under one roof.SI Corp. also is working aggressively to reduce costs and improve quality through
programs such as Six Sigma. At the same time, the company still is making significant investments
in research and development of innovative products that will provide future growth, according to
Harr.Gore Introduces GORE TENARA® Architectural FabricW.L. GoreandAssociates Inc., Elkton, Md.,
showed its GORE TENARA® Architectural Fabrics for the first time in the United States. Introduced
at Techtextil in Germany earlier this year, the fabric was specially developed for textile
architectural structures and features a unique blend of aesthetics, flexibility and durability. The
chemically inert fabric not only is insensitive to ultraviolet light, flex-resistant and
waterproof; but also has a light transmission ratio of up to 40 percent, adding an extra dimension
to textile architectural structures
(See Quality Fabric Of The Month, TW, November 2003).brM Offers Creative SolutionsBally
Ribbon Mills (brM), Bally, Pa., showed its extensive product line of engineered, woven, narrow
fabrics; specialty broadcloth; and woven structures for medical, industrial, aerospace and
commercial applications.The company had on display samples of woven tubular vascular stents,
bifurcates, tapered weaves and arteries that are used to replace damaged blood vessels. brM also
exhibited blood filtration membrane and carbon fiber structures for orthopedic and prosthetic
applications. In addition, brM showed circular (polar) weaves, woven 2-D and 3-D shapes, and
fabrics used for parachutes and airframe components.Having a wide variety of sample products on
hand at the companys booth stimulates discussion with potential new customers, according to Louis
Franconi, new business development manager, brM.The only way to drive people to get more creative
is to give them an example, a hint about whats going on, and then let them use their internal
creativity to present you with the application, said Franconi. And then you work together with them
to create a solution.Atlas Acquires SDLThe big story at the Atlas booth was the companys
acquisition of SDL International Ltd. an England-based testing instrument supplier earlier this
year.The merger provides textile manufacturers with a single source for many kinds of
instrumentation. The newly created SDL Atlas LLC headed by Charles S. Lane includes SDL, Atlas
Textile Test Products, Raitech and Textile Innovators. The restructuring strengthens Atlas focus on
textile testing instruments, and its core weathering test instruments and services.Atlas also
recently entered into an exclusive partnership with Weiss Umwelttechnik GmbH, Germany. Under this
agreement, Atlas is Weiss Techniks exclusive partner for the marketing and production of standard
climatic test chambers in the United States and Canada.American DornierSeveral industrial fabric
markets are strong right now, including filtration, airbag and outdoor furniture, according to
American Dorniers Colwell. Furniture is up and down, with an upward trend seen at the upholstery
mills.We are getting a lot more requests for quotations, so thats a positive sign, Colwell
said.American Dornier continues to add personnel at its Charlotte office, and also has begun
servicing Mexico and Central America from there.Picanol Focuses On Technical FabricsWe are pushing
hard in [the technical fabric] direction, said Cyril Guerin, sales manager, Picanol. This is where
the textile industry in North America is going to survive.One example of Picanols increased
emphasis in this area is the GamMax rapier weaving machine, based on the earlier Gamma model.
According to the company, it can weave a wider range of yarns at higher speeds using less energy.
The machine also has a wider reed, which allows it to participate in specialty markets such as
upholstery. A version to weave fiberglass has been developed. The company also has been successful
with a tire cord loom based on its OMNIplus air-jet machine.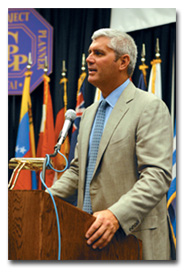 IFAI Expo 2003 keynote speaker US Navy Captain D. Michael AbrashoffEducational Opportunities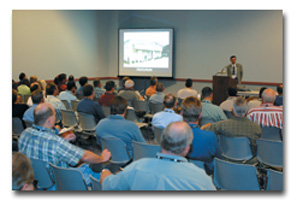 Fabric Structures 2003, which took place just prior to IFAI Expo 2003, presented nearly two
dozen case studies on using fabric elements, and provided a forum for discussion of the unique
aspects of fabric structures. The nearly 200 participants earned American Institute of Architecture
Continuing Education System Learning Units.US Navy Captain D. Michael Abrashoff delivered a
leader-focused keynote presentation and explanation of how grassroots leadership is a principle
that empowers every individual to share the responsibility of achieving excellence. Abrashoff is
the author of Its Your Ship, a book detailing how he overcame low morale and high crew turnover as
commander of the USS Benfold. Glen Raven sponsored the keynote address.This year, IFAI Expo had
more than 70 educational programs covering medical textiles, signs and graphics, safety and
protective, textile construction, awning and canopy, sports and recreation, filtration textiles,
upholstery, marine fabrication, transportation textiles, equipment and technologies, and business
and leadership.These programs were packed with participants crowds ranged from 40 to well over 100
for each niche-market session.IFAI 2003 International Achievement AwardsDuring the Chairmans Annual
Breakfast at IFAI Expo 2003, winners of the 2003 International Achievement Awards were announced.
Presented annually for the past 56 years, the awards recognize product complexity, design,
workmanship, uniqueness and function in 26 different industrial fabrics-related end-use categories.
Faith Fredericks, Banner Canvas, Ham Lake, Minn.; and Cindy Lubin, W.L. GoreandAssociates Inc.,
Elkton, Md., presented the awards.Following are the Award of Excellence and Outstanding Achievement
Award winners.Air and Tension Structures Under 10,000 Square FeetAward of Excellence:Linstrand
Balloons Ltd., England, for Welsh Development Agency Thought BubblesOutstanding Achievement
Award:Downer International Ltd., Dublin, Ireland, for Galway/Mayo Institute of TechnologyYasuo
Kume, TSP Taiyo Inc., Tokyo, Japa, for the Kirara Expo main gate "Japan Expo Yamaguchi 2001″Air and
Tension Structures 10,000 to 30,000 Square FeetAward of Excellence:Taiyo Kogyo Corp., Japan, for
Flex House of Asahi Glass Co. Ltd.Outstanding Achievement Award:Skyspan (Europe) GmbH, Germany for
Madrid Xanadu entrance canopiesTSP Taiyo Inc., Tokyo, for the Kirara Hall "Japan Expo Yamaguchi
2001″Air and Tension Structures More Than 30,000 Square FeetAward of ExcellenceB&O Hightex
GmbH, Germany, for Pusan Stadium membrane roofShade Structures Birdair, Australia, for Longitude
131 degrees Ayres Rock projectOustanding Achievement AwardCovetex GmbH, Germany, for Masoala Rain
ForestGeiger Engineers, Suffern, N.Y., for 2002 World Cup main stadiumSkyspan (Europe) GmbH for
Madrid Xanadu main roofAwnings, Commercial, Interior and Multi-ResidentialAward of
ExcellenceRainier Industries Ltd., Seattle, for Santana Row awnings, San Jose, Calif.Outstanding
Achievement AwardRainier Industries Ltd., Seattle, for Santana row awnings, San Jose, Calif.Valley
CanvasandAwning Ltd., Canada, for the Film BoxAwnings, Single-Family ResidentialAward of
ExcellenceSunmaster of Naples Inc., Naples, Fla., for beachfront guest cottageOustanding
Achievement AwardTotal Identity Group, Rochester, N.Y., for Polka Dot residential awningValley
CanvasandAwning Ltd. for Summach residenceAwnings and Canopies, IlluminatedAward of
ExcellenceAdvanced Awning Design, Cloquet, Minn., for Railway PizzaOutstanding Achievement
AwardAdvanced Awning Design, Cloquet, Minn., for ErbertandGerbert'sGandJ AwningandCanvas, Sauk
Rapids, Minn., for Bingo emporiumMuskegon AwningandManufacturing Inc., Musekgon, Mich., for
Crosstown Center renovationAwnings, RetractableAward of ExcellenceSunmaster of Naples Inc. for
Privacy Lanai Lateral PlusOustanding Achievement AwardCalypso Marine Canvas Ltd., Chaguanas,
TrinidadandTobago for Hillside AvenueCanvas Experts Inc., Berlin, Md., for 26 foot by 12 foot
retractable awningCanopies, Commercial and Multi-Family ResidentialAward of ExcellenceCanfab
Products Ltd., Canada, for EpcorOutstanding Achievement AwardCanfab Products Ltd., Canada, for
Fairmont Hotel McDonaldMuskegon AwningandManufacturing Inc. for Panopoulus Hair SalonCanopies,
Single-Family ResidentialAward of ExcellenceDillon Co., St. Joseph, Mo., for GuptaOustanding
Achievement AwardArchitectural Fabric Structures, Sausalito, Calif., for Napa residenceSun State
Awnings Inc., Englewood, Fla., for residential canopy C-4576Architectural Structures OtherAward of
ExcellenceTaiyo Kogyo Corp. for Shinagawa Sea Side Forest Oval GardenOutstanding Achievement
AwardMiami Awning Co. Inc., Miami, for village of Merrick Park single and double escalator
canopiesTaiyo Kogyo Corp. for city of Kadoma recycling centerBanners and Flags, Special or
Large-Scale EventsAward of ExcellenceSugar House AwningandCanvas Products, Midvale, Utah, for Salt
Lake 2002 building wrapsOutstanding Achievement AwardFlying Colors Inc., Berkeley, Calif., for
Super Bowl XXXVII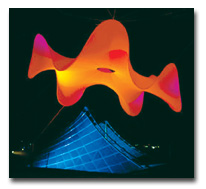 Banners and Flags, Exhibitions and Arts and CraftsAward of ExcellenceShade Structures Birdair
for Sidney Myer Music Bowl celebration sculptureOutstanding Achievement AwardRainier Industries
Ltd. for port of Seattle Cruise Lines terminal bannersRainier Industries Ltd. for Wolf Creek
Education Center banners Redwood National and State ParksSignage and GraphicsAward of
ExcellenceTakara Co. Ltd., Japan, for Diamond City Itami external wall graphic signageOutstanding
Achievement AwardFabric Images Inc. for exhibitor 2003 20 by 20 tradeshow environmentRainier
Industries Ltd. for Seattle Seahawks stadium bannersTSP Taiyo Inc. for the FUJIFILM Billboard (2002
World Cup Korea/Japan)Interior ProjectsAward of ExcellenceB&O Hightex GmbH for Marsyas at the
Tate Modern fabric sculptureOustanding Achievement AwardCovertex GmbH, Germany, for
bionicsTransformit, Gorham, Maine, for Harmon exhibitMarine Exterior Fabric Products
PowerboatsAward of ExcellenceCanvas Experts Inc., Berlin, Md., for 39-foot closed canopy
cigaretteOustanding Achievement AwardMike's Marine Custom Canvas, Virginia Beach, Va., for 34-foot
Searay SundancerMike's Marine Custom Canvas for 42-foot Hatteras Cabin CruiserMarine Upholstery and
Interior Fabric Products PowerboatsAward of ExcellenceCanvas Designers Inc., Riviera Beach, Fla.,
for 50-foot azimuthOustanding Achievement AwardCalypso Marine Canvas Ltd. for CelerityCustom Marine
Canvas, Noank, Conn., for Wolf InteriorMarine Exterior Fabric Products SailboatsAward of
ExcellenceMikes Marine Custom Canvas for 30-foot gemini catamaranOutstanding Achievement
AwardCramer's Custom Canvas, Pawcatuck, Conn., for 45-foot HunterNautical Intex Inc., San Pedro,
Calif., for sailboat exteriorMarine Upholstery and Interior Fabric Products SailboatsAward of
ExcellenceCustom Marine Canvas, Noank, Conn., for Hammell interior Party Tent RentalAdvanced Tent
Rental Ltd., Canada, for Graydon Hall Manor clear top custom clearspanOutstanding Achievement
AwardNeedle Loft Inc., Kemah, Texas, for MorganNeedle Loft Inc. for Hunter/EllisParty Tent
RentalAward of ExcellenceAdvanced Tent Rental Ltd., Ontario, for Graydon Hall Manor clear top
custom clearspanOutstanding Achievement AwardCelebration Rentals, Pipersville, Pa., for
construction site weddingRegal Tent Productions, Ontario, for Fashion Week – Ralph LaurenCommercial
Tent RentalAward of ExcellenceRoder Zelt-und Veranstalungsservice GmbH, Germany, for Spengler
CupOutstanding Achievement AwardFiesta Tents, Canada, for Formula One Grand Prix of Canada
corporate suitesMain Attractions, Edison, N.J., for car tourRoder Zelt-und Veranstalungsservice
GmbH for Bertelsmann anniversaryTent ManufacturingAward of ExcellenceFTL Design Engineering Studio,
New York City, for Voltige Circus tensile structureOustanding Achievement AwardCanvas Specialty,
Los Angeles, for HidalgoCanvas Specialty for Westin BonaventureRoder Zelt-und Veranstalungsservice
GmbH for Audi DTMInteractive and Cold-Air InflatablesAward of ExcellenceBrainchild Design Lab LLC,
Greeley, Colo., for The BeastGeosynthetic ProjectsDarling Downs Tarpaulins, Australia, for E-Vapcap
floating evaporation control coverOutstanding Achievement AwardGeotechnicalandGeoenvironmental
Engineering Consultant, Madison, Wis., for Madison metropolitan sewerage district contaminated
sludge lagoonTerafix Geosynthetics Inc., Toronto, for Rennie St LandfillIndustrial
ApplicationsAward of ExcellenceLinstrand Balloons Ltd. for Alcan loading bay inflatable
systemOutstanding Achievement AwardCamel Manufacturing Co., Pioneer, Tenn., for extreme weather
insulated linerNorth Texas TarpandAwning, Wichita Falls, Texas, for bra for CadillacSafety and
Protective ProductsAward of ExcellenceFoster-Miller Inc., Waltham, Mass., for Objective Force
WarriorOutstanding Achievement AwardAR Tech, Fontana, Calif., for Lockheed Martin Atlas IIAR PLF
blanketsAR Tech for vertigo chemical biological shelter: STAT, Small Tactical Airbeam
TentMiscellaneousAward of ExcellenceMoss Inc., Belfast, Maine, for American Express Rewarding Lives
ExhibitionTransformit, Gorham, Maine, for Shinkaiku in the OKI tradeshow exhibitOutstanding
Achievement AwardAlpha TentandAwning Ltd., Canada, for movie "Sleeping Tent"Canvasland Holdings
Ltd., New Zealand, for softedge trampoline
Editors Note: Alfred Dockery is editor of The HunTex Report, a newsletter for industrial
textiles. A graduate of North Carolina State Universitys College of Textiles, he has been writing
about the textile industry for 15 years. Dockery is based in Clemmons, N.C
.
December 2003