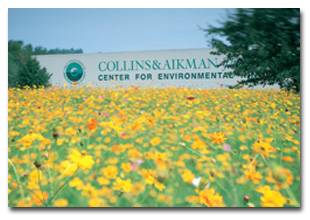 Making A Difference
C and A Floorcoverings is a company known for performance, service and environmental
commitment.CollinsandAikman Floorcoverings Inc. (C and A), a Tandus company, Dalton, Ga., is a
leading manufacturer of vinyl-backed commercial floor coverings. The firm originally was a part of
CollinsandAikman Corp., a major automotive textile producer founded in 1843. C and A Floorcoverings
became independent in February 1997, quickly becoming a leader in creating unique, versatile and
innovative floor covering solutions.Future plans include a manufacturing facility in China in 2004.
In fact, it is past the planning stages, and equipment has been ordered. In this new facility,
carpet tile will be produced for the Asian market. GrowthThe year 1999 brought some broad changes
to C and A Floorcoverings. In June, C and A acquired Santa Ana, Calif.-based Monterey Carpets an
award-winning designer and manufacturer of high-end broadloom carpets focusing on professional
architects and designers.August of that year saw the acquisition of Canada-based Crossley Carpet
Mills Ltd., which continued C and As international growth strategy and enabled it to better serve
the Canadian market.The combined companies have annual revenues of approximately $350 million,
employ some 1,600 people, operate almost 2 million square feet of plant space, and have more than
260 sales people worldwide.The year 2000 brought with it the creation of C and As parent company,
Tandus. Tandus was established to serve as an umbrella brand unifying the three brands under one
company identity, offering cost-effective floor covering solutions to customers from a single
source, said Mac Bridger, president and CEO, Tandus. Company capabilities are centered around four
key strategic areas product design and technology, comprehensive services, environmental leadership
and global reach.Product categories include carpet tile, six-foot roll goods, broadloom carpeting,
woven carpets and specialty flooring and accessories. This full range of products is sold both
domestically and internationally.C and A is driven by the desire to create and understand how and
why products work better. This desire has put them on a different path from that taken by other
floor covering manufacturers.Environmental AchievementsEnvironmentally responsible initiatives
began with the invention of its Powerbond® RS process, which eliminated the use of wet glues in the
installation process. C and A uses the term link engineering to describe the Powerbond
construction. It breaks down each component used in the construction including fiber, face density,
backing and installation method. Each category plays a vital role in overall performance. The whole
is greater than the sum of the parts. Powerbond products feature a dense nylon face, a nonwoven
fabric stabilizer, an encapsulating vinyl sealant pre-coat, a vinyl backing, a micro-encapsulated
tackifier and a protective plastic membrane. The tackifier provides the tile or carpet with a
sticky back that aids in installation. The adhesive is designed to hold the product in place while
in use, but it is also easy to remove should a tile or piece of carpet need replacing.Powerbond had
a dramatic effect on indoor air quality. It solved issues associated with sick building syndrome
(SBS) and other building-related illnesses (brI) because it does not incorporate wet glues. All C
and A products meet and exceed industry indoor air quality standards, such as the Carpet and Rug
Institutes Green Label Program and the State of Washington Protocol for Indoor Air Quality.Bridger
noted that C and As focus on recycling started in the early 1990s and was customer-driven. A
recurring theme kept popping up in our hosted mill tours and educational events for end-users and
design professionals: What is C and A going to do with the product after its useful life Resource
utilization questions led C and A to think about a solution to waste, he said. We believed if we
could solve this problem, wed have something our customers would want to buy and specify, and that
would give us a competitive advantage.By developing ecologically responsible recycling initiatives,
C and A discovered solutions to preserve the environment, becoming the first manufacturer to
recycle carpet. Most notably, C and A produces floor covering that lasts up to three times longer
than conventional carpeting and remains the first and only manufacturer to make a 100-percent
recycled-content vinyl backing, ER3®, Bridger said. ER3 backing is made from 100-percent recycled
material and contains a minimum of 74-percent recycled carpet, in which a minimum of 22 percent is
post-consumer carpet. This revolutionary product was awarded the first US patent for a product and
process of its kind.Lee Schilling, senior vice president, said ER3 vinyl backing consistently
outperformed its virgin counterpart in the Powerbond system. In 1998, ER3 became the standard
backing for the companys modular carpet. Carpet tile products featuring ER3 carry a 15-year,
non-prorated warranty.By using waste material as the raw material for the commercial carpets it
makes, C and A has proved that whats good for the environment also makes good business sense.C and
A has turned used carpet into valuable feedstock for the manufacture of new carpet, specifically,
carpet tiles used in commercial buildings. The company literally is mining buildings for resources,
rather than mining the earth.ER3 backing is produced through its Infinity Initiative, a closed-loop
process that reclaims and converts used carpet. The recycled content of the finished Powerbond RS
ER3 modular carpet tile is between 31 and 50 percent, depending on the face fiber used, with a
minimum post-consumer content of 7 percent.After any vinyl-backed floor covering product has passed
its useful life, the product can be returned and will be recycled into ER3 backing used in C and As
carpet tile products. C and A warrants that no portion of the used floor covering that has been
approved for use in its recycling program will be introduced into a landfill, incinerated or
otherwise subjected to any other form of disposal.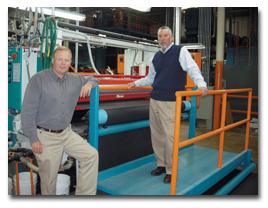 Dan Mayfield (left), C and A Floorcoverings director of manufacturing, and Wally Hammel, vice
president of manufacturingManufacturing ProcessWally Hammel, vice president of manufacturing,
discussed the Infinity Initiative recycling process. First of all, we take the whole carpet as it
comes in there is no separation of the carpet and feed it into a granulating machine. This process
shreds the carpet into fine material. To be able to extrude this material, we have to get it into a
pellet form. So, the shredded carpet is fed through another machine that turns it into pellet form.
Later, the pellets are taken to our finishing plant, where they are fed into an extruder and made
into backing material. From here, the material goes through a heated calender and then between two
rolls and comes out in a single sheet. The final step is the bonding process, where the backing is
applied to the carpet, Hammel said.Sounds quite simple, but its actually quite involved. It takes
sophisticated computer systems plus massive amounts of machinery to get the job done. Dan Mayfield,
director of manufacturing, said: Our equipment was either custom-built or modified. Weve also used
machinery not particularly used for this industry. The whole system was developed by dedicated
employees working for a common goal to develop and modify cost-effective equipment that will keep
carpet from the landfill. He added that as ideas were developed, management provided the resources
that allowed these ideas to be implemented. The end result is that we recycle about 1 million
pounds of reclaimed carpet each month, Mayfield said.According to Hammel, C and As approach to
recycling has been different from that of other manufacturers developing green products. Ours was
to mine buildings instead of natural resources. We have a massive extrusion process that consumes a
lot of carpet, and the machinery has been scaled up with the need.Circle Of ResponsibilitySchilling
feels it is important to bring accountability to the table in order to minimize any noise and
confusion about claims of environmental commitment. We actively promote the use of Federal Trade
Commission (FTC) guidelines as a standard and a baseline for accountability. We also use a
third-party firm to certify our claims. Scientific Certification Systems (SCS) came in and did a
complete audit of our entire process to verify and certify that what we claim about recycled
content and recyclability is indeed true, Schilling said.According to the FTC, a recycled-content
claim can be made only for materials that have been recovered or otherwise diverted from the solid
waste stream either during the manufacturing process or after consumer use. Additionally, normal
by-products in the manufacturing operation that routinely have been introduced back into the
process do constitute post-industrial recycled content. In ER3 products, both post-consumer and
post-industrial content meet FTC guides for recycled content and are certified by SCS.Sustainable
initiatives go well beyond recycling to environmental considerations that affect all areas at C and
A. The company is constantly evaluating all aspects of manufacturing operations and making
continuous improvements in its processes. Over the past nine years, C and A has doubled production
while reducing energy usage by 33 percent, water usage by 55 percent and the amount of waste
generated by 95 percent. C and A also has reduced air and greenhouse gas emissions significantly.We
have minimized yarn usage without sacrificing quality by manufacturing products with densely
constructed, low-pile face weights, Schilling said. Our average product face weight is 20 percent
below the industry average.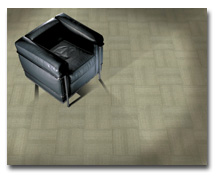 C and As Haiku carpet tiles are available in an 18-inch or 36-inch square. Designed by Jhane
Barnes for corporate and public space applications, the tiles feature ER3® backing and are
certified by Scientific Certification Systems as fully recyclable.Successful Installations And
Company RecognitionThe Omaha, Neb.-based insurance firm Mutual of Omaha also known for its Wild
Kingdom television show and Wildlife Heritage Center has invested a considerable amount of time and
money into promoting environmental causes. So, when it came time to replace its carpet, it was only
natural that the company wanted an environmentally friendly floor covering. C and As Powerbond RS
tile with ER3 backing product was selected to re-carpet the approximately 1.2 million square feet
of space.C and A has received many awards including the Corporate Conscience Award for
Environmental Stewardship, presented by the Council on Economic Priorities; and The Best of the
Best, awarded by the National Recycling Coalition/Buy Recycled Business Alliance. In an extensive
study of private-sector companies, the Environmental Protection Agency recognized C and A as a
Private Sector Pioneer in environmentally preferable practices. And the company also has received
the US General Services Administrations Evergreen Award, the agencys most prestigious award for
sustainability.Most recently, C and A, in conjunction with Jeffco Public Schools for Prospect
Valley Elementary School, Wheat Ridge, Colo., was honored with the inaugural DuPont Antron®
Sustainable Flooring Performance Award. Open to projects featuring floor covering made using Antron
nylon prior to Sept. 1, 1992, and still in service, the award recognizes sustainable interior
design practices through the use of performance-driven flooring in commercial carpet applications.
Successful ApproachC and As approach to manufacturing extends beyond mechanics and economy to
embrace humanity and the environment, maintaining high, consistent standards. The company is taking
the industry to new heights in innovation, and so everybody benefits. By choosing a different path
to make more than carpet and backing the firm has chosen to make a difference. We have a strong
commitment to improving the quality of life for our customers, associates and community, Schilling
said.

November 2003