Home Furnishings TrendsBy Alfred DockeryHigh Point Rebounds
Home furnishings manufacturers use brands to tell consumers their story.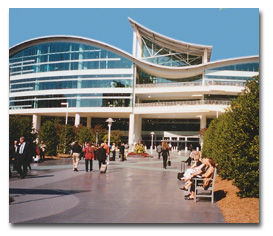 The October 2003 edition of the International Home Furnishings Market saw a significant
increase in attendance compared with previous markets held over the past two years.At the time of
this writing, the International Home Furnishings Market in High Point, N.C., is just winding down.
Many industry insiders describe it as the best market since 9/11. While hard numbers are not yet
available, phrases such as huge uptick were used, and quick eyeball estimates put attendance at the
market up about 20 percent.Jerry Epperson, managing partner of financial services firm Mann,
Armistead and Epperson, Richmond, Va., predicts total US furniture sales will rise 3 percent in
2003, to $69 billion, and increase 5.5 percent in 2004, to $72.5 billion.Hopefully the [furniture]
business is at an inflection point and poised for real growth, said John Gorcyca, global furniture
business director for INVISTA Inc. (formerly DuPont TextilesandInteriors). Retailers with the right
range of products are doing well.The streets of High Point once more morphed to bear a resemblance
to New York City, as they filled with furniture buyers from throughout the United States and around
the world. International visitors were back, although not at the same levels as five or six years
ago.The pre-market Mood to Market survey conducted by certified public accountant firm Dixon Odom
PLLC and the Office of Business and Economic Research at the University of North Carolina at
Greensboro, found furniture retailers significantly more optimistic about current and future
business than they were six months ago.The Mood to Market Index for this Octobers market rose 0.9
points to 7.4 on a 10-point scale, compared with 6.5 in April 2003, and 6.6 a year ago.The findings
are quite encouraging, said Randy Brodd, a partner at Dixon Odom. The positive mood is a strong
indication that the furniture industry could be slowly moving toward a much-needed
recovery.Licensed Brands Are BigBrands were the big story at this Falls High Point market. From the
National Geographic Society to NASCAR, from hip designer Todd Oldham to homemaking maven Martha
Stewart, licensed brands were dominant.Licensed brands give the furniture manufacturer a story to
tell and the furniture store something to promote, said Richard Bennington, director of the home
furnishings program at High Point University. Its a way to romance the product.Brands are the
emotional tie that binds for American consumers, according to Bob Stec, chairman and CEO of
Lexington Home Brands, a company that pioneered lifestyle furniture brands with the introduction of
Bob Timberlake® in 1990. This Fall, the company adds Woolrich to its stable of brands with a
3,000-square-foot display of case goods and upholstery inspired by the outdoors.La-Z-Boy made a big
splash at the High Point market with its collaboration with fashion designer Todd Oldham. The Todd
Oldham by La-Z-Boy collection includes 26 furniture frames and more than 150 textile fabrics.Todd
Oldham well known for hosting such MTV programs as House of Style and Crib Crashers, as well as for
his chic dorm room collections for Target introduced retro contemporary recliners, sofas and
chairs, as well as occasional pieces, for La-Z-Boy. The company is seeking to reach younger
consumers with this collection.Our focus on style over the past few years, embodied by our New Look
of Comfort campaign, has been transformational for us, said Doug Collier, vice president of
marketing, La-Z-Boy. And this collection is really going to take that effort into overdrive.The
inspiration behind this collection is to give people the tools and confidence to cultivate their
own individual style, Oldham said.When asked why he designed the Snap convertible sofa with an
easily removable back and arms that allow it to transform into a bench, armless sofa, fainting sofa
or chaise, Oldham replied, because Ive always wanted to be MacGyver.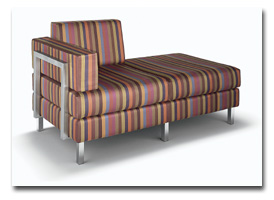 The Snap sofa, part of the Todd Oldham by La-Z-Boy collection, transforms into a bench,
armless sofa, fainting sofa or chaise.Thomasville Introduces Extreme FabricsNew entertainment,
occasional and home office pieces expand the Bogart Collection at Thomasville Furniture
Industries.Since it first appeared at retail in early 2003, the Bogart Collection has quickly
become one of Thomasville Furnitures best-selling collections, said Tom Tilley, company president
and CEO. This market, we are continuing to build on the success of the collection, while providing
consumers with product choices that meet the needs of their lifestyles.Thomasville is meeting
consumers needs with its new Extreme Fabrics program. These new fabrics offer durability, stain
resistance, lightfastness, colorfastness and easy-care cleaning. In addition, they are
child-friendly, pet-friendly and suitable for one of consumers newest favorite spaces, the home
theater.Consumers are kind of backing into the need for performance fabrics. You cant just put a
bubbly jacquard on a recliner and expect it to last through the popcorn and beverages, said Sharon
Bosworth, vice president of upholstery design, Thomasville. This is why we brought out Extreme
Fabrics.Extreme Fabrics comprises four categories of gold standard products Crypton®, Sunbrella®,
Microban® antimicrobial product protection and High-Performance Suede. The program includes 240
fabrics in styles and colors designed to fit a variety of dr styles ranging from traditional to
urban contemporary.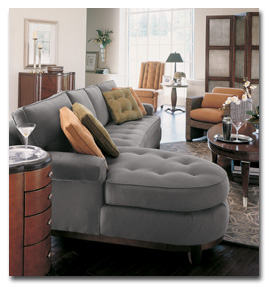 Thomasville Furniture Industries Extreme Fabrics program offers 240 fabrics in a variety of
styles and colors designed to fit numerous dr styles.Henredon Furniture Industries collaborated
with New York designer David Easton for its At Home Collection by David Easton. The collection has
52 new frames and 173 new fabrics, and is intended to put a fresh spin on traditional styling by
blending classicism and modernity.Easton specifically created the fabrics for the At Home
Collection, and they are Henredon exclusives. Easton relied on traditional elements, colored in a
fresh transitional palette of reds, creams, yellows, pear and aqua. The constructions consist of
linens, cut and printed velvets, jacquards and washed chenilles.Brands Come HomeVaughan Furniture
Co. presented its new NASCAR House and Home collection of master bedroom and youth
furnishings.Branding has exploded in home furnishings, said Jackie Hirschhaut, vice president of
the American Furniture Manufacturers Association (AFMA). From couture designers and film legends to
media mavens and models, manufacturers are banking on name brands like never before.Additions to
already successful licensed lines this Fall include a contemporary addition to the Oscar de la
Renta line at Century, and Turkey Hill, the third Martha Stewart Signature collection at Bernhardt
an 115-piece collection of case goods and upholstery inspired by Stewart's 1805 farmhouse and
surrounding countryside in Westport, Conn.Impact Of ImportsFurniture and upholstery fabric imports
are the major challenge facing the US furniture industry today. For the first half of 2003,
furniture imports were up 13 percent. Shipments from China were up 28 percent, to $3.6 billion.
Three other countries managed double-digit increases: Brazil 16 percent; Malaysia 12 percent; and
Mexico 11 percent.Furniture makers, upholstery mills and furniture retailers are all adapting in
various ways to the rising tide of imports. The two most common strategies are cutting costs and
using imports for the bottom portion of their lines. Many firms are reaching for higher-value
products and reducing their participation in commodities.The only way that we can combat imports is
[ to offer] quality, service, style and color, said M. Edward Auten, director of merchandising and
design, Dicey Fabrics, at Julys Showtime fabric market. Because they are going to deal in commodity
items, at least initially, we have to style around them.Intellectual property issues remain a
particularly nettlesome problem related to imports. The day before the Fall market opened,
Bennington already had received a call from someone who wanted the name of a good lawyer because
one of the companys designs had been knocked off.Ironically, imports and the pressure they have
brought to pricing also may be one of the big factors in bringing the consumer back to the
furniture store. Its just a question of where the furniture will be made and who will benefit in
the long run.Furniture is the best value that it has been in years, Bennington said. Imports have
driven prices down, and many [newly built] houses are under-furnished.Projected Changes In Consumer
Color PreferencesLeatrice Eiseman, executive director of the Pantone Color Institute, kicked off
the Fall market with Pantone's 2004 Color Forecast at a press breakfast sponsored by AFMA.Humans
are intrigued by newness and novelty, Eiseman said. You need to show a new color, something that
draws the eye and makes them pay attention. As color remains one of the most important persuaders
in the marketplace, it behooves all segments of the home furnishings industry to know about the
latest trends in color, and, most importantly, to understand what drives consumers tastes and
needs.She noted several big departures from past color trends. Orange, for example, used to be
considered a cheapening color associated with fast food, but it is becoming more popular as a
result of multicultural influences. Deep greens such as avocado also are coming into fashion
because of greater interest in environmental matters.People look to colors that give them a link to
the past, Eiseman said. They want organic colors in an increasingly synthetic world.Pantones 2004
Color Forecast identifies eight distinct palettes: Natural Instincts: This is the quiet environment
that is closest to the simplicity found in nature, reflecting a love of weathered wood, natural
fibers, and all things organic and real. Beach Retreat: This palette offers a relaxed retreat, an
escape from the invasive and hectic surrounding world. The colors are a medley of deep marine,
lavender blues and sky blues, oyster gray, and cloud white. Global Warming: A vital, bold and
sensual palette, this warming trend is a strong color story made up primarily of color wheel
neighbors in and around the red family such as molten lava, spicy orange, dancing pink, magenta
purple and vivid yellow, with an unexpected jolt of electric blue. Enhancing Hues: Taking its cue
from the world of cosmetics, this pleasing palette celebrates a myriad of skin tones. These
flattering hues are gentle, soft and mellow, yet more complex and sophisticated than simple
pastels. Sweet Stuff: Sweet but never cloying, these confection shades entice the eye by adding a
new level of tantalizing tastes with combinations such as mimosa, smoky grape and pink mist; or
brandied melon, taffy and banana crepe. Creature Comforts: This is an engaging presentation of warm
cozy quilts and comfort food colors such as soft creamy whites, rustic reds and golden yellows.
This palette has a very casual or country look to it. Streamlined: It is sleek, stylish and
gracefully configured minimal and modern meets design statements of the past. Inspired by the
curvaceous, compact and gleaming Airstream trailers that captured everyone's attention in the 50s,
it is still seen both as motor home and as dressing room for the stars. The aerodynamic styling
inspires metallic finishes such as chrome or silver, while other design icons inspire the glamour
of polished black or the stark simplicity of pristine white, used singly or in classic
combinations. Finishing Touches: These are the styles and colors that traditions are built upon a
tasteful blending of time-honored antiques with nouveau style, understated rather than overstuffed,
with a hint of opulence. The colors are lush, classic and rich, reflecting the possibility of
intricate combinations. Colors include wine reds, purples and yellow greens. Avocado is making a
comeback.
Editors Note: Alfred Dockery is editor of The HunTex Report, a newsletter for industrial
textiles. A graduate of North Carolina State Universitys College of Textiles, he has been writing
about the textile industry for 15 years. Dockery is based in Clemmons, N.C.

November 2003