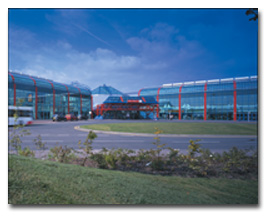 The National Exhibition Centre, England, will host a record number of visitors and exhibitors
at ITMA 2003.October has arrived and Birmingham, England, awaits the global textile industry at
ITMA 2003. A record number of exhibitors and visitors are expected to attend the event, to be held
at Birminghams National Exhibition Centre (NEC), Oct. 22-29.Owned by the European Committee of
Textile Machinery Manufacturers (CEMATEX), ITMA 2003 has maintained its appeal as an important
event on the calendar of textile shows, despite emerging competition from other major, global
exhibitions. In addition to perusing the exhibition floor, visitors may participate in a number of
events surrounding the show. During the day, the ITMA Forum, entitled New Frontiers in Textiles
Moving MarketsandStrategic Innovations, will give visitors and exhibitors alike a chance to network
and discuss major issues affecting todays global industry. Six sessions, offered Oct. 23-25, will
cover a broad range of hot topics
(See Table 1).A panel of speakers will lead each session in a roundtable discussion the
format of which is designed to let the speakers, visitors and exhibitors drive the discussions.
Each two-hour session, which will open with a presentation by a panel member, is divided into a
90-minute discussion period and 30-minute conversation break. Refreshments will be served during
the break, and attendees will have an opportunity to meet with panelists and industry
colleagues.Participants must have a good command of the English language because the forum is an
English-speaking event, and simultaneous translations will not be available.There is plenty to do
and see in and around Birmingham each evening. The city boasts a large number of restaurants, bars
and pubs, as well as a large canal network for evening walks and barge rides. The NEC Arena is
hosting a variety of concerts during ITMA, including Mariah Carey and Christina Aguilera; and
various classical music, show tunes and other entertainment can be enjoyed at NECs Symphony Hall
almost every night during the show.Historically, ITMA has marked the introduction of many great
innovations in textile machinery. And, with the postponement from June to December of another
international show in 2003, ShanghaiTex, ITMA is the industrys first opportunity this year to see
key advancements first-hand
(See Savio Unveils Technology, TW, this issue).Following is a look at some of the wares to
be displayed during ITMA 2003
(For additional listings, see ITMA 2003 Exhibitors, TW, September 2003). ExhibitorsAlbany
International Italia S.p.A., Italy, will feature its endless needled felts and silicone-coated
belts for textile finishing processes. Hall 19, Stand DF19-1B.Aletti GiovanniandFigli S.r.l.,
Italy, will exhibit its range of finishing lines. A special band buffing machine; and peach pile,
sueding and pattern buffing equipment will be highlighted. Hall 7, Stand DF7-6J.Atlas Copco,
Sweden, will introduce two new oil-free air compressors, the ZR315 VSD and the ZH7000. Both
compressors provide 100-percent oil-free air power for spinning and weaving operations. Hall 11,
Stand W11-4B.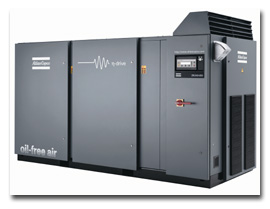 Atlas Copco's ZR315 VSD oil-free air compressor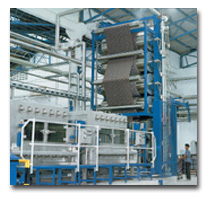 Brugman washing rangeBrugman, The Netherlands, will exhibit its full line of desizing,
scouring and bleaching, mercerizing, and continuous dyeing equipment. The Vanwyk Group of
companies, which acquired the rights to the Brugman name in 2002, has decided to reintroduce the
Brugman machinery program to the international textile market at ITMA. Primary stand contact:
Patrick Paap. Hall 6, Stand DF6-12A.Crosrol UK Ltd., England, will exhibit a new web belt that can
be retrofitted to existing Crosrol Mark 4 and Mark 5 cards. The belt offers enhanced performance
with output increases of between 11 and 22 percent, according to the company. Hall 2, Stand
SP2-9B.Datacolor, Lawrenceville, N.J., will showcase its latest tools for maintaining first-run
color efficiency for virtually any textile or apparel application. Around the theme From Mills to
Market, Datacolor will demonstrate: ColorTools, Windows®-driven software for color quality control;
Spectraflash Series X lab-grade spectrophotometers; the Mercury color measurement device; AutoLab
Modulo GT dispensers; Autofoam chemical application technology; DCIMatch complete color matching
and correction system; and many other products. Hall 6, Stand DF6-16A.Devrekha Exports, India, will
feature its patented jet-dyeing machine; a multi-nozzle, soft flow dyeing machine; a scouring
machine with caustic recovery system; a long-tube dyeing machine; and a sample dyeing machine. Hall
16, Stand DF16-8D. Elad Trading BV, The Netherlands, exhibiting for the first time, will present
information on its spare parts for Stork and Vald Henriksen machines, in addition to its new lab
padder. Hall 19, Stand DF19-15D.Fibreguide Ltd., England, will show its FG air-jet technology
featuring a tungsten carbide jet core. Products include the latest-generation FG5 twist jet, FG10
range for spinning applications, FG8 and FG8M technologies for microdenier spinning and draw
texturing applications, and FG9 jets for twisting and detorque. Primary stand contact: Philip J.
Leah. Hall 1, Stand SP1-9C.Fongs National Engineering Co. Ltd., Hong Kong, will exhibit the Ecotech
series of dyeing machines, which includes the ECO-6 high-temperature dyeing machine, the ECO-38
atmospheric dyeing machine, and the ECO-8 double-rope soft dyeing machine. In addition, the company
will highlight the ALLWIN Series package-dyeing machine. Hall 17, Stand DF17-7A.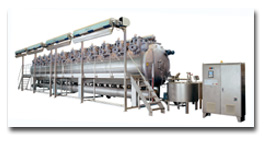 Fong's ECO-6 high-temperature drying machineH. Hergeth GmbH, Germany, will show various
preparation equipment, including automatic bale tie cutters, horizontal and inclined pluckers,
single and multi-roll openers and cotton cleaning machines, among other products. Hall 1, Stand
SP1-12B.Kluber Lubrication Munchen KG, Germany, will highlight its special lubricants for textile
machinery applications. Hall 20, Stand DF20-11A; and Hall 5, Stand K5-3A.Knotex Maschinenbau GmbH,
Germany, will introduce its new TS/2 TapeMaster warp tying machine, Knotex OptimalSpeed® for
program-controlled knot-tying speed efficiency, the DISPOS® spare parts management system and a
tying frame for monofilaments. Hall 9, Stand W9-5A.Macart Spinning Systems, England, will exhibit
its S300 machine, which represents a new approach to yarn manufacturing combining roving, spinning,
twisting, yarn bulking and take-up winding operations into a single operation. The S300 is suitable
for acrylic yarns in counts from 2/16 Nm to 2/42 Nm. Primary stand contact: David Titheridge. Hall
2, Stand SP2-9B.Marzoli S.p.A., Italy, will debut its C601 card, among other technologies. Hall 1,
Stand SP1-16B.Meera Industries, India, will show a new TFO twister for polyester and silk yarns,
and a high-speed servo-controlled rewinder with a touch-screen display panel. Hall 2, Stand
SP2-2E.Morrison Textile Machinery, Fort Lawn, S.C., will present its new SPECtrUM Indigo Dye and
Wash Boxes; FCS monitoring and control system; the Micro Saturator for high wet pickup
applications; as well as Morrisons Rubber Belt Unit, an integral part of its SANFOR compressive
shrinking range. Hall 6, Stand DF6-7D.NedGraphics BV, The Netherlands, will feature its software
and services for textile design, color matching, color separation, fabric and carpet simulation and
3-D presentation. Hall 8, Stand S8-4A.Novozymes A/S, Denmark, will have information on its enzyme
products for textile applications, including Scourzyme® L for cellulose fabric preparation.
Scourzyme L breaks down cotton pectin, thereby assisting in wax and oil removal. According to the
company, the enzyme provides effective, eco-friendly scouring of cellulose fabrics. Hall 8, Stand
DC8-5B.Osthoff-Senge GmbHandCo. KG, Germany, will exhibit its line of atmospheric and
high-temperature jigs with combined PC and PLC control systems, and inverter-controlled AC drives
with brake-drive power return, among other features. Hall 18, Stand DF18-3A.Roaches International
Ltd., England, will exhibit in Hall 7, Stand DF7-3A.Georg Sahm GmbHandCo. KG, Germany, will present
the new Twinstar fully automatic doffing precision cross winder, to be demonstrated in combination
with a doffing and handling system. The company also will display the 302E high-performance
rewinder and assembly winder with a Texkimp SA/M creel, and the Sahm 3002 R automatic
high-performance winder. Hall 1, Stand SP1-11A.Stalam S.p.A., Italy, will show the most up-to-date
versions of its radio frequency dryers including: the RF and RFA standard and air-assisted models
for all types of fibers and yarns; the LtrF and RFA/S low- and medium-temperature dryers for loose
stock, unwound tow/top slivers and hanks of yarn; the TCRF thermocontrolled batch-type dryers for
temperature-sensitive yarn packages and tops in bump/bobbin form; and RF/T continuous drying and
finishing equipment for woven fabrics. Hall 18, Stand DF18-9A.Strahm Textile Systems AG,
Switzerland, focuses on drying, coating, impregnating and thermobonding solutions for the textile,
nonwovens and composites industries. Strahm will launch the Fibroline unit, a high-voltage powder
impregnation system, at the exhibition. In addition, the company will show a newly developed line
of convection drying and thermobonding systems; and foulards, calenders, winders and accumulators.
Machinery on display at ITMA will be transferred to the companys new research and development
showroom after the exhibition. Hall 4, Stand NW4-4A.Tatham Ltd., England, will demonstrate new
developments in its Microweigh technology for carding machinery, its full line of woolen and
nonwoven cards, the Tatham Mule spinning system and the Magnum card for carpet yarns, among other
products. Primary stand contact: Tim Porritt. Hall 2, Stand SP2-9B.U. Engineering Co. Ltd., Japan,
will highlight its WE400 weft straightener, a web-guiding device, and Flat Expander and Miravo
wrinkle-removing rolls. Primary stand contact: Makiko Kosaka. Hall 19, Stand DF19-11B.Vetri
Engineers, India, will display Vetri top rollers for draw frames and combers, metal top rollers for
roving and ring frames, and spinning machine spare parts. Primary stand contact: S. Jaya Prakash.
Hall 4, Stand SP4-2B.Ph. Welker GmbH, Germany, will exhibit the Condibox-S conditioning system,
which provides up to a 50-percent reduction in energy costs, according to the company. Welker also
will show the Welkodur, a new stainless steel multi-layer protection system, which offers an
alternative to costly stainless steel housings for its machinery. Hall 2, Stand SP2-14B.In
November,
Textile World will begin its post-show coverage of ITMA 2003 and the innovative
technologies unveiled during the exhibition. The November issue will feature a Flash Report
comprising pictures taken during the show. The December issue will contain an overview of the show,
highlighting general trends. The first three issues in 2004 will offer in-depth coverage of the
technology offerings broken down by segment: January will feature opening, blending, carding,
spinning and material handling; February will cover weaving preparation, weaving, knitting and
nonwovens technologies; and March will wrap up
TWs ITMA coverage with dyeing, printing, finishing and quality control developments.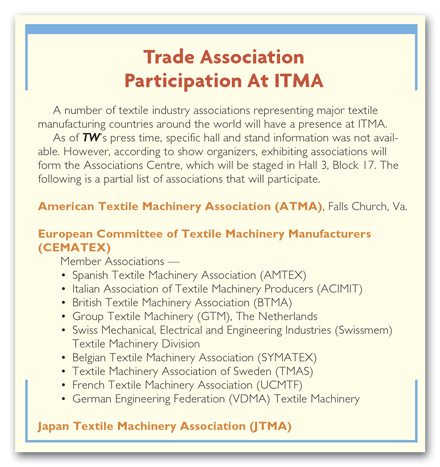 October 2003