Circular-knit seamless concept from SantoniKnitting machinery manufacturers will converge on
Italys fashion capital in October to tempt knitwear designers and producers with their newest
products and technologies. The inaugural International Knitting Machinery Exhibition (IKME) 2003,
organized by Fiera Milano International (FMI) S.p.A., will be held Oct. 16-20 at Fiera Milano in
Milan. The exhibition was conceived in late 2000, when a number of knitting machinery manufacturers
decided to organize a show dedicated to the knitting sector. These manufacturers including Protti
Fashiontronix S.p.A., the Lonati Group, Shima Seiki Mfg. Ltd. and H. Stoll GmbHandCo. KG, among
others chose to base the show in Milan, a major fashion hub well-situated close to many
high-fashion knitwear manufacturers and designers. IKME will be held in Fiera Milano Pavilions 5, 6
and 7 an area totaling 15,000 square meters. Daily hours of operation will be from 9:30 a.m. until
6:30 p.m. Visitors will enter the fairgrounds through the Porta Giulio Cesare. Admission will be
free of charge, but the exhibition will be open to the trade only.Taking place the week before ITMA
2003, IKME will present the products and services of more than 70 companies from around the world.
The majority of the exhibiting companies are based in Italy, but Germany, France, Spain,
Switzerland, Turkey and Japan also will be represented among the exhibitors. While flat knitting
machinery will comprise the bulk of the knitting machinery on view at IKME, circular knitting
machinery manufacturers also will be present. Other products to be displayed include making-up,
washing, pressing, finishing, and other complementary machinery and equipment; software;
accessories; and ancillary products and services. Exhibitors will be organized according to product
sectors.IKME officials stress that technical innovation will be a major focus of the show. The
exhibiting companies are actively working towards bringing sound new developments to the market,
said Umberto Protti, IKME chairman. This is the only way to finally kick-start the sector after
these last couple years of recession. Show organizers have marketed IKME not only to knitters based
in Italy and the other major European countries, but also to knitters from the rest of Europe
particularly Eastern Europe and from Asia and South America. With the assistance of Milan-based
travel agency Anteprima/Easy Hotel, they have put together special travel packages and a
bed-and-breakfast network a first in Milan to provide economically priced accommodations.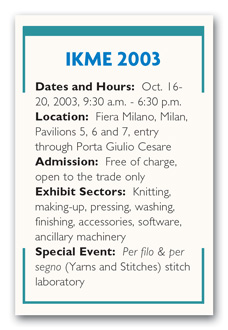 A Special EventPavilion 7 will include IKMEs reception area. Occupying center stage here, in
a sophisticated and fashionable setting, will be Per filoandper segno (YarnsandStitches), which FMI
describes as a kind of laboratory for the display of sample knitting stitches and a range of yarns
provided by various spinning mills. Per filoandper segno will present more than 1,000 knitting
stitches, divided into commodity categories, to spark visitors imaginations and inspire
creativity.Ornella Bignami, director of the event, noted that creativity derives from technology
and yarn quality. Per filoandper segno is a combined display of the two driving forces that are
able to provide knitwear factories with ideas to improve their product and therefore their
competitive position on the market, she said.Carlo Bassi, IKMEs exhibition director, added, Per
filoandper segno will be an absolute first for a textile machinery fair, because it will attract
not only knitting machinery technicians but also product men and fashion designers. He stressed the
innovative and creative nature of the stitches that will be presented.Five computer workstations
connected to color printers will allow visitors to download and/or print out the stitch database.
Some computers also will be connected to a projector to enable display of the stitches on a large
screen.A Sampling Of ExhibitorsOn the exhibit floor, visitors will have additional opportunities to
see stitch patterns that can be produced using machines offered by individual exhibitors. For
example, Germany-based flat knitting machinery manufacturer H. Stoll GmbHandCo. KG will show its
own pattern collection and ready-to-wear concept articles designed using its M1 pattern workstation
and made using the Stoll knit-and-wear® system. Among the knitting machines on display will be
Stolls CMS 340 TC knit-and-wear machine.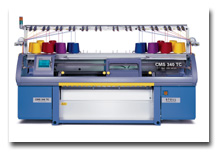 Stoll's CMS 340TC knit-and-wear® machine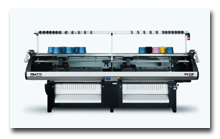 The PV22P two-needle-bed flat knitting machine from Protti Fashiontronix is used to knit
fancy, fine-patterned, shaped garments.Italy-based Protti Fashiontronix S.p.A., another producer of
flat knitting machines, will show the PV4i machine, which can knit whole garments or shaped garment
parts; and its PV22P two-needle-bed machine for knitting fancy, fine-patterned, shaped
garments.Lonati subsidiary Santoni S.p.A., also based in Italy, will show its SM8-EVO4 eight-feed
single-jersey and SM9 double-jersey electronic circular knitting machines used in the production of
ready-to-wear seamless apparel.Shima Seiki, Japan, will show its SDS-ONE computerized graphic
design system for the apparel industry, as well as its WHOLEGARMENT® technology for production of
seamless flat-knit garments.In the accessories sector, Groz-Beckert KG, Germany, will exhibit its
line of knitting machine needles and provide information about new developments.

Groz Beckert's flat knitting needleIKME 2003 ExhibitorsAgteks Knitting and Textile Industries
Co. Ltd.APM Tecnotesia S.r.l.Audino EditoreAurea Filcrosa S.r.l.CaperdoniChristian Pinkert,
Wirk-Undstr.Cibitex S.r.l.Comat S.r.l.Comez S.p.A.Conti ComplettCorghi S.p.A.Dal elektronik
Bilgisayar San. ltd. stiDeimoEditoriale ModaEMM S.r.l.Eneas Informatica S.r.l.Exacta S.r.l.Filiere
MailleFirsan, S.A.GandP Elettromeccanica S.r.l.G. MentastiGesto EditoreGiovanni Bozzetto
S.p.A.Groz-Beckert KGGruppo Editoriale Faenza Editirice S.p.A.H. Stoll GmbHandCo.HaaseandKuhn
S.A.Henschel KGImece SncInternational Textil Diffusion S.r.l.Jumberca S.A.Kern-Liebers Knitting
Parts GmbHKMF International Textilmaschunen AGKnitting International Llesor S.A.Logica
S.r.l.Mazzini ICI S.p.A.Mec-MorMediatex International S.r.l.Memminger-IRO GmbHMendizza S.a.S.Miele
Italia S.r.l.Monti Antonio S.p.A.Nepi OtelloandC. S.r.l.Nuova Alba elettromeccanica S.r.l.Nuova
ComasNustri sas di Nustri MarcoOmm Meccanotessile S.r.l.Organ Needle Co. Ltd.Prensa TecnicaProtti
Fashiontronix S.p.A.Reed Business InformationRonchetti S.r.l.Rosso Industrie S.p.A.RototradeSantoni
S.p.A.Saxonia Umformtechnik GmbHShima Seiki Mfg Ltd.Simet S.r.l.Sisma S.p.A.Steiger S.p.A.Studio
Sabatini sncTechno-Dry S.r.l.Tecnotessile S.r.l.Tex NewsTextile World/Textiles
Panamericanos/Textile World AsiaUesseti 2000 S.r.l.Universal StricksystemeZamark S.r.l.
For more information about IKME 2003, contact Fiera Milano International S.p.A., Palazzina FMI,
Largo Domodossola 1, 20145 Milan, Italy; 39 02 485501; fax 39 02 488995259; e-mail ikme@fmi.it;
www.ikme.it.

September 2003