Flash ReportBy Alfred DockeryCoalition Seeks To Save Textile Jobs
Textile executives want China safeguard and new trade policies.In mid-August, textile
executives representing the textile/fiber coalition gathered to announce a grassroots lobbying
campaign to save US textile jobs by slowing Chinese imports.More than 40 textile executives turned
up at the Grandover Hotel in Greensboro, N.C., and more than 30 gathered in Spartanburg at the
Piedmont Club. At both locations, they attended workshops on grassroots political action and held
press conferences to voice concerns about the effects of burgeoning Chinese imports.We are
concerned specifically about one thing jobs in this industry, said Allen E. Gant Jr., president and
CEO, Glen Raven Inc., Glen Raven, N.C. Since January of 2001, this industry has lost 299,000 jobs.
There is a direct correlation between the demise of this industry and manufacturing throughout this
country, and the trade policy of this country.The Greensboro and Spartanburg press conferences were
intended to reinforce the coalitions July 24, 2003, petition to the US government to invoke the
special China safeguard for textiles and slow the surge of Chinese imports on knit fabric, dressing
gowns, brassieres and gloves. Socks are expected to be the next category for which the safeguard
will be sought.John A. Emrich, president and CEO, Guilford Mills Inc., Greensboro, spoke
passionately about job losses at his company.We had to close seven and a half facilities, said
Emrich. That impacted 3,400 people. Quite frankly, as an industry, we are tired of having to look
people in the eye and tell them that we dont have jobs for them. We are tired of seeing whats
happening in other segments of manufacturing.The executives also want the US government to address
the devaluation of the Chinese currency, which constitutes a significant pricing advantage.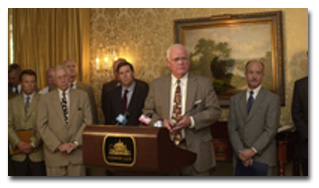 Textile executives gathered in Greensboro and Spartanburg to voice their grievances over
burgeoning textile imports from China. Pictured is Roger W. Chastain (at the podium) with other
textile executives at the press conference held in Spartanburg.We are not against free trade; we
are against unfair trade, said Jerry D. Rowland, president and CEO, National Textiles LLC,
Winston-Salem, N.C. There are several things about China you need to understand. Its currency is
devalued in the neighborhood of 40 percent. In addition, the textile industry in China is
50-percent owned by the government. It is a communist, managed economy that is absolutely
inundating the rest of the world with [its exports].At both press conferences, executives were
adamant about their plans to organize for political action. They made it plain that those who
support manufacturing will get the textile industrys support and the votes of its workers. Those
that dont may find themselves looking for a job.You are either with us or against us, Gant said. It
is not a complicated issue. You are either in favor of keeping American jobs and working with us,
or you are not. It is just that simple.I think Bush can forget that the Solid South is solid
anymore, and he is running a real risk of losing the next election, said Roger W. Chastain,
president, Mount Vernon Mills Inc., Greenville. We want to make sure that all of our people are
registered to vote. We want them to write letters to their congressmen. We want a grassroots
effort.Frustration and exasperation with import growth and job losses was evident on the faces and
in the voices of the speakers at both events.We are angry; we are fed up that the US government is
ignoring these massive job losses, said Richard Dillard, director of public affairs,
MillikenandCompany, Spartanburg. The United States lost 2.6 million good-paying, wealth creating,
middle class jobs in the last three years. There are now fewer manufacturing jobs in the United
States than there were in 1958.Beyond the China safeguards and currency manipulation, the coalition
would like the US government to step back and take a fresh look at trade policies, including
textile and apparel quotas that are set to expire on Jan. 1, 2005.

September 2003