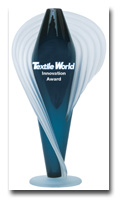 Springs Receives
TW Innovation AwardSprings Industries Inc.s long-standing commitment to innovation in the
textile industry recently was recognized at a luncheon presentation of the
Textile World Innovation Award in Charlotte. Even in the most difficult of times, Springs
strives to compete in a global textile marketplace, facing competitive pressure head-on to meet
consumer demand for home textile products.Crandall Close Bowles, Springs Industries Inc. chairman
and CEO, accepted the award from Douglas C. Billian, chairman and CEO of Billian Publishing Inc.,
parent and publisher of
TW.Springs is delighted to receive Textile Worlds Innovation Award. Our employees and
suppliers have been an important part of our success by helping us to innovate and deliver better
products and value to our customers, said Bowles.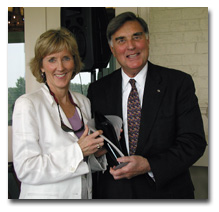 Crandall Close Bowles (left), chairman and CEO, Springs Industries, recieved the Textile
World 2003 Innovation Award from Douglas C. Billian, chairman and CEO, Billian Publishing.Prominent
textile manufacturers and suppliers were on hand to take part in the event.Springs, which recently
faced the difficult decision to shutter several plants, continues to work toward optimizing its US
manufacturing operations. As Bowles stated in an interview in the June issue of
TW, Our domestic facilities give us a big advantage in some areas. I dont see us ever not
having significant production here. How to best combine [domestic production with outsourcing] is
one of our strategic challenges.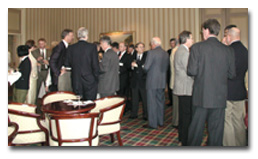 Carmel Country Club, Charlotte, the venue for the 2003 Innovation Award receptionRecently,
Bowles stated, Closing any plant is a very difficult decision and one we have postponed as long as
possible. It was especially difficult to close the White and Lancaster plants, as they are our
oldest plants. They were started by my great-great grandfather and great-grandfather, and represent
a lot of company and family history. Even harder, there are many long-term associates in these
plants who have done a great job for Springs for a long time. However, we must face reality, which
is that these are high-cost facilities that are no longer competitive. This decision was probably
inevitable, but the timing has been dictated by the very soft economy we are experiencing.Springs
continues to focus on providing bundled, branded bed and bath products through a variety of retail
channels, ranging from Home Depot to Wal-Mart to Bed BathandBeyond.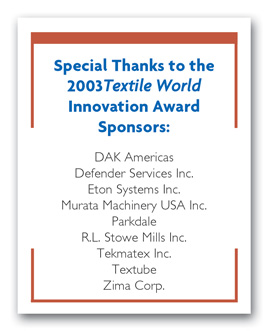 August 2003