2003 Innovation AwardBy Alfred DockeryThe Quiet
Innovator
Solid financial resources, strong brands and innovative marketing and manufacturing make
Springs a winner.Today, Springs Industries Inc., Fort Mill, S.C., stands as a home furnishings
textile company on solid financial ground and poised for growth in the decade ahead. Springs has
developed its own distinct innovative business style, and carried it across a number of disciplines
including finance, customer focus, domestic manufacturing, international sourcing and product
development.Several years ago, the company changed its focus to center its business around major
customers. This strategy has been highly successful. The companys approach to balancing domestic
manufacturing and international sourcing is another of its strategic initiatives. Finally, there is
Springs long history of product innovation most recently, its introduction in 2002 of
temperature-regulating bedding products.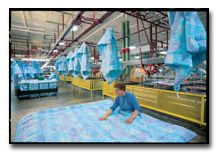 Springs' Close Plant houses various automated systems for comforter production.Transitioning
From Public To Private OwnershipTwo years ago, looking to better implement major investments for
the long-term benefit of the company, Springs announced its intent to become a privately held
company. The transition was completed in September 2001, just days before the 9/11 terrorist
attacks and months before the Enron scandal events that later would likely have made financing the
deal impossible.It has been good not to have to deal with the constant short-term scrutiny of being
a public company, particularly in the current atmosphere, said Crandall Close Bowles, chairman and
CEO. Weve achieved a lot of our objectives and have been better off being private rather than
public in the last couple of years.Heartland Industrial Partners LP, a private equity firm based in
Bloomfield Hills, Mich., put up $225 million in the fall of 2001 to buy 45 percent of Springs
Industries. The founding Close family holds the remaining 55 percent of the company.Heartlands
stated strategy is to acquire and expand industrial companies in sectors ripe for consolidation and
growth. The company builds value by investing in well-positioned industrial companies, like
Springs, whose talent, technology, assets and market position afford them the opportunity to be a
platform for industry consolidation and value creation.Ultimately you have to grow, which means
taking market share and bringing better products to the market, Bowles said. We want to be a
viable, profitable and successful supplier of home furnishings products in the market years from
now.Springs insiders say the partnership with Heartland has been beneficial. The company has gained
much from Heartlands financial acumen and from additional infusions of capital for acquisitions.
Heartland has lent both discipline and expertise and challenged some of Springs cherished corporate
beliefs, some of which withstood objective examination from outsiders and some of which didnt.In
Acquisition ModeThe company is steadily filling in gaps in brands, products and manufacturing
capabilities. Springs recent acquisitions include:Charles D. Owen Manufacturing Co. Inc.,
Swannanoa, N.C., the worlds largest unit producer of consumer blankets;Burlington Industries window
treatments and bedding consumer products businesses, including a manufacturing facility in Mexico
and a license to use the Burlington House® and American Lifestyle® brand-names;Beaulieus rug
divisions in the United States and Canada, including manufacturing facilities that employ
approximately 650 people in Dalton, Ga., and Canada, and a license to use the Beaulieu and Peerless
brand-names on home furnishing products other than carpet;Ultima Enterprises, a Shanghai-based
sourcing business with a staff of 65; andMaybank Textiles, a yarn mill in Cartersville, Ga., with
130 employees.The first thing we look for is to add strength in our current areas, said Bowles. We
look for brands. We look for product line extensions and capabilities. If you look at the
acquisitions that we made last year, we got into the area-rug business. If you look at the pieces
of Burlington we purchased, it was more strength in top-of-bed, textured top-of-bed and soft
windows. We had a small soft windows business, and this was a significant addition to it. We got
the Burlington House brand. We acquired a small import company in the quilt product area based in
Shanghai. We always look at whats a match for our key customers.Balancing Sourcing And
ManufacturingStriking the right balance between domestic and offshore production is one of the
companys key challenges, given that almost all of its customers are actively sourcing overseas
themselves. Springs must find a way to add value doing fundamentally the same thing. Increasingly,
the company brings in commodity products from offshore in order to be competitive. At the same
time, Springs leverages its US manufacturing base to supply complex or time-critical styles and
products that dont lend themselves to sourcing because of transportation costs or other issues.Our
domestic facilities give us a big advantage in some areas, Bowles said. I dont see us ever not
having significant production here. How to best combine those is one of our strategic challenges.As
part of its sourcing strategy, Springs announced a long-term alliance with Coteminas, a Brazilian
manufacturer of bed and bath products, in 2001. Coteminas supplements Springs manufacturing
capabilities with world-class textile facilities and allows Springs to offer a broader array of
products on a competitive basis.The first thing that we consider is how to create value for the
retailer, said Tom OConnor, executive vice president and president, marketing group. We are
convinced that if we create value for the retailer, it will trickle down and create value for our
shareholders. When we look at offshore opportunities, we think about cost, supply chain and product
development. Making product in the United States is not an objective. Sourcing product offshore is
not an objective. The objective is to create value through supply chain, product development and
branding.

Dean Riggs, executive vice president, home furnishings operations

Crandall Close Bowles, chairman and CEO

Tom O'Connor, executive vice president, and president, marketing groupRetail Issues: Customer
FocusSeveral issues dominate Springs approach to retail strategy, including retailer consolidation,
SKU proliferation and ever-shorter product life cycles. The company has augmented its design and
distribution capabilities to stay ahead.Retailers have really lost the power of pricing in the
marketplace, said OConnor. They have to look to differentiation as a very important element of
their proposition. Everybody has to have his/her own thing. Then you take that one step further.
The consumer is far less patient, so product life cycles are much shorter.While no one is surprised
to learn that the companys largest customer is Wal-Mart which accounts for a huge chunk of Springs
sales and also constitutes much of the companys international business some are taken aback to
discover that Springs second-largest customer is Home Depot. This is, to a large part, due to
Springs hard windows (hardware, blinds and shades) business, and the addition of Beaulieus area rug
business last year.Springs key retail customers also include other large mass merchants and
departmental specialty stores such as Kmart, Target, Linens n Things, Federated, JCPenney, Kohls,
Sears, Lowes and Bed BathandBeyond. First and foremost, we focus on our key customers, said
OConnor. Our key customers strategy is about where consumers are shopping. To the extent that
consumers are shopping in those venues, we will be there. Brands are important resources. We want
our brands available where consumers shop. The greatest value to a brand is getting a positive
customer experience.We havent figured out how to be a scale player and a niche player
simultaneously, he continued. We just arent going to make a Mercedes in a Chevy plant. At the same
time, we will not stay away from upper-end products where they are sold in scale.Innovative
Manufacturing
Textile World editors toured several Springs plants south of Fort Mill in Lancaster, S.C.
The tour included a weaving plant where state-of-the-art, air-jet weaving machines were making
sheeting at a blistering 650 picks per minute. The plant manager has seen an increase in style
changes and expects the pace to pick up further to meet retailer demand.Also on the tour was an
automated cut, sew and assembly plant for bed-in-a-bag products. Of course, no tour of the plants
would be complete without visiting Grace Complex, which Springs executives refer to as the heart of
our bedding business
(See Amazing Grace, TW, this issue).Everywhere
TW went, plant personnel spoke about how they had shortened their production cycle time
more than they would have believed possible just a few years ago. All were actively working on
projects to narrow production times further.Springs has spent quite a bit of money over the past
five years in the bed-in-a-bag area automating production, said Dean Riggs, executive vice
president, home furnishings operations. No one else is even close to being at that level of
technology.This high level of automation cuts out labor costs in a product that would be inherently
difficult to source offshore due to its bulk and size.The company constantly looks for new
technologies to leverage, whether they are off-the-shelf solutions or emerging technologies that it
can develop working with its supplier partners.For years weve been very innovative in air-jet
spinning, said Bowles. Weve led the way with Murata to develop Murata Jet Spinning and now Murata
Vortex Spinning. Weve been partners with Murata for a long time.Riggs pointed out that Springs
leadership in vortex spinning is paying off by improving the companys ability to respond to
customer requests. He also mentioned the companys transfer of jet-sew technology, developed for
sewing washcloths, to improve bath rug production.Decision-making [for capital spending] has become
significantly more complex in the last few years, said Riggs. There are so many other alternatives
that have to be weighed out as part of the justification process. The opportunities for new
technologies or improved technologies which in the past would have been justified only against a
return in a particular plant or location now have to be looked at against whether there is an
opportunity to buy that product at a lower cost.In the past few years, more and more of Springs
capital spending has gone into areas such as distribution, information technology (IT) and design.
A good example can be found just across the street from the companys headquarters the building that
used to house a pilot plant for research and development was remodeled in 1999 to accommodate IT,
design and merchandising teams.One Springs: An ERP InitiativeDuring a tour of this building,
TW saw scores of IT associates in conference room after conference room working feverishly
to get Springs enterprise resource planning (ERP) initiative, One Springs, up and running.The
company launched this initiative less than two years ago, and it has achieved several milestones to
date, such as redesigning internal systems and processes to operate under new environments; and
going live with a new system in several areas of the business, including the first manufacturing
site earlier this year. It is scheduled to go live at two more sites in June and will continue to
roll out at other sites during the year.One Springs is broader than just IT. It is
all-encompassing, involving new software systems and a reengineering of the companys internal work
processes. The ultimate objective is to make Springs operate more efficiently with fewer resources,
deliver higher service levels to customers, run with less inventory, and thus improve the companys
competitive position.
Editor's Note: Alfred Dockery is editor of The HunTex Report, a newsletter for industrial
textiles. A graduate of North Carolina State University's College of Textiles, he has been writing
about the textile industry for 15 years. Dockery is based in Clemmons, N.C.

June 2003