Supply Chain Management
TW Special ReportCutting Compliance Costs
NextLinx Trade Collaborator helps cut global supply chain costs.The hidden costs of
sourcing, in both procurement and logistics, as well as the unintended impact of noncompliance with
rules of origin, create a risk environment for sourcing decision makers. Clear information on every
aspect of trade transactions minimizes that risk.Many retailers currently underestimate the amount
of sourcing costs of a particular item that is imported from a foreign country, said Darren
Maynard, COO, NextLinx Corp., Rockville, Md. For example, under the Caribbean Basin Trade
Partnership Act (CBTPA), a duty of 32.2 percent is added on top of the cost of a mens polyester
T-shirt imported from the Dominican Republic if the retailer does not qualify for the countrys
rules of origin. In other words, on T-shirts the retailer could pay significant additional money if
[its] shipping documents are not accurate.However, with direct access to the changing regulations
and complex rules of origin, retailers can gain substantial cost savings and expand their global
reach without the risk.VF Corp. Selects NextLinx SolutionVF Corp. (VF), Greensboro, N.C.,
purportedly the worlds largest apparel company, with brands such as Lee®, Wrangler®, Riders®,
Vanity Fair® and The North Face®, recently selected NextLinxs Trade Collaborator solution to
provide sustainable bottom-line savings by reducing sourcing and global supply chain costs,
minimizing trade compliance risks and allowing for more informed decision making.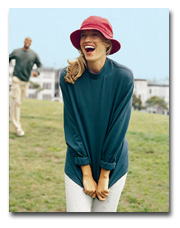 Apparel manufacturer VF Corp. selected NextLinx Corp.s Trade Collaborator solution to help
the company deal with global trading issues. VFs clothing, such as the Lee® mock turtleneck
(right), is also sold under many other well-recognized brands.NextLinx Trade Collaborator, an
integrated suite of Trade Import, Trade Export and Trade Agreements solutions for global trade,
will be used by VF to collaborate with trading partners, monitor compliance-related sourcing costs,
prepare for preferential duty rates on imports and exports, and optimize its global trade
fulfillment process.We take pride in bringing to market superior products and rely on our
operational excellence and the best technology to quickly respond to our consumers needs around the
world, said Ellen Martin, vice president of supply chain systems, VF. NextLinxs Trade Collaborator
provides us the opportunity to utilize critical and timely global trade information and a
collaborative solution necessary to manage our trade fulfillment process effectively and
efficiently.According to NextLinx, using the Trade Collaborator suite to streamline the flow of all
import and export transactions into one single application can lead to a reduction in VFs inventory
carrying costs, compliance risk and workflow per entry. The Trade Export solution will integrate
with VFs existing applications to screen for restricted parties, determine licenses, create
documentation and submit Shippers Export Declarations (SEDs) to US Customs. Trade Agreements
solution will give VF access to the African Growth and Opportunity Act (AGOA), CBTPA and North
American Free Trade Agreement (NAFTA) rules of origin, enabling VF to plan for preferential duty
rates.NextLinx Trade Collaborator is powered by Global Knowledge, one of the industrys most
comprehensive databases of global trade content and international business rules.Its software and
Web services solutions combine global trade business rules and country-specific trade data,
consisting of denied party lists, landed cost components, import and export controls, and customs
duties and documentation, to help companies reduce the risks and costs associated with importing
and exporting goods across international borders.As a truly global organization, VF understands the
economic challenges that occur with manufacturing in our changing global climate. [Its] selection
of NextLinx validates our commitment to providing superior technology solutions and comprehensive
trade content and underscores the benefits of implementing a global trade solution, said Rajiv
Uppal, founder, president and CEO of NextLinx. Furthermore, VF has recognized the value and
importance of utilizing trade agreement programs. We believe that the future of successful
global business relies on participation in these preferential programs, thus we have expanded our
product functionality and look forward to extending this benefit to all of our customers.More Than
TextilesNextLinxs customers include Boeing, Federal Express (FedEx), Cendian Corp., Sothebys, Cisco
Systems, 3Com, Fairchild Semiconductor, Rockwell Automation and Panasonic.In April 2002, the
WorldWide Retail Exchange (WWRE®), a business-to-business exchange for retailers and suppliers,
announced the launch of its WorldWide Trade Logistics (WTL) suite and strategic alliance with
NextLinx. The WTL suite which addresses trade compliance, logistics cost estimation and analysis is
designed to streamline and automate global supply chain trade logistics operations in one
centralized location.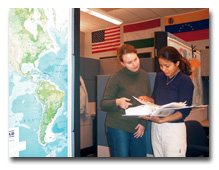 NextLinx provides information such as import/export rule and regulations data, compiled by a
team of content experts.Logistics, import/export complications and complex legal requirements can
cause companies significant time delays and financial strain. Adoption of the WTL solution will
enable WWRE members to avoid these basic impediments and significantly cut costs, said Jim Schwab,
WTL product director, WWRE. Importantly, members who take full advantage of these solutions can
market their supply chain efficiencies as competitive advantages. NextLinx and WWRE formed the
alliance to take the Global Trade Compliance and Landed Cost Calculator solutions to market by
providing both the application and the global content needed to facilitate global trade compliance
and landed cost calculations. The solutions are powered by NextLinxs Trade Services application and
content from Global Knowledge, which contains 97 chapters of the Harmonized Tariff Schedule for
shipping any product to more than 110 countries covering more than 99 percent of world
trade.Through the use of WWRE solution offerings, members have collectively saved approximately
$408 million on transaction volumes of more than $2.7 billion. Savings per member currently average
$4.5 million, according to the exchange. WWRE continues to expand its solution offerings, add
functionality to existing solutions and further strengthen its value to members.FedEx Trade
NetworksFedExs use of NextLinx solutions for screening and landed cost has led NextLinx to state
that by mid-2004, it will support the largest exporter in the United States in terms of shipment
volumes and value.The mission of FedEx Trade Networks (FTN) is to provide automated Web-based
solutions and tools that help customers navigate through the complex maze of global customs and
regulatory schemes, said G. Edmond Clark, president and CEO, FTN. Businesses are increasingly
looking for new ways to expedite and simplify the movement of goods across borders and throughout
the entire supply chain from sourcing to selling. By joining forces, FedEx Trade Networks and
NextLinx will be able to offer the most robust solutions in the industry.NextLinx also points to
Cendian Corp. as a prime logistics example. Cendian a spin-off of Eastman Chemical Co. and a
logistics solutions provider that focuses exclusively on the chemical industry needed to ship
chemical products with certainty and safety in and out of 80-plus countries, while ensuring
compliance with all respective trade laws and securing the proper documentation for Customs and
other governmental agencies.NextLinx Trade Document solution manages document determination and
creation for chemical products being imported and exported via all modes of transportation. The
solution determines the appropriate documents required by different parties to export/import
internationally. The document engine is NextLinxs Web-based e-commerce solution, which already
supports more than 850 different trade document templates that can be instantly leveraged.The
electronic generation of all documents allows organizations to maintain full regulatory compliance
with the most up-to-date trade rules and regulations, and ensures customs clearance at port of
departure and port of entry. The solution comes with standard adapters for all major Enterprise
Resource Planning systems (ERPs), can be easily integrated into existing legacy systems and is a
cost-effective means to address compliance responsibilities.

Rajiv Uppal, founder, president and CEO, NextLinxThe Trade Documents solution helps companies
streamline and manage the entire documentation compliance process by electronically preparing and
distributing all necessary forms required for cross-border trade, said Uppal.3Com, a tier-one
provider of networking products, was looking for a centralized system that could manage compliance
responsibilities for its offices around the world. It initially purchased the NextLinx solution in
1999 and integrated it into its SAP ERP system. However, when 3Com customers downloaded software
from its website, a compliance hole was opened, and all parties were not screened against
restricted party lists. To solve this problem, NextLinx routed Web customers through the NextLinx
compliance software, and now both SAP and Web-sourced customers are supported on the same
software.These implementations demonstrate NextLinxs ability to deliver both Web-based and
traditional compliance solutions and integration expertise to support high-volume transactions for
global businesses, said Maynard.

May 2003