At the First China Jeans Fashion Festival, held recently in the province of Guangdong, China, W.
Schlafhorst AG & Co., Germany, presented the Schlafhorst Belcoro Boutique, showing denim
articles from Chinese manufacturers made of yarns spun using the Belcoro structured denim system.
The system is used to adapt spinning positions on the company's Autocoro rotor spinning machine to
produce denim yarns.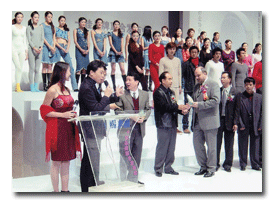 Schlafhorst presented creativity awards following its fashion show at the First China Jeans
Fashion Festival.

The company also offered fashion shows and a creativity contest during the Schlafhorst Best
Brand Release Conference at the festival. Schlafhorst presented its Belcoro Certificate to Panther
Textiles Co. Ltd., a winner in the creativity contest. Panther operates more than 3,000 Autocoro
spinning positions.

April 2003