Textiles In Mexico
TW Special Report Comex: A Century Of Leadership In Narrow Fabrics
State-of-the-art technology, research and development, and high quality standards help to
further this Mexican company's long-term success. Founded in 1897, Compania Mexicana
Textil, better known in the marketplace as Comex, is a famiIy-owned Mexican company that works
under very high standards of efficiency and quality.The company, whose slogan is "A Tradition of
Quality," has a long historv of manufacturing all kinds of narrow fabrics including ribbon,
elastic, webbing, trimming, bias tape, cord, hook and loop, and much more.The Comex narrow fabrics
operation is considered a top example in the textile industry, using the most up-to-date technology
in all its processes, preparation, weaving, dyeing and packaging. Company StrategiesComex's
long-term success has been based on the following strategies: People are the main strength of the
companya highly skilled wofkforce driven by continuous improvement without compromising standards.
Customers are the focus of all operations, with a very close relationship based on respect,
honesty, feedback and superior service. State-of-the-art technology in all manufacturing processes
offers a competitive edge. Research and development is a must. All work must meet the company's
high quality standards. Manufacturing PlantsComex has three manufacturing plants with about
700 looms, continuous dye ranges and computerized packaging machineryeach for a specific type of
product. Each plant operates three shifts, six days a week, with an average of 91 percent working
efficiency at very high speeds. Plant No. 1 manufactures all kinds of ribbon from 1.5
millimeters (mm) up to 130 mm; in solid, multicolor, multiweft and jacquard; for apparel, crafts,
home decor and industrial markets. Materials used include polyester, polyamide, and metallic yarns.
Bias tapes are made using cotton or polyester.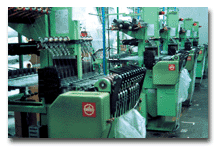 Comex's ribbon plant is equipped with Jakob Muller weaving machines. Plant No. 2
manufactures custom-dyed, plain and jacquard woven and knitted elastic for intimate apparel. Widths
range from 3 mm up to 100 mm. Materials include polyamide, polyester, spandex and rubber. The plant
also manufactures trimming, fringe, cord, gimp and net for apparel, home decor, furniture and
craftsall made using rayon, polyester, cotton and Lurex® yarns.Plant No. 3 is Comex's subsidiary
"Cintas y Telas Elasticas," better known in the market as "Cytesa." It manufactures woven heavy and
light webbings for seatbelts, harnesses, slings, safety equipment, travel gear, Iuggage, shoes,
containers, military items, hats, and curtain tapes; from 12 mm up to 200 mm; in solid, multicolor
and jacquard; using polyester, polyamide, Kevlar®, Nomex®, fiberglass, cotton and polypropylene
fibers.Cytesa also produces woven reinforced elastics for orthopedics, sportswear, shoes and
apparel; from 10 mm up to 250 mm in width; in solid, multicolor and jacquard; using polyester,
polyamide and cotton with rubber or spandex. Equipment InstalledVertically integrated, Comex
does its own twisting and yarn dyeing. Each plant has a laboratory with the most modern
spectrophotometers, elongation and modulus equipment, crockmeters, launderometers, and
weatherometers for checking colorfastness, as well as other equipment for testing flammability and
tenacity.With the main objective of giving its more than 4,000 global customers consistent quality
in its products and services, Comex certified its quality management system in June 2002 in
accordance with ISO 9001:2000 standards under the supervision of Bureau Veritas Quality
International.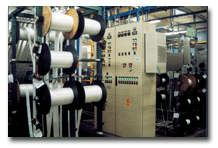 Equipment for product finishing assures consistent high quality.The Comex managing team knows
that after 105 years of existence, it has inherited a big responsibility, and it accepts the
challenge to maintain its leadership.
December 2002