Take-Up SystemsBy Jennifer Dennard, Assistant Editor All Wound Up
Advancements in fabric take-up systems and winding technology offer enhanced quality and
reduced cost. Large fabric roll batching, introduced to the United States more than 35
years ago, often has taken a back seat to newer, flashier textile developments. Although fabric
winding machinery and take-up systems dont have many bells and whistles, they remain an important
part of a companys vertical process for some very good reasons. Take-up systems offer continuous,
longer runs, leading to less cutting and sewing, and reduced production costs and fabric waste.
Manpower is reduced because fewer transports are needed. Less handling of fabric by human hands
during manufacturing and transportation processes lowers the risk of damage and enhances
quality.Companies specializing in these often overlooked systems today strive to offer not only new
and innovative products, but also improved, often customized, winding machinery.Companies such as
Birch Brothers Southern Inc., ParksandWoolson Machine Co., Alexander Machinery Inc. (Alexco) and
Menzel are in the fabric winding and take-up system business. They know customers want faster, more
reliable winding machinery requiring even less hands-on maintenance and enabling more on-time
delivery. Customer service remains a top priority everywhere. Birch BrothersThe industry trend
is very simple, not only in the United States but worldwide quality, faster, with as much
automation and as little labor as possible, said Steven W. Birch, president, Birch Brothers
Southern Inc.The Waxhaw, N.C.-based company specializes in rewinders that cut and restart on the
fly without stopping. The company currently has 1,200 automatic winders installed in the United
States and abroad. Our new 4-Roll generation of fully automatic winders has been
well-received, said Birch. The 4-Roll Real Time Transfer Fully Automatic Winder produces rolls of
textiles, nonwovens, paper film and foil from 4 inches to 78 inches in diameter, with roll weights
up to 10,000 pounds.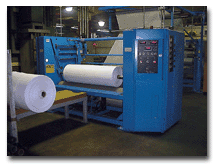 Birch Brothers' 4-Roll Real Time Winder technology allows in-line slitting and enables
shipping from the production line. According to Birch, new take-up system products, such as
the 4-Roll Real Time Transfer Fully Automatic Winder, would not have been possible without recent
developments in take-up systems such as AC vector drive technology and readily available
programmable logic controllers (PLCs).Recent 4-Roll installations include: Copland Fabrics,
Burlington, N.C.; Springs Industries Inc., Fort Mill, S.C.; Velcro USA, Manchester, N.H.; Highland
Industries, Greensboro, N.C.; and Carpenter Co., Richmond, Va.In addition to its 4-Roll product
offering, Birch also rebuilds, retrofits and warranties as new any Birch winder using older
technology. ParksandWoolsonParksandWoolson Machine Co., Springfield, Vt., has been building
textile finishing machinery since 1826.The company concentrates on the manufacture of
custom-designed face finishing systems, such as shears, tigers, nappers, sanders/sueders and
quality systems.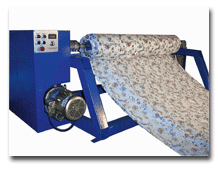 ParksandWoolson's Posi-Winder provides speed or torque control for winding and unwinding
processes.The recently developed AC drive Posi-Winder Wind/ Unwind System continues the companys
investment in leading-edge technology. The Posi-Winder, suitable for textiles, film, nonwovens
and paper, operates as a winder or as an unwinder, and delivers web with consistent tension from
beginning to end, regardless of roll diameters. Surface speed of delivery is matched to the
operating speed of the connected equipment.[It] is simple and provides either speed or torque
control over the process, said A.G. Peterson, president.The Posi-Winders modular design allows for
rapid and easy integration into any existing web line. Electrical integration is accomplished via a
quick-connect interface cable.This single platform replaces the need for different winders for
specific application types surface winding versus center winding, said Joseph M. Gardner, vice
president.Gardner also mentioned the evolution and reliability of AC drive system technology, such
as that used by the Posi-Winder. As of late, AC drive systems have evolved at an extremely rapid
pace. Perhaps more important is the fact that the technology has matured to the point that it is no
longer cutting-edge technology, but proven technology. It is critical that we field designs that
are proven to be reliable (hardware and firmware) and supportable from a logistics standpoint
globally, Gardner said.ParksandWoolson platforms are designed around ABB AC drive systems, which
are more cost-effective when compared with DC drives or hydraulic systems, according to the
company.The AC drive system has resident firmware that automatically, without any additional roll
diameter sensors, calculates roll diameter buildup and compensates in torque and speed mode, thus
providing specific or tensionless winding and unwinding, Gardner explained. This capability allows
us to offer a low-cost (acquisition and lifecycle) platform that emulates both center and surface
winders and unwinders a single solution for any web winding and unwinding
requirement.ParksandWoolson provides equipment maintenance, repair and technical support for its
machines. We can modify or adapt virtually any system to our Posi-Winder design, Gardner said. We
also can provide custom-designed systems to meet any unique needs of our
customers. AlexcoAlexander Machinery Inc. (Alexco), Mauldin, S.C., has taken part in the trend
towards more maintenance-free take-up systems. There has been great improvement in Alexco take-up
drive systems, which eliminate moving parts, said Jeff Davis, vice president, sales.Recent
offerings from Alexco include a center-wind off-loom take-up for technical and specialty fabrics.
The company also offers the Fabricmaster large-roll center-wind take-up for fiberglass or carbon
fiber fabrics. Alexcos large-roll off-loom take-ups feature structurally sound heavy steel
end-housings to enclose drive components, as well as Power Doff to move fabric rolls from take-up
to transport vehicle. Systems are low-maintenance and have low power consumption, according to the
company. They are available with center-wind and surface-wind function. Fabric oscillators also are
available. Alexco take-ups are available for all types of fabrics, as well as for all types of
fabric-forming machinery.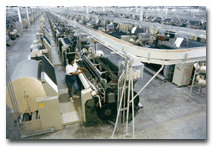 Alexco's fabric take-up systems are installed at Avondale Mills Inc.'s Horse Creek
Plant. Customization is a large part of Alexcos business. Alexco has always maintained a
strong engineering department. The advantage Alexco has over other suppliers is that we can
custom-design a system for particular or specialized applications, Davis said. Alexco offers
customized take-up and inspection arrangements, as well as refurbishing services for older machines
for installation on new weaving machines. MenzelMenzel, Spartanburg, introduced the first
large-roll batching system to the US textile industry in 1965. It continually has focused on
innovations in web handling and finishing equipment.Today, Menzel manufactures a standard line of
take-up systems and custom-designed systems to comply with customer requirements.Currently, Menzel
offers the Turret Unwinder or Winder, a two-position turret winding system that reduces downtime
and enables quicker roll changes by allowing simultaneous winding and unloading.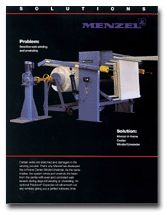 Menzel's product line includes theA-frame center winder/unwinder.A variety of other surface
winders also is available, including the Electric A-Frame Surface Winder; Two-Roll Surface Winder;
and Two-Roll, Low Profile Surface Winder.The Menzel 3-Roll fully-automatic, computer-controlled
winder enables production lines to continue to run while finished rolls are being doffed on the
fly. An A-Frame Center Winder/Unwinder and a Multi-Station A-Frame Winder are also part of the
Menzel product line. Menzel offers refurbishing services for its older take-up systems as
well.According to Jack Wingo, sales manager, computer-controlled systems, such as the 3-Roll
Automatic Winder, are part of a trend to provide more precise control and improved roll
quality.Developments ContinueTake-up systems have come a long way over the last 35 years. With
advancements in full automation, the elimination of moving parts and mechanical control systems, as
well as lower maintenance, the textile industry is seeing faster, higher-quality take-up systems
continue to develop.
December 2002