El Salvador Means Business
El Salvador establishes business-friendly environment and leadership role in Central America
thanks to peace, democracy and pro-development policies. With a population of 6.2 million
and borders with Guatemala, Honduras and the Pacific Ocean, El Salvador is the smallest Central
American country slightly smaller than the state of Massachusetts. A model of democracy and
conflict resolution, El Salvador has held democratic elections since 1989. It resolved 12 years of
civil war in 1992, when the government and leftist rebels achieved peace based on military and
political reforms. In developing a transparent democracy, the president is elected in open popular
elections to a five-year term, with term limits, while the Legislative Assemblys 84 members are
elected to serve three-year terms.Since the first elections in 1989, the Salvadorans have focused
strategically on stabilizing their economy, reforming economic and monetary policy, reorganizing
the regulation and deregulation of critical infrastructure all while reducing poverty, and
increasing education opportunities and health initiatives. On January 1, 2001, El Salvador
dollarized its economy. The U.S. dollar circulates throughout the country along with the Salvadoran
colon. Currently, 60 percent of circulating notes are dollars, and the dollar is the unit of
account throughout the financial system. This step has increased the ease of accounting with direct
investors in El Salvador and reduced interest rates by eliminating currency risks.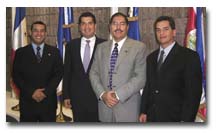 Left to right: Juan Zepeda, senior investment advisor, PROESA; Mauricio Infante, general
director, PROESA; Ing. Luis Arturo Anleu, executive director, Salvadoran Association of Apparel
Manufacturers (ASIC); and Carlos Pola, secretary, ASIC Textile ProspectsIn the minds of
Salvadorans, the opportunities for U.S. textiles are twofold: to increase the flow and availability
of U.S. yarn and fabrics to facilitate Caribbean Basin Trade Partnership Act (CBTPA)-compliant
apparel for export to the United States; and to attract U.S. manufacturers to establish facilities
for yarn, knitting, weaving, dyeing, printing and finishing operations within El Salvador to
support long-term growth. Apparel manufacturing continues to grow and attract investment from
around the world. PROESA, El Salvadors investment promotion agency, headed by the countrys Vice
President Carlos Quintanilla Schmidt, has brought to bear a very aggressive plan that pursues
economic development in five areas: agribusiness; call centers; electronics; manufacturing; and
textiles and apparel.Each of these areas takes advantage of pro-investment laws ranging from free
movement, transfer and repatriation of capital, to free trade zone laws with tax exemptions and no
export taxes. The programs focus on job creation and the productivity of the countrys labor force.
The extensiveness of the plan, and El Salvadors success thus far, provide insight into the
thoughtful, long-term nature of the plan, which has led to the second-largest gross domestic
product (GDP) growth rate in Latin America in the 1990s, while maintaining low interest rates and
low inflation. Hilasal: Value-Added TowelsTextile operations in El Salvador are not new,
explained Ricardo Sagrera, chairman and CEO of Hilasal and Export Salva Free Zone. Hilasal, founded
in 1942, established its boutique approach in 1975. As purportedly the fourth-largest towel
manufacturer in North America, including Hilasals Mexican facility, the company takes a value-added
approach utilizing dyeing, printing and embroidery techniques.Known for vividly printed towels with
near-photographic resolution, the operation manufactures the Hilasal line, promotional products and
licensees production. The Hilasal El Salvador facility features Rieter equipment from opening
through open-end spinning. The weave room uses Sulzer Ruti rapiers. The finishing department
includes a Benninger wash range. Beyond the dyehouse, Johannes Zimmer flat-bed printing is used.
The two vertical manufacturing operations, with 800 employees, start with cotton and take toweling
into the marketplace, generating approximately $90 million in sales and export levels of 98
percent. Five apparel plants, with a sixth opening soon, started with robes and wraps using Hilasal
toweling. The plants now employ 2,000 Salvadorans. Hilasal Apparel Group offers apparel contracting
and full-package services to clients such as Tommy Hilfiger, Calvin Klein, Sara Lee, JCPenney,
Wal-Mart, Sears and Target.Real-estate development also has been part of Sagreras success. His
development of Export Salva Free Zone is one of 16 free trade zones in El Salvador. Beyond real
estate, Sagrera offers legal, labor and management support services to facilitate start-ups and
dedicated plants. St. Jack's: Vertical AppealThis global work is tough work, remarked Rolando
Jorge Sim#44; president, Industrias St. Jacks S.A. de C.V. Established 28 years ago with 21
employees, St. Jacks today is a vertical operation that knits, dyes, finishes and prints; cuts,
sews and packages; and distributes mens, womens and childrens garments. St. Jacks has its own brand
and a full design staff, and operates 65 retail stores throughout Central America. St. Jacks also
produces garments for brands such as Tommy Hilfiger and Gloria Vanderbilt. A Disney licensee for
almost 20 years, the company has grown dramatically. Simsees the firm as a manufacturer, retailer
and distributor that now employs 2,500 and is poised to grow. Our strength is our weakness, said
Sim#44; referring to the fact that being a vertical company is an important advantage, but a few
years ago it was hard trying to be efficient and competitive in so many different areas. St. Jacks
uses U.S. yarn from notable U.S. firms, recently utilizing GSM 102, a U.S. Department of
Agriculture program that facilitates credit and extends terms of 180 days to approved firms that
purchase U.S. cotton yarn.Simpointed out that St. Jacks even grew during the civil war of the
1980s, doubling sales every three years. In 1996, a big expansion occurred that took the company
from 700 to 1,500 employees. Employees are Sims secret hard-working, smart and good with
technology, he said. Investment in the latest technology has not been shy either. St. Jacks focus
on efficient vertical integration is apparent throughout the operation. High-Value ApparelSome
recent foreign investors in El Salvador have met with frustration finding the right fabrics at the
right price to leverage the valuable time savings of producing in El Salvador versus in Asia. This
situation makes it difficult to take advantage of export agreements with the United States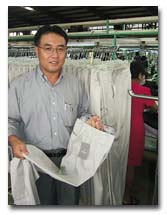 James Kim, managing director, Doall Enterprises, with Liz Claiborne slacksJames Kim, managing
director, Doall Enterprises S.A. de C.V., with offices also in New York City, manufactures high-end
mens and womens suits in El Salvador for the likes of Liz Claiborne. In 1991, Kim was poised to
invest in an alternative Central American country. After making a trip to El Salvador and
consulting with business associates, he launched his new business in El Salvador. Kims first
plant started with 200 people in training and grew to employ 600 after the first month of
operation. His second operation opened one year later, employing another 600 people. In 1993, Kim
opened another factory employing 1,500, focusing that operation on mens suits. Kims New York City
operation keeps him close to the customer. As a full-package producer, he makes the purchasing
decisions and coordinates operations through New York City. Fabrics are selected from sources
around the world, including wools from Italy and the United States. Kim expressed concern over
availability of styles and the sourcing headaches associated with the purchasing decision of using
imported goods versus U.S.-manufactured products. Kim also is managing director of a new free zone
Zona Franca Santa Tecla which will feature 10 industrial buildings with services.On August 15th,
Partex Apparel Group (Partex) inaugurated its state-of-the-art cut-and-sew plant with 500
employees. The plant, located on the outskirts of San Salvador, produces highly embellished
athletic uniforms catering to high-profile licensees of the major professional and collegiate
sports leagues.Juan Zighelboim, CEO and founder, introduced the company to El Salvador back in
1993. For a company that produces 75,000 garments per week using 90 percent U.S. and 10 percent
regionally knitted fabrics, increased access, speed and/or local production of fabrics is
essential. Zighelboim compliments the efforts being made by U.S. textile mills to reduce lead
times. The regions capacities are limited, but he points to a concerted drive to bolster local
output. According to Zighelboim, a better balance of raw materials supplied to CBPTA full-package
makers will enhance the regions ability to compete with Asia. Cutting SolutionsMark Moon,
general manager, Central American Cutting Center S.A. de C.V., located in the Miramar Free Zone,
and member of the Argus Group, stated, Quick response is the answer for [competition with] China.
Consignment goods from the United States, stock and hold in El Salvador the security in El Salvador
supports that. Moon, from Miami, with 18 years of experience in Central America, stated his
selection was largely based on El Salvadors economic atmosphere, supportive government, education
availability, and steady growth, including the dollarization of the country.A tour of the facility
shows a custom-built facility in the shape of an inverted V. The 33,000-square-foot (ft2) left wing
is dedicated to cutting knits and has capacity for more than 200,000 dozen tubular knits per week.
The right wing, also 33,000 ft2, is dedicated to cutting wovens, with capacity for more than
500,000 units per week. Joining the two rooms at the point is a 26,000-ft2 warehouse that handles
the movement of goods in and out of the facility. Leveraging the high level of infrastructure at
Miramar, the company uses Electronic Data Interchange (EDI) with its fabric suppliers, and the
operations information is open to clients so they can determine the location and status of their
orders. Much of the fabric on the floor comes from prominent U.S. suppliers, but Moon expressed
that more is needed and time is of the essence. Currently in the process of relocating the companys
corporate offices from Miami to El Salvador, the Argus Group has made a solid commitment. These are
remarkable people, Moon commented, as he relayed the story that during the time he was establishing
the cutting center, three days after a major earthquake, 95 percent of employees had returned to
work nationwide a remarkable testament to the work ethic and the importance of jobs in the
Salvadoran society. Support ServicesSupport for apparel services is right around the corner in
the Miramar Free Zone, due to the establishment of JUKI Central America S.A. de C.V., a Japanese
manufacturer of sewing machinery. Discussing the selection of El Salvador, Katsumi Nihei,
president, echoed many interviewed, pointing to the ease of establishing and running a facility,
and new benefits such as a unified customs program, by which El Salvador has streamlined customs
clearing in port in Guatemala, so materials can move efficiently across borders. JUKI established
its presence to provide a regional service and distribution center for Central America that
supports the regional growth of the apparel industry. Nihei explained that after the Mexican boom
of 1993, the focus changed in 1997, with Central America dramatically gaining share. Selling
machines, providing technical service, and offering management and factory management seminars have
provided ample opportunities for JUKI to support the growth in Salvadoran apparel production. Nihei
pointed to the Salvadoran government and tax incentives; the lack of currency volatility and ease
of financial reporting using the U.S. dollar; the infrastructure improvements of transportation,
banking and telecommunications; the people; and the foreigner-friendly nature of El Salvador all as
reasons to invest. Support business for apparel manufacturing, such as distribution of thread by
many U.S. brands, and services such as garment printing are growing areas for
entrepreneurs.Josodrez, general manager, Techno Screen, explained the need for support services.
Having printing capacity of more than 560,000 pieces per month and employing 155 people on one
shift, Techno Screen uses an array of automatic screen-printing machines by MHM and Schenk to print
pre-cut garment pieces and finished garments using plastisols and special-effect pigments. Five of
the MHM machines feature 16 stations with 14-color capability. Rodrez explained 98 percent of the
production is for export clients and that the business success is tied to providing a quality
product and having the highest level of regard for working conditions and wage levels. It is
apparent at Techno Screen and at the other locations visited that, in order for the country to grow
as a provider, the work environment in El Salvador must meet or exceed local expectations in order
to ensure the economic development within the country and also to meet the scrutiny of export
clients. Social EffectsEl Salvadors 91,000 textile industry workers only a portion of the
labor force of nearly 3 million have minimum wage levels of 60 cents per hour and a standardized
work week. Industry leaders consistently speak of the work ethic, lack of absenteeism and sense of
community that has been established with new business initiatives. The free zone areas provide
services ranging from health, recreation, banking and retail to population centers in their regions
and also augment local services. From 1980 to 2000, illiteracy has dropped from 31.5 percent to
15.1 percent, and extreme poverty has been reduced from 33.1 percent to 15.8 percent although this
rate is thought to have risen temporarily because of earthquake activity in 2001. Electricity
coverage has increased from 69.6 percent in 1992 to 84.5 percent in 2000. Potable water, 45.8
percent in 1992, reached 66 percent coverage in 2000. Telephones per person have more than tripled,
from 3.5 per 100 people in 1992 to 12 per 100 in 2000.El Salvador continues to meet the challenge
of a changing world by embracing a coherent vision for the growth and prosperity of the nation and
Central America and, on a larger scale, for a healthy relationship with the United States and the
Western Hemisphere. Having a transparent democracy, an ethical business and government culture free
of the conditions for bribes, and established policies of reform as PROESA says El Salvador
works. Free Zones Growing RapidlyIn 1974, the first free zone was established in El Salvador
with 100-percent governmental administration. In 1986, the law was modified to allow private
entities to participate, and in 1991, the first private free zone opened. The last 10 years have
seen considerable growth, with seven zones opening in 2001 alone. Today, there are 16 zones in
total.Under the Industrial and Commercial Free Zone Law, the following incentives are
offered:100-percent income tax exemption;100-percent value-added tax exemption;100-percent
municipal tax exemption;no taxes on capital gains;duty-free import of machinery and equipment, raw
material, and intermediate goods;minimal registration procedures;no limits on foreign capital;full
currency convertibility; andno double taxation.The free zone structure typically creates options
for investors by providing the following:on-site customs office;employee pre-selection;on-site
company clinic and shopping centers;machine and spare-parts vendors;24-hour security;on-site
pension fund managers;managerial consulting;training centers;cafand executive restaurants;
andsports facilities.In addition, many free zone developers build to suit, are invested in the
industry and act as a resource for new tenants. PROESA: Vital Link Among Government, Business
And InvestmentEstablished in 2000 by the Salvadoran government, PROESA is El Salvadors investment
promotion agency, charged with providing potential investors with information and services
necessary for establishing and maintaining successful businesses. Carlos Quintanilla Schmidt, vice
president of El Salvador, serves as the head of PROESA.Mauricio Infante, general director, makes
the message clear, stating that the combination of proactive governmental policies targeted at
reforming, stabilizing and streamlining El Salvadors infrastructure and economy create tremendous
opportunities. Leveraging the countrys economic performance, dedication to free-trade agreements
and infrastructure improvements; focusing on quality jobs, education and training programs;
recognizing El Salvadors strategic location in Central America; and providing progressive fiscal
incentives all differentiate El Salvador from other emerging economies.As one observer commented,
It is said in many countries you need a friend to do business in El Salvador, that friend is
PROESA. The recently created National Investment Office (ONI) has been established as a one-stop
clearing house that allows foreign investors to clear all legal requirements for the establishment
of businesses within seven days down from up to 400 days in the past.The Export Electronic System
(SIEX) was established as an on-line system enabling El Salvador to issue export permits within 45
minutes. El Salvadors 24-hour self-clearing and auto-liquidation process the first customs system
in Latin America to meet ISO 9000 standards clears goods and primary products used for production
in two hours.Consider El Salvador as a place to do business, stated Schmidt regarding textile
investment, and in the end, you will find a government committed to supporting private-sector
companies, good labor, good business climate, and obviously the stability the use of the dollar. We
have done our homework, and El Salvador is ready to produce.

November 2002