AATCC Show PreviewBy Jennifer Wheeler, Assistant Editor From Concept To Consumer
AATCC's annual conference and exhibition offer insightinto color management
solutions. Controlling color, from design board to shopping cart, is the theme of this
years Research Triangle Park, N.C.-based American Association of Textile Chemists and Colorists
(AATCC) International Conference and Exhibition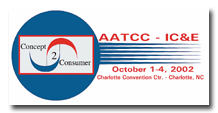 The Concept 2 Consumer (C2C) track will provide attendees with technical sessions, exhibits,
exhibitor product demonstrations, poster presentations, a guest program and an annual awards
presentation.The conference will take place Oct. 1-4 at the Charlotte Convention Center in
Charlotte. Events will begin with a welcoming reception at the Convention Center the evening of
Oct. 1.John A. Boland III, GTMA Executive in Residence at the Georgia Institute of Technology,
Atlanta, will open the conference Wednesday, Oct. 2, with a morning keynote presentation entitled:
Politics, Viagra and Other Popular Remedies: Catch 22 and the Textile Industrys Search for
Relevance.The C2C track will offer seven seminars Wednesday, Oct. 2, through Friday, Oct. 4. It
will cover such topics as color management and communication, new design and production technology,
and ways to reduce costs and condense lead times.Thirteen technical sessions also will take place
Wednesday through Friday. They will include sessions related to business and marketing, advances in
dyeing, functional finishes, biotechnology, troubleshooting for preparation, dyeing and finishing,
innovative technologies, color science, product quality and textile care. Conference papers are
available on CD-ROM and are included in the registration fee.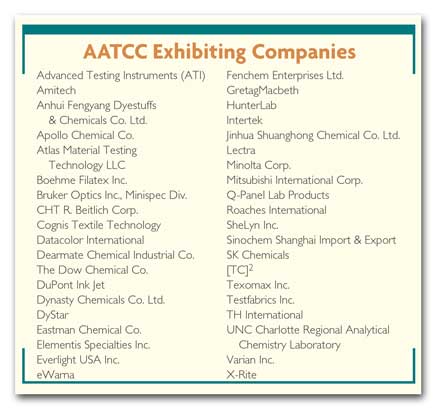 Visitors will be able to view exhibits Wednesday, Oct. 2, and Thursday, Oct. 3.
Exhibits will feature CAD/CAM systems, digital printing equipment, color management, color science,
dyes and chemicals, and testing services for the apparel and textile wet-processing industry.
Commercial exhibitor demonstrations of products and services also will take place.Thirty poster
presentations will be on view Wednesday and Thursday. Presenters will be in attendance both days
from 3 p.m. until 4 p.m.The Herman and Myrtle Goldstein Student Paper Competition will take place
Wednesday.The student textile bowl competition also will take place Wednesday. Teams of college and
university student chapter members will compete for prizes. Academia/industry teams will
participate in a separate bowl, answering questions submitted by students. This years Olney Medal
Address will be presented Thursday morning.Awards for the competitions will be presented Thursday
evening at a banquet, which will be preceded by a reception. The Harold C. Chapin Award for service
to AATCC also will be presented, as will the Henry E. Millson Award for Invention. The AATCC
Outstanding College Graduate of the Year will be recognized that evening as well. This years
conference guest program will, for the first time, offer on Tuesday a golf outing, sponsored by the
separate charitable organization, AATCC Foundation Inc. A shopping expedition is planned for
Wednesday. Thursdays guest activities include a tour of historic homes in the area. Participation
in the guest program requires a pre-registration fee of $120 per person.
For more information about the AATCC 2002 International ConferenceandExhibition, contact AATCC,
P.O. Box 12215, Research Triangle Park, N.C. 27709; (919) 549-8141; fax (919) 549-8933;
www.aatcc.org/ice/index.cfm.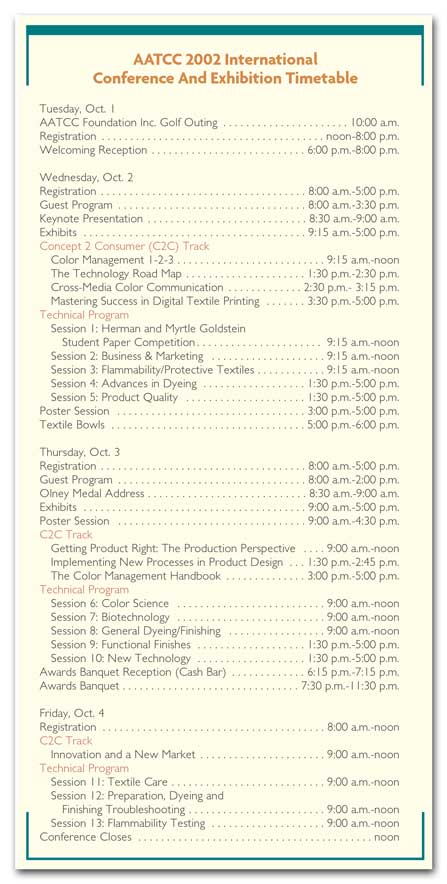 September 2002