Pushing the limits of technology to spin and weave products a new way
There is a
heady feeling about walking into an American textile plant running full-tilt, with the latest
offerings of a number of the worlds leading machinery manufacturers churning out high-quality yarn
and fabric. Thats exactly whats in store for visitors to Ramtex Inc. in Ramseur, N.C.; a
manufacturer of fabrics and yarn for shirting, pocketing and uniform apparel. The plant, located
just a few miles from Asheboro, is a hive of productivity, from opening and blending through
weaving. In many ways, Ramtex resembles an R and D plant more than an actual yarn and fabric
production facility. Companies such as Murata, Sulzer, Trutzschler and others often approach Ramtex
first when seeking production trials of new machinery. In fact, as
Textile World
was considering candidates to profile in this Success Stories issue, the
Ramtex name came up time and time again from machinery manufacturers as an example of a plant on
the cutting edge of manufacturing technology and process control.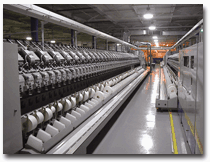 Murata selected Ramtex as the third U.S. test bed for its Vortex Spinning
system. Reasons For SuccessThe reasons behind the plants obvious success are many, according
to Walter Bosch, executive vice president. To begin with, we have a very young team of people who
are energetic and enthusiastic, he said. They are not afraid to bring fresh ideas to the table. We
are very strong in process improvement. Secondly, we are a family-owned operation. We have all the
newest machinery. If it comes out and it looks like it will contribute to our business, we get
it.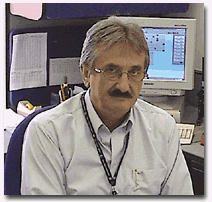 Unlike a number of facilities throughout the world that keep machinery for many years, Ramtex
isnt afraid to replace machinery only a few years old if warranted by productivity, efficiency and
quality gains, Bosch said.Another aspect of Ramtex that contributes heavily to its success is the
companys attitude toward people. Bosch, who personally handles the training and education of his
management team, said the company seeks young, enthusiastic people to employ as trainees, as well
as top students from the major textile schools, and sees how they fit into the companys management
system.Ramtex was a Burlington facility until 1988, when it was acquired by the Lee family of Hong
Kong, which owns, among other businesses, the TAL Group, a Hong Kong apparel maker. They are the
biggest shirt manufacturer in the world, Bosch said, and the biggest shirt importer into the United
States. Ramtex is the only production facility in America owned by the family, although there is a
distribution facility in Louisville. They have invested close to $150 million in Ramtex and have
never taken any money out. They reinvest everything.The results of that reinvestment can be seen
out on the plant floor. As a visitor walks through the plant which incorporates one million square
feet under one roof and takes almost an hour to tour at a brisk pace opening and blending is the
first process that makes an impression. With nothing in the opening room more than several years
old, the process is exceptionally clean a necessity, considering the processing rigors the fiber
must endure in this most modern and speedy of mills. The opening room is dominated by new
Trutzschler Blendomat lines. After opening and blending, Trutzschler 803 and 903 cards prepare
sliver at about 120 pounds per hour for the 70 Rieter SB D10 and RSB D30 draw frames. Since a high
percentage of Ramtex production is combed cotton, the plant has Rieter UNIlap lap-winding machines
and Model E60 and E70R combers. Spinning YarnIn ring spinning, the company has 31 RS100
machines from Toyota Industries (formerly Toyoda Automatic Loomworks) linked to Murata Link Coners.
Some of the ring spinning frames are a decade old and are among the oldest operating machinery
still in production at the plant.Ramtex was among the first companies to employ Muratas air-jet
spinning (MJS) systems and still maintains Model 801, 802 H and 802 HR MJS machines in production.
But the unquestioned star of the Ramtex yarn preparation stable is the new Vortex Spinning (MVS)
system from Murata. Although not the first U.S. installation Bosch said Murata at first was looking
for completely vertical installations, and Ramtex does not do any finishing the exceptional track
record of the company prompted Murata to make Ramtex the third U.S. test bed, after Springs and
Russell.While the benefits of MVS are significant, so is the stress it puts on the entire
processing system. Vortex is a very demanding system, Bosch said. You have to have very good sliver
preparation. Carding, combing and drawing need to be excellent, to the highest standards of
quality. There are probably not a lot of mills in the United States that are technologically
capable of utilizing MVS to its fullest potential. It is very, very demanding on the technical
side.But the payoff is big, as well. Manufacturing costs less with the MVS than with ring spinning,
Bosch said. You dont have a roving or handling system, which can be quite costly.Among the biggest
selling points of the MVS system and Ramtex currently has 27 machines installed is its versatility,
Bosch said. You can create a yarn specifically for an application. You can make it more or less
hairy depending upon the needs of the customer.MVS yarns produced at Ramtex find applications in
woven sheets and bedroom accessories; and knitted womenswear, T-shirts and golf wear. Interestingly
enough, while Bosch concedes the yarn quality from the MVS is among the very highest produced by
the plant, Ramtex uses little of the Vortex yarn internally.Were always sold out, he quipped. We
end up buying a lot of our yarn for weaving from companies such as Parkdale.For the immediate
future, Ramtex plans to replace some of its older MJS spinning frames with Vortex technology. The
company currently has 34 of the Murata air-jet spinning machines in place.Ramtex also ran a trial
last year with Rieters ComforSpin compact spinning system. ComforSpin is perfect for shirting,
Bosch said. Someday, when the demand for fine-count, 100-percent cotton yarns increases, we will
have ComforSpin in this plant, I am sure. Weaving FabricIn weaving preparation, Ramtex employs
Benninger Ben-Vac and Ben-Direct warpers, and the new SAS-PW pre-wet sizing system from WestPoint
FoundryandMachine Co.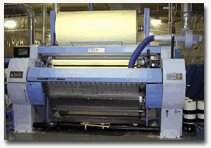 For weaving machines, Ramtex enjoys a highly successful partnership with Sulzer, Bosch said.
The company has 260 L5200 air jets in place and is the first U.S. installation of Sulzers M8300
multiphase machine, which is capable of performing four simultaneous weft insertions. There are
currently 14 M8300s in operation and more on the way. Production speed on the M8300 is nothing
short of incredible, with an average of 2,800 picks per minute, which translates into almost 1.5
yards of fabric every minute. The company currently weaves more than 900,000 yards per week;
130,000 of which come from the 14 multiphase machines. The plants weaving operations run in three
shifts, five days per week. The M8300 is a fascinating machine, Bosch said. The potential
productivity is very substantial. However, with such a high-speed machine, there are several
challenges that must be addressed.The first is somewhat obvious. In olden days, a short loom
stoppage would not affect overall productivity to any great degree. At a fraction of the M8300s
speed, there just werent that many yards of production to be lost. With the multiphase machine,
however, it is an entirely different matter. More than two loom stops per 100,000 picks plummet the
machines efficiency level below 85 percent. It is the mission of Ramtex, Bosch said, to maintain
all production machinery at efficiency levels exceeding 90 percent. To avoid costly loom stops, he
said, the yarn must be nearly perfect, particularly the weft. Warp yarns generally acceptable for
high-speed air-jet weaving will usually suffice for the M8300. Another issue with the machine is
style changes, which can be very costly. At this point, there are not a lot of these machines in
place. There havent been a lot of styles developed yet, so every time there is a style change, it
must be developed from the very start. That is an issue Bosch said will likely be resolved when
Sulzer has enough machines installed worldwide to further develop the support base for the
product.During the week
TW visited the plant, the 14 M8300s ran at 82-percent efficiency with an average of 2.8
loom stops per 100,000 picks. Weve got to do better than that, he said, and we will. It is just a
matter of time and experience. Controlling QualityFor fabric inspection, Ramtex relies upon
the I-TEX offerings from Elbit Vision Systems, which detect defects with up to 90-percent accuracy,
roughly double the rate of manual inspection. I-TEX not only detects fabric defects but provides
the exact location of the defect in the fabric roll.With so much ultra-modern machinery, Ramtex
must constantly monitor production data to ensure maximum quality and efficiency. To this end, the
company has an on-line Zellweger Uster SliverData system to monitor carding and drawing. A Murata
system monitors data on both the MJS and MVS spinning systems. An AlphaTex program keeps track of
weaving. Up next for the company is the installation of an on-line system for weaving preparation.
Overall, seven terminals, located at various intervals throughout the plant, give managers and
operators a quick glance at the operating efficiencies of each process.In winding, the company
currently has Murata machinery, but it also has conducted trials with the Schlafhorst Autoconer
338. Bosch is currently awaiting the opportunity to test the new 21-C Process Coner from Murata,
which made quite a splash at the recent Asian textile shows.The facility is ultra-modern and on the
absolute cutting edge of processes and technology. Spinning yarn and making fabric at a frenetic
pace, Ramtex certainly defies current market trends.

May 2002