Premiere VisionBy Virginia S. Borland, New York Correspondent Spring Ahead
Premiere Vision presents new color and fabric trends for Spring/Summer 2003.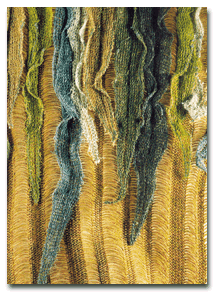 On the eve of Premiere Vision, which will take place February 20 to 23, fabric lines
for Spring/Summer 2003 are complete. Weaves, weights, colors, patterns and surface treatments were
all determined several months ago.Each season, a committee of leading textile stylists and
forecasters pools their knowledge to create a universal range of colors and trends, which will be
presented at the salon in Paris. Input comes from members of a European consortium who meet first
in their own countries, with a follow-up in Paris to develop unified directions for the season.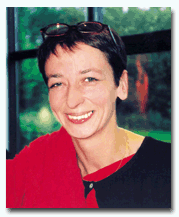 Pascaline Wilhelm, Premiere Vision fashion director, has organized the colors and trends into
groups, which she has presented to exhibitors as a guideline for the season. Colors are shown in
four groups with seven shades in each. White is shown with all ranges. Confidential has soft,
slightly grayed pales or tinted neutrals. Champagne, absinthe, putty, pale sky blue, peach tint and
vapor gray are the colors here.The second group, called Experimental, is dominated by yellowed
greens. Citrine, a fluorescent yellow, and taupe are in this range. It is described as having
biological freshness. Sensoriel shades in the third group are warm pink, clay, sandalwood, apricot,
orangeade, shrimp and watermelon. Darks in the Intellectuel range are basic shades of navy and red,
with plum, teak brown, asphalt gray and cognac.The look of natural fibers, real or imitation, is
pointed out for touch and irregularity of weave and surface. Silky or cotton-like crepons, cloques,
seersuckers, and wrinkled or creased looks are light, soft and fluid. Crepe, suede and decorated
lace are described as tactile affinities.Silky fabrics can be fluid or crunch in pure silk,
viscose, acetate, nylon, or blends. Jacquard fabrics with a matte/shine contrast and discreet sheen
are some of the suggestions. Suiting fabrics in cotton include patterns borrowed from wool. There
are yarn dyes, birds-eye weaves and end-and-ends.Neat, compact sporty fabrics mentioned are denim,
diagonal weaves and double cloths. Many contain stretch fibers. They can be woven in cotton, linen
or synthetics. Linen/wool blends are also mentioned.Finishes that suggest a subtle, worn look are
slightly bleached, barely pigmented or aged. Along with discreet shine, there are iridescent
effects, and lacquered and quartz-finished surfaces.Printed patterns can be humorous, exotic,
figurative, geometric or abstract. Ikats, tie-dyes and over-dyes are pointed up. Application
treatments include burn-outs, cut yarns, embroidery, eyelets and hem stitching on lace, tulle and
gauze. The Linen SectorPauline V. Delli-Carpini, North American representative, Masters of
Linen, reports that the linen weavers who will exhibit at Premiere Vision expect Spring/Summer 03
to be a good season. With neutral colors and natural looks in fashion, it bodes well for linen, she
said. Pure linen is in demand because of the aesthetics, and blends offer performance. Today, there
are so many crease-resistant finishes, younger generations dont associate linen with
wrinkling.Delli-Carpini said there will be at least the same number of exhibitors in the linen
sector as in the past, possibly more if space opens up. There is a substantial wait list.Ornella
Bignami, of the Italian firm Elementi Moda and a member of the Premiere Vision Trend Concertation,
is trend forecaster for Masters of Linen. She projects three directions linen will take for the
season: Silence, Charm and Discipline.The Silence trend shows a range of whites and tinted whites,
along with washed neutrals, beige, powder gray and golden washed tones. Voile, crepe and light
knits are supple. Heavier weights include canvas and bleached denim. There will be a variety of
stripes, dr#44; pleats and laser-cut designs.Colors and fabrics in the Charm group are romantic and
sensual. Colors include golden blush, wood rose, hay and leafy greens. Seersucker, sateen, toile
and gauze are some of the fabrics mentioned. Yarn-dyed patterns show handkerchief plaids and
variegated stripes. Embroideries are in this range. Finishes are smooth. Along with pure linen,
there are blends with cotton, viscose and paper.Dark colors and ombres turn up in the Discipline
range. Cobalt, caf44; raisin, graphite, ebony, onyx, majolica blue, garnet and black are the
shades. Rustic weaves are soft to the touch. There are worn, washed aspects, grill patterns,
diagonal stripes, simple geometrics, color blocking, cubist designs and denims.Delli-Carpini will
have a library of seasonal linens at the Masters of Linen New York office. Trend presentations will
be held for both fashion and home furnishings in March. Trends From Expofil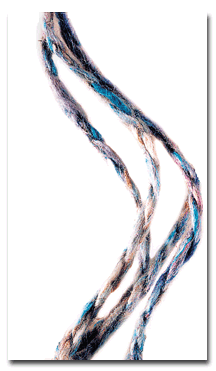 Sylvie Tastemain, fashion director for Expofil, is another member of the Premiere Vision
Trend Concertation. Her Spring/Summer 03 color range for Expofil shows five groups: luminous and
fresh whites, slightly bleached sharp acid tones, grays illuminated by aluminum, deep shades and a
subtle range of faded mid-tones.Tastemain presents fabrics in four directions. A group called
Corrosion features grainy surfaces such as supple, dry-hand crepes. Some have ridges and grooves,
veined and wavy patterns. Fabrics in this group are simple, elegant and sometimes rustic. Natural
fibers predominate; some are blended with synthetics to produce greater fluidity or luminous
effect.There are knitted fabrics with a slightly sandy look, micro-honeycomb patterns, ultra-fine
cotton crepons, seersuckers, silk chiffons and tonal stripes in the Corrosion group.According to
Tastemain, inspiration for the Transformation group comes from crafts and a need to be thrifty with
resources. Cotton is the dominant fiber, although some of the transformations it undergoes change
its look. Fiber blends produce fancy yarns and random effects. There are slubs, nubs, color flecks,
tweeds and coarse-gauge knits. Designs can be random and blurred. There are tussah silks, basket
weaves, torn looks, matte/shine contrasts, appliquand embroideries.The Imitation group, according
to Tastemain, is an effort to mimic nature. Flax is the dominant fiber here. Fabrics can have a
dry, almost brittle look. Fabric treatments include stone-washing, resin-coating, metallic- or
glazed-finishing, discharge- or warp-printing and pearl- or sequin-embellishing.Construction refers
to fabrics that have a strict, modern classicism. Tastemain describes them as sophisticated with
technical refinement. Surfaces can be blurred or hatched with a slightly rustic look. Chines,
moulines, matte/bright contrasts, lightweight compact fabrics, short slubs and nubs and irregular
weaves are mentioned. Fiber SectorSandy MacLennan of East Central Studios is on the United
Kingdoms trend committee and is Tencel®s consultant for fabric and color direction. For Tencel, he
shows colors in five groups. He describes Duo as pale twins and sunny partners. Warm light brown is
paired with creamy white. There are light and lighter blues, yellows, grays and cognacs. Voiles,
batistes and matte shirtings are fabric suggestions.Icy white, cool blues and greens, and violet
and brown are in MacLennans Cooled range. Iridescent fabrics and glossy surfaces are some of the
fabrics shown.Dry-hand fabrics, compact weaves, linen textures and rustic looks are in a group
called Arid. Sun-baked and faded olive, gold and brown are the colors here. Blackened browns and a
bright denim blue are in a range called Sculpture. Tencel/linen blends, textured and fluid fabrics
go in this group. Sunny reds, pinks and yellows are in the Joie de Vivre range. Its an energetic
look, MacLennan said.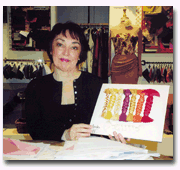 At DuPont, New York City-based Fashion Director Roseann Forde handles global color
forecasting. For Spring, she shows a group of sophisticated neutrals that she refers to as tea
stains. There is a range of cool blues that goes from cornflower and chambray to turquoise and a
purple-cast indigo. Black and white are in this group.Serene Greens are inspired by plant life.
They are both yellow- and blue-cast, and are accented with sunshine yellow and raspberry. Reds
encompass true reds, pinks, oranges and grapes, with rust- and green-cast yellow accents. Browns,
garnet, steel and polished silver-gray are in the darkest range.Innovative fabrics shown at DuPont
were developed in Italy. Some contain new fiber variants that were introduced at Premiere Vision in
October. Forde shows a double-faced knitted fabric in a blend of Tactel® prisma/Tencel and a
lightweight, semi-lustered heather knitted of Tactel/Lycra® that has a crisp touch.T-400, a
relaxed-stretch Lycra, is shown blended with cotton and with Tactel in a line of menswear fabrics.
Many of the fabrics are knitted from air-jet-textured yarns. There are rustic weaves, pebble
textures, slubbed and nubbed linen looks, puckers, hand-crocheted looks, lustered sheers, polished
surfaces and metallic patterns.At Cotton Incorporated, New York City, Suzanne Shapiro, senior
director, fashion marketing, said, There is a return to the basics, but with a difference. The new
basics are more refined and have been reworked through unique constructions, use of color and
finishes.Color-wise, Shapiro said brown is the foundation. She shows brown or brown-cast shades in
several ranges. Hide, bronze and rum browns are in a range called Basic Sophistication. The Washed
and Worn category shows faded shades of cowboy coffee, pine, pueblo and light bone.Shapiro notes
that monochromatic color and tone-on-tone are key trends. She shows large groups of pale, tinted
colors and neutrals.Fabric predictions at Cotton Incorporated show smooth, mercerized fabrics with
a silk-like hand in either pure cotton or cotton/nylon. There are open leno weaves, seersuckers,
gauzes, chambrays, twills, cords, slubbed knits, linen looks in cotton/linen blends, canvas, terry
cloth and a lot of denim.Some of the denims Shapiro shows have novelty application treatment such
as wax- or rubber-coated surfaces, splatter prints, metallic touches or embroidery. Others are
washed, bleached, napped, double-faced or screen-printed. There is a lot of stretch denim.There
will be about 750 fabric companies from 14 European countries showing and selling fabrics at
Premiere Vision. Other exhibitors are fiber companies that use the salon as a platform to introduce
new products and dispense trend and resource information.What will be the best sellers for
Spring/Summer 2003 at Premiere Vision Stay tuned.
February 2002