By Peggy Whaley, Carpet Editor Covering New Ground
The Carpet and Rug Institute takes proactive road to tout carpets benefits, correct
misconceptions. The Carpet and Rug Institute (CRI) plans to significantly tear down
barriers to profitability and growth in the carpet and rug industry by using the resources of its
enthusiastic, well-positioned staff and expertise from member companies, CRI President Werner Braun
said during the Dalton, Ga.-based organizations annual membership meeting.CRI is a new
organization, a proactive advocacy organization, Braun said. He called attention to the various
changes that have been made in the association and said CRI is seeking support of all allies and
advocating messages that are scientifically based to win buy-in from adversaries.Specific messages
will be shared with members for their use and the targeting of specific audiences from consumers to
commercial end-use segments.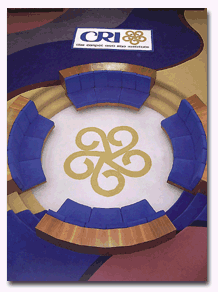 CRIs five-branched pentaskelion logo (shown right, in a tufted carpet used in the lobby at
CRIs Dalton headquarters), represents five aspects of the carpet and rug industry: creativity,
technology, enterprise, quality and integrity.Carpet, Clean and Dry deals with care for the
building industry and care for carpet. Green Carpet, Its Not Just a Color refers to the industrys
move toward sustainability. Carpet for Cleaner Air revolves around volatile organic compounds
(VOCs), carbon dioxide and allergens. Carpet Makes the Grade in Schools focuses on carpet as the
educated choice for the total learning environment in the education market. Carpet, It Softens the
Impactdirects messages toward healthcare markets. Carpet, It Just Feels Better refers to the
overall comfort of carpet.The 2001 Joe Smrekar Memorial award was given posthumously to Dr. Eugene
P. Willimon. Better known in the industry as Rusty, Willimon was the general manager at Milliken
Carpet, LaGrange, Ga. The award was presented to his family. In accepting the award, Mrs. Willimon
said, My husband always put God and family first. Its the best legacy one can leave behind. She
challenged the businessmen present to do the same. Environmental Initiatives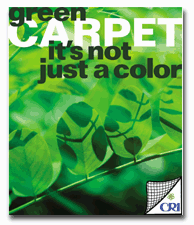 Frank Hurd, CFO and vice president, CRI, emphasized the importance of the associations Carpet
America Recovery Effort (CARE)
(See CarpetandRug News, TW, this issue). We are anticipating our efforts in this area will
result in the reduction of 40 percent in carpet taken to landfills, he stated. This ambitious goal
will be achieved, according to Hurd, by converting carpet waste into useful energy and product. We
are looking at waste energy, steam, and electricity, and were exploring the possibility of using
cement kilns. We want to make sure we have the right recycling technology. This is a lot of carpet
and a much better alternative than putting used carpet in a landfill and letting it sit there for
50 years, Hurd said.Hurd is also director of government and association relations. He announced
procedures, ongoing and enhanced, to monitor legislative and regulatory issues in every state and
in the federal government. He also said that this information will allow CRI to react before issues
become crises.CRI reported that Matthew Realff, Ph.D., professor of engineering, Georgia Institute
of Technology, Atlanta, provided a correlation showing that the energy reduction reported by the
carpet industry is equivalant to the annual emissions of 226,000 cars. Braun responded, Its great
to see that the reduction of energy use in this industry is essentially equivalent to parking more
than a quarter of a million cars. Carpet manufacturers have made, and are continuing to make,
strides in energy conservation while focusing on creating high-performance products for the benefit
of customers. They are leaving environmental footprints for the value of future generations.At the
annual meeting, a number of CRI directors reported on the status of current association programs.
Ken McIntosh, health, environment and technical director, said papers will be ready to submit to
the Ninth International Indoor Air Quality meeting in June. Paper topics include maintaining the
indoor environment, the quality of the air, and comfort issues in the environment.Steve Phillips,
director of customer satisfaction, reported on media outreach, including efforts to implement
immediate electronic correspondence and increase use of CRIs website for communications to members
and the media.Charlott Coker, director of human resources and electronic advocacy, announced the
launch of new navigation capabilities and a new look for CRIs website, www.carpet-rug.com. Joan
Seelaus, electronic advocacy manager, will manage a workgroup created across all focus
areas. President's Perspective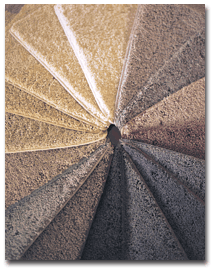 There are a number of messages CRI wants to convey to the buying public, Braun told Textile
World. One of those messages is mildew and that can almost be a national hysteria. The word
moldaphobia comes to mind when you see people bulldozing houses because it has mold in it. So why
is CRI interested in it Braun explains: A lot of people see mold on carpet and immediately say
theres a problem with the carpet, lets rip out the carpet. This is a truly misguided judgment. If
you have mold on your carpet, its not because you have a problem with your carpet, its because your
house or office has uncontrolled moisture problems. Taking out the carpet is addressing the carpet,
not the problem. You still have a house or building with mold and mildew. The answer is in the
message, Carpet, Clean and Dry.Another important message for the industry, noted Braun, is
environmental performance. This industry has a real right to be proud of our environmental
performance it has been working for the last 10 to 15 years on reducing our consumption of energy
per square yard. Some things that highlight this [lower energy consumption] the best are the
reduction of water consumption and the release of carbon dioxide.Carpet in the school environment
is extremely significant, he said. We believe that carpet is a very important element in a healthy
learning environment from many different perspectives. Its comfortable underfoot teachers applaud
carpet. It causes less stress on the feet, causes fewer problems with varicose veins and its
sound-suppressive. With carpet, a classroom is not nearly so noisy the teacher can be heard easier.
Additionally, he said carpet can sometimes prevent injuries during falls. If someone does fall,
chances of being hurt are a lot less on a carpet surface. We believe carpet creates the opportunity
to improve the quality of air in schools as well as in the home.Some people just dont understand
and will maintain that allergens or dust go into the carpet and feel thats a bad thing. But our
data tells us the opposite because if its in the carpet, its not in the air you are breathing. Its
not getting into your eyes and allowing you to have an allergic reaction. Braun said its better to
have dust in the carpet than in the air. If dust should be in the carpet, he said, there is a
green-label vacuum available to remove it. Through the green label program, CRI plans to test
vacuums to see how effective they are in getting stuff out of the carpet. The stuff stays contained
in the vacuum and can be disposed of outside the home or office. The filter-like properties of the
carpet can be refreshed, and in addition, he continued, youre removing that stuff from the house
and office.CRI And Its President, Werner BraunHeadquartered in Dalton, Ga. the heart of carpet
manufacturing in the United States CRI is the national trade assocation representing the carpet and
rug industry. According to 1999 statistics, 80 percent of all carpet manufactured in the United
States is produced within a 65-mile-radius of Dalton.CRIs membership consists of manufacturers, as
well as suppliers of raw materials and services to the industry.Policy is determined by a Board of
Directors composed of CEOs from member companies. Policy is implemented by a full-time professional
staff. CRI members and staff are committed to facilitating cooperative solutions to all industry
challenges.Werner Heinz Braun assumed the helm of the organization in 2000. After obtaining a
bachelor of science in chemistry from St. Edward University, Austin, Texas, Braun began a career
with Dow Chemical Co., Midland, Mich., that would span more than 30 years. Brauns extensive
background in the chemical industry also includes work with environmental issues and public policy
advocacy, which he plans to draw upon in order to usher in a new era at CRI one that will see the
organization at the forefront of the carpet industry with new, more proactive policies and
initiatives.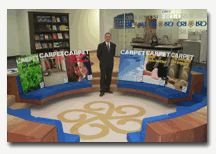 Werner Braun stands with promotional posters featuring CRIs new scientifically-based
messages, created to win over carpet adversaries.
For more information, contact CRI (706) 278-3176; fax (706) 278-8835;
www.carpet-rug.com.New CRI DirectorsElected to the Board of Directors with terms to expire in
2003:Richard Bierie,Mannington MillsMac Bridger,CollinsandAikman Floorcoverings Inc.Mike
Derderian,Royalty Carpet MillsMike Gallman,Blue Ridge Carpet MillsCharles Kennedy,Gulistan
CarpetJim McCallum,Burlington IndustriesJulian Saul,Shaw IndustriesAssociate Members:Brad
Hill,SolutiaWalt Hubbard,BASFMike Lawrence,HoneywellElected to the Boards Executive Committtee with
terms to expire in 2002:Carl Boukaert,Beaulieu GroupMac Bridger,CollinsandAikman Floorcoverings
Inc.Dan Frierson,The Dixie GroupJeff Lorberbaum,Mohawk IndustriesBob Shaw,Shaw IndustriesJohn
Swift, (Treasurer)Mohawk IndustriesBrad Hill,SolutiaElected to the Board of Directors with terms to
expire in 2003:Richard Bierie,Mannington MillsMac Bridger,CollinsandAikman Floorcoverings Inc.Mike
Derderian,Royalty Carpet MillsMike Gallman,Blue Ridge Carpet MillsCharles Kennedy,Gulistan
CarpetJim McCallum,Burlington IndustriesJulian Saul,Shaw IndustriesAssociate Members:Brad
Hill,SolutiaWalt Hubbard,BASFMike Lawrence,HoneywellElected to the Boards Executive Committtee with
terms to expire in 2002:Carl Boukaert,Beaulieu GroupMac Bridger,CollinsandAikman Floorcoverings
Inc.Dan Frierson,The Dixie GroupJeff Lorberbaum,Mohawk IndustriesBob Shaw,Shaw IndustriesJohn
Swift, (Treasurer)Mohawk IndustriesBrad Hill,Solutia
February 2002