The American Association of Textile Chemists and Colorists (AATCC) 2001 International
Conference and Exhibition, held October 21-24, at the Hyatt Regency Hotel in Greenville,
S.C., billed itself as the world's largest technical conference dedicated to wet processing. The
theme of this year's event was "Technical Innovations for Global Challenges."A. Blanton Godfrey,
dean of the College of Textiles, North Carolina State University, delivered the keynote address
October 22. In his speech, Godfrey focused on trends, challenges and observations of a global
marketplace.Almost 50 exhibitors presented a wide range of software, equipment and solutions for
the wet-processing industry.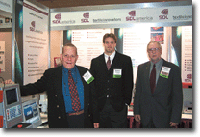 Russell J. Crompton, president, Benjamin Cartwright, sales/service engineer, and Marvin De
Witte, manager, with SDL America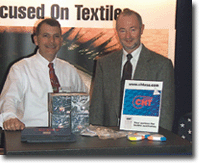 Gary Champion, technical sales representative, and Danny Thompson, customer service center
manager, represent CHT R. Beitlich Corp.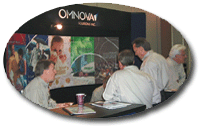 Omnova booth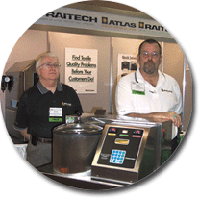 Tony Mobley, technical sales, and Laurence F. Bond, general manager, national sales, both
with Atlas Material Testing Solutions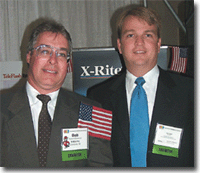 Bob Griswold, account executive, and Tim A. Cassell, regional manager, both with X-Rite Inc.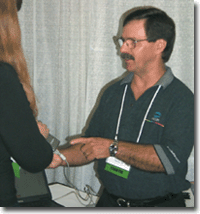 Norm Demers, technical support manager, Minolta Corp., demonstrates the CM-2600d portable
spectrophotometer.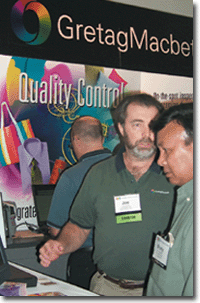 Joe D. Parker demonstrates one of GretagMacbeth's systems to a visitor.

December 2001