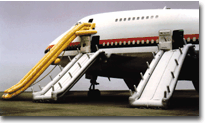 Safe And Sound
Reeves Brothers, LINQ Industrial Fabrics and Hexcel Schwebel produce textile products for
safety and performance-related applications.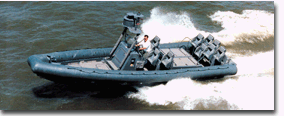 Globalization. Diversification. Innovation. Specialization. Important words all, especially
for the future of the U.S. textile industry. While still a neophyte to the concept of a world
marketplace, the U.S. textile industry is making inroads and nowhere is this more evident than in
the arena of technical and industrial fabrics.Technical fabrics create a wide range of
opportunities for textile manufacturers and capitalize on the U.S. industrys ability to make
high-quality fabrics to the most exacting specifications.From geotextiles to armor, from aerospace
fabrics to automotive airbags, from filters to truck covers, U.S. companies have few peers in this
growing segment of textile production. Reeves Brothers Diversifies Into High-Tech
MarketsReeves Brothers Inc., Spartanburg, S.C., is known for the production of its famed Vulcan®
brand of printing blankets, but the Engineered Fabrics Division of the company has diversified into
high-tech markets that maximize its production capabilities. Among the many fabrics woven and
coated with specialized treatments at the companys facilities in Spartanburg and in Rutherfordton,
N.C., is a material for the escape slides in commercial aircraft.These slides, obviously, must be
manufactured to very stringent safety requirements because of the safety factors involved, said Tom
Layton, director of sales and business development, Reeves Air Safety group. The slides are
manufactured from multiple fabrics that work together to form a single product. Flooring fabrics
are mounted to a tubing material that can inflate and stay inflated for a specific amount of time.
The base fabric for the slide is a multiple-denier nylon substrate woven using Dornier rapier looms
at the companys Spartanburg plant. A special urethane coating is applied at another Spartanburg
facility.The escape slides are manufactured to very exacting specifications, Layton said. They must
meet certain deployment standards that is, they must deploy in the same fashion every time,
maintaining specific distance from parts of the aircrafts structure. Additionally, the fabric must
have strength and elongation properties, and the coating must be able to maintain specific pressure
for a given time.Special attention is given as well to abrasion resistance and non-conductive
properties. Obviously, the most likely use of an evacuation slide is in an emergency, and it cannot
be the source of sparks that could ignite fuel, Layton said.Reeves is the leading supplier of
urethane-coated fabrics for the aerospace industry, according to Layton. The company supplies both
Boeing, the worlds largest manufacturer of commercial aircraft, and Airbus Industrie, the European
consortium that is the worlds other major manufacturer of jetliners.Reeves urethane-coated fabrics
are also used for other aviation applications including life rafts, life vests, fuel cells, deicers
and acoustical insulation. Automotive Airbags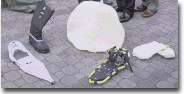 In addition to being the largest supplier of fabrics for certain aviation applications,
Reeves Brothers is also among the worlds largest suppliers of automotive airbag fabrics.Reeves
pioneered engineered, coated airbag fabrics and is the leading supplier in the North American
market, Layton said. As in aviation, quality and reliability are critical in the deployment of
airbags, he said. Reeves vertically integrated weaving and coating operations give the company the
ability to meticulously control all quality standards and ensure that all products are manufactured
to the most rigorous standards, he said.The company offers products used for driver-side airbags,
passenger-side airbags and side-impact airbags, and is working on a new, one-piece, woven
side-curtain airbag that would protect during a rollover event.In the event of a side impact, the
rollover curtain would deploy and remain inflated for the duration of the roll. The curtain covers
from the A-pillar to the C-pillar, meaning that both windows are covered during a roll. The product
has been designed initially for vans and sport utility vehicles, but, Layton said, it will
eventually be available for all cars.No doubt, automotive and aerospace applications are associated
with the glamour side of technical and industrial fabrics. But there is a more basic side one that
involves interaction with the day-to-day lives of nearly everyone.Frank Hannas, director of sales
and business development for the Engineered Fabrics group, said the company is a market leader in
the mechanical rubber-parts industry and supplies fabrics for gas meters, gaskets, diaphragms and
seals.For example, we make a rubber-coated nylon fabric that measures gas in gas meters. It used to
be that leather was used in the bellows in these meters, but we developed a fabric specifically
designed to replace the leather. It is now used in 98 percent of the meters in place today. Gas
meters are guaranteed for 30 years and, to this point, there has never been a failure of Reeves
fabric in one, said Hannas.A coated silk fabric from Reeves goes into the diaphragm of two-stroke
gasoline engines, such as those used in chain saws and weed eaters. And for military applications,
Reeves has developed a rubber-coated fabric for hovercraft skirts. This is a heavy-weight nylon
fabric coated with rubber that can be used as a replacement for skirts on Navy craft, Hannas
said. Military ApplicationsAdditionally, the company at the request of the military is
developing a fabric for flexible fuel tanks. These tanks are bladders that have capacities from
10,000 to 50,000 gallons. The objective is for the military to be able to drop the fuel tanks from
an airplane and enable helicopters in the field to land and refuel.Previously, fabrics tended to
disintegrate in the desert heat. Reeves is working on a rubber-coated fabric that withstands both
the impact of being dropped from an airplane and the heat inherent in a desert operation. This same
material must also be able to withstand extreme cold environments.Yet another military application
from the company is a rapid air decelerator product that would slow down missiles fired from
helicopters and enable the craft to get clear of the damage area. The fabric is earmarked for
anti-personnel/tank missiles and those that would be used to destroy runways.Other fabrics by
Reeves include those for dock seals, oil booms, truck tarps and rafts. Polyproylene From
LINQWhile companies such as Reeves concentrate on developing coated fabrics for technical
applications in automotives, aerospace and material handling, other companies, such as LINQ
Industrial Fabrics Inc., Summerville, S.C., focus efforts on polypropylene fabrics for geotextiles
and flexible bulk containers.Formerly a division of Exxon Chemical Co., LINQ is a global supplier
of woven and nonwoven polypropylene-based fabrics for a wide variety of textile applications.The
companys woven geotextiles feature a combination of high tensile strength and water flow. The
fabrics have been used in projects ranging from parking lot stabilization to retaining walls. LINQ
also offers a line of nonwoven geotextiles that provide high tensile strength and superior
hydraulic properties. StabilizationThe company used its GTF 200 woven geotextile, for example,
to stabilize the Miami Dolphins football stadium parking lot. Improvement was needed to meet the
increased demand for parking at the stadium. A field was selected to serve as an additional parking
area near the stadium. The original field consisted of unstable muck soils, from 6 to 20 feet deep,
which had to be stabilized to support suitable fill material. The expensive alternative, said Jay
Wilson, Technical Services Engineer at LINQ Industrial Fabrics Inc., was to excavate all of the
unstable soil and replace it with suitable fill.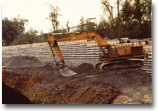 LINQs GTF 200, a high-survivability, general-use woven geotextile, was placed directly over
the soft subgrade and then covered with sandfill. The muck soil was covered with 25,000 square
yards of GTF 200. The geotextile was covered with 3 to 4 feet of fill, which was graded and
compacted. Grass was planted to complete the project. After six years, the parking lot is in
excellent shape, so plans were delayed to pave the lot.The contractor specified GTF 200 be used for
stabilization. This fabric meets the separation specifications in many states, as well as Class 3
separation requirements set by the American Association of State Highway and Transportation
Officials. Floodwall SolutionsLINQ also supplies fabrics used in floodwalls. In Kentucky, the
Environmental Protection Agency (EPA) proposed a concrete structure to protect a waste site from
floodwaters up to the 100-year storm elevation. The waste site is 300 feet from a nearby river. The
compressible subsoils made this concrete approach unfeasible. A second approach was a compacted
clay structure; however, with a maximum wall height of 38 feet and a minimum top width of 14 feet,
the required side slopes would make the base so wide that it would encroach on adjacent properties
and take up valuable landfill capacity.To overcome these problems, an engineer proposed a
geotextile-reinforced wall with near-vertical sides. This wall would also be compliant to
accommodate any settlement due to the compressible subsoils. There were some concerns because this
was to be a permanent structure, and the EPA had never installed this type of geotextile wall
before. Said Wilson: There was a substantial amount of coordination between LINQ and the designing
engineer to make sure the right geotextile was used in this application. LINQ has a full-time civil
engineer on staff to aid in all design applications and answer any questions concerning
installation, as well as helping get the right geotextile for the job.Using acceptable geotextile
design methodology, the engineer developed a double-sided structure consisting of layers of
permeable backfill reinforced with LINQ geotextiles. Each layer of geotextile was folded over and
secured beneath the next layer of backfill. The bottom 12 feet of the wall has 12-inch nominal
backfill layers reinforced with LINQ GTF 375N. The upper layers are 18 inches thick, reinforced
with LINQ GTF 300.The GTF 375N is a stronger fabric than the GTF 300 and was required to support
the weight of the higher layers. The final design called for an impermeable geomembrane and a
toe-drain system to be installed on the landfill side. The entire structure would be covered with a
puncture-resistant, nonwoven geotextile to protect the reinforcing fabric against physical damage
and ultraviolet degradation.The 1,735-foot-long wall, finished more than 10 years ago, is still
stable and meets all design objectives.LINQs manufacturing plant in Summerville is capable of
manufacturing up to 200 million square yards of fabric per year. Filling A NicheWhat each of
these companies Reeves and LINQ share in common is a flair for innovation, of meeting specialized
demands in markets in which few other companies have either the desire or the expertise to compete.
As evidenced by the developments of fabrics with significantly enhanced properties Reeves fuel
tanks, for example, or LINQs GTF 200 this commitment is paying off in enhanced sales and greater
market share. Hexcel Schwebel Weaves For PerformanceIn the world of high-performance fabrics,
DuPonts Kevlar® brand enjoys perhaps the widest name recognition among the general population no
doubt because of its association with lightweight body armor for law enforcement and military
applications.Kevlar was developed in 1965 by DuPont research scientists who were looking to create
a fiber with exceptional strength, but which was also lightweight and flexible. It is an organic
fiber in the aromatic polyamide family, also known as aramid. General features include high tensile
strength at low weight; high modulus (structural rigidity); high chemical resistance; high
toughness; high cut resistance; low elongation to break; low electrical conductivity; low thermal
shrinkage; excellent dimensional stability; and self-extinguishing flame resistance.Kevlar is five
times stronger than steel, weight for weight. It provides excellent impact resistance and is one of
the lightest structural fibers available. The product is commercially available in a multitude of
fiber physical property balances for specific end-use performance benefits. Originally available as
either Kevlar 29 for ballistic applications or Kevlar 49 for structural applications, today Kevlar
technology is available with physical properties developed to deliver enhanced performance in a
myriad of targeted end-uses. Examples of this are stab and puncture resistance, enhanced products
for body armor, improved military fragmentation technology, performance increases in cut-resistant
and cyclical motion (fatigue) applications, and improved products for structural and aerospace
needs.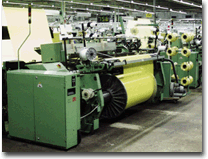 Despite the fact that Kevlar is used in a host of applications today, there was a point at
which DuPont was unsure exactly what it would do with the product. The fiber was originally
developed for use in automobile tires, but the emergence of a cheaper polyester alternative waylaid
that end-use. DuPont began to look for other applications for the product, and one of the companies
DuPont turned to for assistance was Hexcel Schwebel in Anderson, S.C.We were the first weaver in
the United States to weave Kevlar fabric for DuPont, said Ken Langford, marketing manager, Hexcel
Schwebel. We started weaving fabric specified for use in soft body armor in 1972.Today, Hexcel
Schwebel continues to weave Kevlar for a variety of applications, including ballistic protection,
safety apparel, recreation and aerospace.The company gets filament and a small amount of spun yarn
from DuPont and performs ring twisting and cable twisting in-house. The yarn is woven into fabric
on Sulzer rapier looms and is finished at the Anderson plant. We do scouring, water-repellent
treatment and some coatings here in Anderson, said John Leatham, North American sales manager,
ballistics.Because of Kevlars end-uses, the product must be handled with extreme care during
fabrication, Leatham said. Our challenge is to protect the properties of Kevlar as they exist when
the yarn comes in. It has to be handled very gently. Tension, abrasion, exposure to thermal cycles
all of those can impact the strength and performance of the fiber. We want to limit that impact
throughout the process and provide the opportunity to have a product that performs very well.As a
result, Hexcel Schwebel has improved each process preparation, weaving and finishing in order to
provide delicate handling of the fiber.We measure the properties of the product when it first comes
in, Leatham said, and then extract strands throughout the process to measure loss. Because of the
applications of Kevlar, our customers need process integrity, so we provide a substantial amount of
quality control testing on a lot-to-lot basis.Hexcel Schwebel keeps meticulous records of each
process so that traceability is never an issue. We begin with the certification we receive from
DuPont and then do our own random testing of incoming product, Leatham said. Then we have
traceability throughout our system from the bobbin to the finished roll. We can tell by roll number
everything that has happened to the product from the moment it comes in until the moment it leaves
the plant.In addition to Kevlar, Hexcel Schwebel produces a number of other high-performance
fabrics for various applications. The companys biggest market is fiberglass. Hexcel Schwebel weaves
fabrics for electronic, filtration and composites, as well as for general industrial use.
November 2001