Flash Report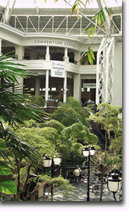 IFAI Expo 2001 was held at the Opryland Hotel and exhibit facility.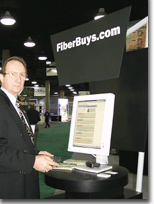 Honeywells Marvin Lewis represents Honeywell carpet fibers on FiberBuys.com.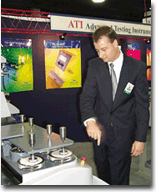 Reto Vogt, Advanced Testing Instruments (ATI), demonstrated latest testing
equipment. IFAI Expo 2001Exhibitors and visitors gathered in Nashville, Tenn., October 18-20,
at the Opryland Hotel and exhibit facility for the the Industrial Fabrics Association International
(IFAI) Expo 2001.Fridays keynote address by William McDonough, William McDonough + Partners,
Architects and Planners, focused on the eco-effective design agenda, which is revolutionizing
industries worldwide including the textile industry.The diversity of IFAIs membership was apparent
on the exhibit floor and also in the broad range of speakers invited to present during the
educational programs.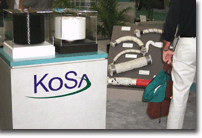 KoSa displayed its yarns and potential end-use products.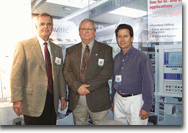 (left to right): Rick Horton, president, and Carroll Santos, sales representative – Cavitec,
both with American Santex Inc., visit with Scott Frisch, vice president, customer services,
Sclavos.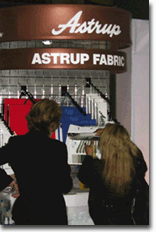 Astrup featured fabric and hardware for awning, sign, marine and other industrial markets.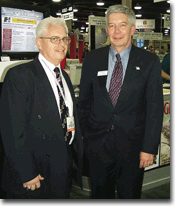 Opportunities for professionals involved in the military, safety and protective technical
fabrics industries. He is pictured with Stephen M. Warner, president, IFAI.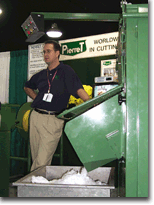 Todd Cooper, sales and marketing manager, Pierret, North American Division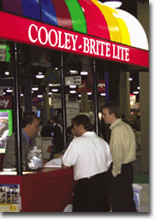 The Cooley Group designs, develops and manufactures high-performance materials for end-uses
such as safety clothing, medical products, truck tarps and illuminated signs.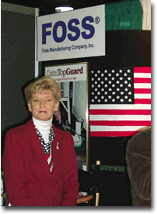 Trisha Mainella, customer service/planner, technical team, Foss Manufacturing Co. Inc.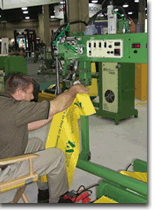 Mike Nastoff, Miller Weldmaster, demonstrated seaming technology for PVC, polyurethane,
polyethylene and polypropylene welding.
November 2001