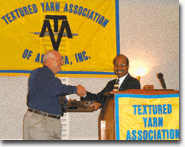 Outgoing President Charlie King (left), Unifi Inc., receives a recognition plaque for his
2000-2001 term from TYAA past president John Amirtharaj, Universal Fiber Systems LLC.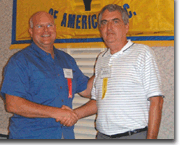 Charlie King (left), congratulates the new 2001-2002 TYAA President, Robert Howell, general
manager, Dillon Yarn Corp.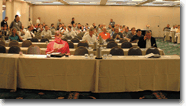 TYAA members stayed busy and exchanged thoughts during the breaks in the conference
room. held its summer conference July 26-28 in Myrtle Beach, S.C. The general
theme of this year's meeting was Strategy Beyond Survival. As the title suggests, the
entire U.S. textile industry is presently going through some very trying times, and several
papers covered this topic.Kay Norwood, senior vice president and textile analyst for Wachovia
Securities, explained there is not much hope that the domestic textile industry will return
to the level that was experienced just a few years ago. Norwood pointed out that the
strong dollar value in comparison to other world currencies encourages imports even
more and makes it difficult to export on a competitive price/performance level.Trade
quotas presently in place with Asian countries will be eliminated in 2005, including quotas
for China upon its entry into the World Trade Organization (WTO). Norwood advised that fiber,
yarn and fabric manufacturers must interact through strong partnerships, find niche
markets and manage their inventories efficiently.Alasdair Carmichael, associate
consultant, PCI Group FibresandRaw Materials, Spartanburg, S.C., pointed out that not
everything happening in the U.S. textile industry is negative. Aside from unfortunate plant
closings and layoffs, he presented many positive elements.Deliveries of texturing spindles to the
United States ranked second-highest in the world in 2000. U.S. exports of textured polyester exceed
imports.Several overseas investments have been made in the U.S. textile manufacturing
industry.Domestic investments continue to be made in the industry.Carmichael explained that factors
such as the value of the U.S. dollar, U.S. consumer demand and fashion, as well
as raw-material costs influence the import situation quite significantly. The biggest
concern is that China has been gearing up with capacity increases and continues to
install modern production equipment. Carmichael foresees another significant boost of apparel
exports by China in 2005 due to its entry into the WTO.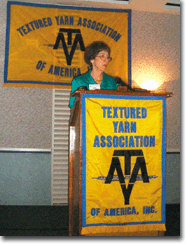 Kay Norwood, senior vice president,Wachovia Securities, talked about thepresent and upcoming
challengesthat are facing the U.S. textile industry.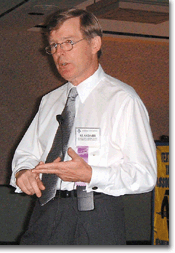 Alasdair Carmichael, associate consultant,PCI FibresandRaw Materials, talked about
thepositive aspects of the U.S. textile industry.
October 2001