Flash Report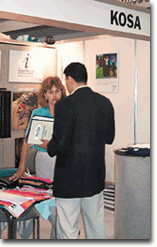 A KoSa representative talks with a visitor about the companys products.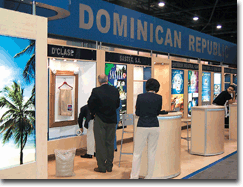 The Dominican Republic presented sourcing alternatives.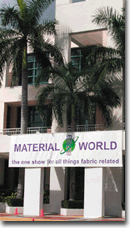 Material WorldWith the Caribbean Basin Initiative (CBI) and the North American Free Trade
Agreement (NAFTA) center stage, Material World provided attendees with full-package sourcing
solutions.Wilmington, Del.-based DuPont-led LYCRA® ASSURED International Boulevard featured 53
network partners with fiber-to-garment sourcing options for stretch products.North Carolinas
Amerisource Alliance exhibited all aspects of the garment production cycle, providing a blueprint
for full-package products.More than 20 AAPNetwork members exhibited or were on the exhibit floor.
Opening day was very strong for us, added Choice Johnson, Wellman Inc., Charlotte, N.C. We were
especially impressed with the Caribbean contacts we made at the show. As a first-time exhibitor, we
were pleasantly surprised and definitely plan to be back next year.Material World was held in Miami
Beach, Fla., September 10-12.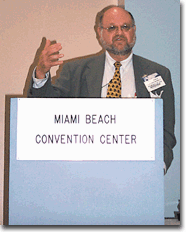 Steven Frumkin, Philadelphia University, School of Textiles and Material Technology,
participated in Material Worlds seminar series.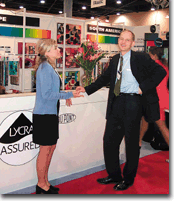 Jon Penrice (right), global vice president, ActivewearandOutdoor, DuPont Apparel &Textile
Sciences; Lainie Cantrell,senior account executive, Ketchum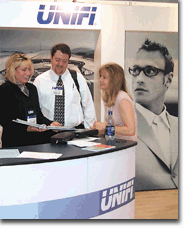 Unifi Inc. exhibited yarns available for sourcing projects.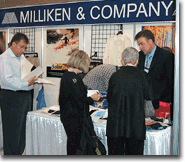 MillikenandCompany showcased its latest fabric offerings.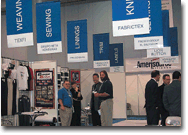 The Amerisource Alliance incorporates U.S. textile partners, U.S. trim partners and CBI
sewing partners to simplify full-package sourcing solutions.

October 2001