Finishing TrendsBy Peter Hauser, Ph.D. Quick Turns
Latest finishing equipment improves productivity and quality, reduces costs and environmental
impact. As the U.S. textile industry moves toward smaller production lots, the
importance of quicker turn-around times and easier machinery setups becomes increasingly
critical.Additionally, quality and economic issues cannot be ignored, as textile manufacturers must
now compete in a worldwide marketplace for evermore discriminating customers. A look at wet
processing equipment reveals a trend toward higher operating speeds, more automation, increased
versatility and greater reliability. Equipment addressing these trends can be grouped into four
main areas: increased productivity, quality improvements, cost reductions and environmental
impact. Increased Productivity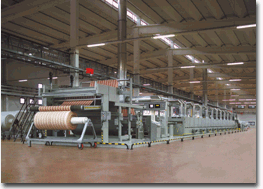 Tenter frame manufacturers have met the need for higher production speeds by providing
equipment capable of operating at speeds of up to 300 yards per minute. Charlotte, N.C.-based
American Monforts Montex Tenter 5000 and the X-300 chain from Marshall and Williams Products Inc.,
Greenville, S.C., are examples of this technology.Reduction of dye-cycle times are also evident in
the latest machinery. The Multiflow by MCS Officina Meccanica S.p.A., Italy, can produce excellent
quality dyeings in as little as half the usual production time. Germany-based Thies GmbHandCo.s
Luft-Roto Plus, developed in cooperation with Germany-based Dystar, gives the dyer a machine that
takes advantage of short cycle times and low liquor ratios to increase dyehouse
productivity.Italy-based Brazollis Saturno Lux dyeing machine, the latest evolution of the Saturno,
seeks to reduce treatment-cycle time to an absolute minimum, using 100-percent cotton, dyeing with
a reactive dye as a base. The company has accomplished this reduction through the use of
high-frequency contact between the treatment bath and the fabric during the drying cycle, achieved
by increasing the speed of the fabric without causing elongation, twisting or pilling. As well, the
Saturno Lux features a higher mixing ratio of the treatment bath and the fabric. Quality
ImprovementsThe importance of rapid scale-up of laboratory dyeings has led to equipment designed to
allow error-free transitions from lab to full production. An example is the Autolabo package-dyeing
machine from Italy-based Bellini. The computerized controls and machine design lead to excellent
correlation of laboratory dyeings with production runs.Accurate fabric width and length data are
crucial to a well-run quality program. The True-Matic inspection frame offered by Joseph Pernick
Manufacturing Corp., Glendale, N.Y., combines excellent tension controls with computerized data
storage and report generation.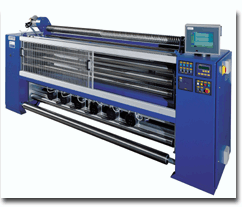 Italy-based Bianco S.p.A. offers the Digitex six-roller weftstraightener. The system includes
Biancos DSP 10R reading system, as well as the VDTEX terminal for easy machine operation. The VDTEX
terminal features a new algorithm that automatically estimates the maximum correction speed for
different fabrics, assuring bow and skew are controlled and fabric is straightened within required
tolerances.Spartanburg, S.C.-based American Santexs Santa Spread TS compactor is designed for
producing extremely uniform, compacted, tubular knitted fabrics. The high degree of reproducibility
in the processing of the fabric produces a final product that meets strict customer standards for
consistent shrinkage throughout the entire fabric length.From a controls standpoint, Italy-based
Obem S.p.A.s VisualDye, now with more than 100 units installed, represents a further step forward
in conformity and consistency in dyeing operations. An active color screen enables activation of
all machine functions. The system can handle up to 400 different dyeing programs and obtain
real-time information relating to the dyeing equipment. Cost ReductionsThe importance of
maintaining cost competitiveness in todays global textile marketplace cannot be overestimated. To
that end, machinery developments that provide quality goods at lower costs are welcomed.Biancalani,
Italy, has improved the Petra machine since its introduction at ITMA 99. This unit produces surface
effects on open-width goods by using abrasive rollers in a continuous process. By treating denim
fabrics on the Petra prior to garment manufacture, subsequent garment wet processing can be carried
out in one third the time, at half the cost.Even the continuous washing process can be improved
upon to yield lower production costs. Kusters Textile Machinery, Spartanburg, S.C., presents a wash
box with vacuum extraction to improve the efficiency of the washing process after preparation. This
vacuum-assisted wash box can reduce the total number of wash boxes needed, as well as produce
cleaner fabrics.Addressing the growing trend toward smaller lot sizes, as well as rapid pattern
changes, Worcester, Mass.-based Gessners Transcolorizer was developed to provide an economical
approach for producing samples and short production runs of transfer-printed fabrics.
Environmental IssuesDoing business in developed nations, particularly in the United States
and Europe, requires companies to meet increasingly stringent environmental regulations. As an aid
in meeting these requirements, Morrison Textile Machinery Co., Fort Lawn, S.C., offers its patented
Thermal Oxidizer as an option on the companys FS-21 Finishing Range.During thermal oxidation, the
dryer exhaust temperature and dwell time are set so that volatile organic compounds odors and haze
are reduced to products of combustion.The Morrison Thermal Oxidizer can properly size the chamber
to provide the dwell time to meet specific requirements. The enclosure is insulated with several
layers of high-temperature ceramic fiber, which keeps the outside of the enclosure cool enough to
touch during operation. The open, flow-through design requires no catalyst.The resulting heated
clean air is exhausted. Due to an integrated design, a portion of the air is returned to the dryer.
An accurate temperature profile is maintained in the dryer system through the use of modulating
dampers.The ultimate result, according to Morrison, is that the Thermal Oxidizer eliminates 98
percent or more of objectionable compounds generated during fabric processing.
Editor's Note: Peter Hauser, Ph.D., is an associate professor of textile chemistry at North
Carolina State University College of Textiles, Raleigh, N.C. His research focuses on reducing
costs, energy use and pollution associated with wet processing. High-performance chemical finishes
for enhanced value textiles, indigo dyeing and denim garment wet processing and new textile
processes are included in this research.

September 2001