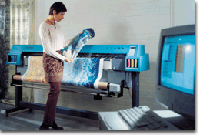 Printing Without Boundaries
Digital printing offers possibilities for sample production, mass customization in global
environment. Digital printing is not a new concept. MillikenandCompanys Millitron® and
Zimmers ChromoJet have been commercially successful for carpet and upholstery markets for more than
20 years. Stork introduced the first digital jet printer developed specifically for textiles at the
1989 International Exhibition of Textile Machinery (ITMA) in Hannover, Germany.Many of these early
machines were extremely slow. Recent developments, though, promise true innovation in the way
textiles are developed, printed and brought to market. Much progress has been made in machine
reliability and speed, as well as in the formulation of dyes and inks. The ConceptPerhaps what
is more important than the digital ink-jet printer itself is the way designers and textile and
apparel companies can interact to bring new products to market almost in the blink of an eye.
Instantaneous data transfer over the global Internet and similar data exchange via local area
networks (LANs) make it possible to exchange ideas faster than ever.Actual fabric samples of new
designs are possible at a fraction of the cost and in a fraction of the time formerly needed. For
example, one prominent textile printer put the cost of an individual screen at $350 to $1500
depending on whether the image originated from hand art or CAD. Thousands of dollars must be
invested in a pattern that may never be accepted or once accepted, never sell enough yardage to
recover the cost to develop the original set of screens. Inventory and maintenance are also costly
overhead expenses for screens. Digital printing enables the designer and customer to tweak the
design for little cost. Once a design is finalized, short yardage can be printed digitally, and
large orders still can be printed economically by traditional flat and rotary screen equipment.Even
so, the new technology is not without its limitations. At this time, digital printing is unable to
print metallics and pigment whites from the CYMK and related machines. The color gamut with these
spot-color systems is not as wide as with process colors. Process colors are often referred to as
CMYK (Cyan, Yellow, Magenta, and Black) but seven to 12 colors are actually used in practice,
including, for example, light cyan, light magenta, orange, and green. Since our eyes are not as
sensitive to changes in yellow, there is no light yellow.According to Roland Zimmer, president and
CEO, Zimmer Machinery Corp., Spartanburg, S.C., high resolution (up to 1440 dpi) is required to
prevent color areas from appearing granular and pixel-like. The resolution actually achieved on
fabric is much coarser, because several droplets can wick together to form super pixels. Pastel
shades can have a dithered look, as too few droplets are printed for the eye to merge them into one
cohesive image.Digital printing, compared to rotary screen printing at high production speeds, can
actually be too perfect. Printing wet-on-wet allows the print to merge and have track marks. Slow
digital printing freezes the design exactly where placed. Sample table printing using one screen at
a time has had the same problem. When one color is printed, it dries before the sample printer is
able to change screens and print the second color. The sample is much sharper than what will be
achieved on a production machine. Todays software, however, has gone to great lengths to dumb down
the design so it wont be too perfect just as carpet manufacturers of machine-woven Oriental-design
carpets have for years deliberately introduced errors in their designs to simulate the natural
errors in handmade carpets. The MachinesThe Netherlands-based Stork, a pioneer in textile
ink-jet printing, has three commercial machines available. The Amber is the oldest, most versatile
and most compact of the current line. It is most suitable for samples and one-of-a kind boutique
designs. It is capable of printing 1.8-square-meters-per-hour (m2/h) at 720-dpi resolution using
six inks: cyan, light cyan, magenta, light magenta, yellow and black (CYMK plus). These colorants
are available as reactive dyes for cellulosics and as acid dyes for nylon and related
polyamides.The new Zircon II enables the rapid and economical printing of samples and short
production runs onto a variety of polyester substrates, including textured and embossed upholstery
fabrics. Eight-color printing is standard. Print width is up to 1600 millimeters (mm). Print speed
is 10 m2/h in the high-speed, lower-resolution mode. The intended market is flags, banners,
backdrops and fashion. Direct output from CAD files, scanned images or digital photographs allows
the customer to respond quickly to the market.The Amethyst is the continuous ink-jet flow machine
for rapid, economical coupon printing in conventional volume textile manufacturing operations.
Printing on substrates up to 1650 mm wide, the Amethyst can produce 350 square meters (m2) of
printed fabric per day. Rolls of up to 250 meters (m) in length can be loaded, while a print buffer
allows continuous running for up to 16 hours without intervention by an operator. Reactive dyes are
used to print cellulosics and polyamides.Stork and France-based Lectra Systs have established a
worldwide cooperative agreement to provide Lectra CAD creative software and the Stork color
management systems for digital and rotary screen printing. With a distribution and service network
covering more than 100 countries, the two organizations provide comprehensive support to customers
around the world. The globalization of the textile and apparel market becomes much more secure when
a printer has local support and can confidently transfer design ideas from New York to print
locations around the world in a matter of minutes.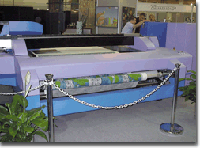 Zimmer, the pioneer in ink-jet printing for carpet, recently introduced the Chromotex© SPM, a
true color printer, at the American Textile Machinery Exhibition-International (ATME-I) 2001 in
Greenville, S.C. The use of true mixed colors and the fact that Zimmer developed this machine for
textile printing rather than modifying a paper print machine separate this printer from the rest of
the field.The Chromotex uses a continuous flow system and prints through 80-micron-diameter
nozzles, which stand 60 mm above the moving apron. The likelihood of clogging is low. The volume of
ink delivered, 1,400 picoliter, is up to 10 times greater than other systems with smaller nozzles
can deliver. The resolution is much coarser equivalent to 125-mesh rotary screen printing. Print
speed is said to be 15 m2/h using eight colors and 30 m2/h using four colors across a
225-centimeter (cm)-wide bed. Colorant supply has been opened to multiple vendors, including
DyStar, Ciba, BASF and others.Later this year, Zimmer plans to introduce the Chromotex PM, a true
production model capable of printing 100 m2/h using 48 jets per color.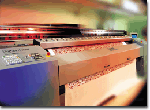 The Wilmington, Del.-based DuPont Artistri Color Control and Management System with the Ink
Jet 3210 digital printing machine was also introduced to the U.S. market at ATME-I 2001, following
its world premiere at Heimtextil 2001 in January. The 3210 prints 3.2-m-width fabrics roll-to-roll
in eight colors CYMK, light C, light M, orange and green at 30 to 60 m2/h. The current version will
print pigment inks and binder, which dry and cure as they exit the machine. The Ink Jet 3210 is
aimed at the home furnishings industry, and beta site work is being conducted at a leading home
furnishings company. Apparel printing using other dye systems should follow at the end of the
year. Rapid PrototypingMass customization is based on the idea of modifying or enhancing
previously designed products how, for example, to make a customized dress and deliver it to the
customer a few days later. Rapid prototyping, on the other hand, is the ability to conceive an
original design idea and see a physical creation of that idea in a very short time.How are people
using these new machines Home furnishings companies use them to generate one-of-a-kind sets of
sheets, comforters, drapes, and all soft goods to take to market shows. Boutiques use the machines
for one-of-a-kind scarves, pennants, flags, banners and custom apparel.In the summer of 1998,
researchers at the College of Textiles at North Carolina State University (NCSU), Raleigh, N.C.,
began digital printing on soft goods with a small Encad TX1500 digital thermal printer using
polyester substrates. A Digital Design Center opened in January 2000 following the purchase of two
Stork Amber printers and a Stork TCP 4000 sample printer. The concept of rapid prototyping using a
TC2 BMS full-body scanning system, coupled with Gerber CAD design and the printers, has come to
life. Students create new designs on CAD and port the designs to markers within the Gerber system.
The printers print only on the markers, thereby saving ink and eliminating color on the trimmings.
Within a short time, the final garment is ready to wear. Scarves, place mats, neckties and anything
else imaginable are quickly ready with this integrated system. The fabric is pretreated with an
alginate, an alkali and urea, then dried and trimmed to width for the printer used. After printing,
the reactive dyes are developed in a Xorella autoclave/steamer. Following drying, the creations are
cut and sewn as needed. Elsewhere, Philadelphia University, Philadelphia, has just announced the
creation of a Digital Design Center as well.Also at NCSU, Dr. David Hinks has a project to develop
and evaluate disperse-dye ink formulations for piezo ink-jet printing on polyethylene terephthalate
(PET) and poly trimethylene terephthalate (PTT) polyester fabrics. There is no doubt that digital
printing has moved from being a curiosity for textiles to finding its place on the production floor
as a true production method both for short runs and for samples.
August 2001