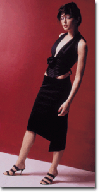 In an increasingly competitive global market, fiber companies and trade associations are
taking another look at the business of producing and selling fiber. Attention is being directed to
all levels of the supply chain, with new products, end-uses, partnerships and marketing tactics
being developed in anticipation of what will be cost-effective to produce, safe for the environment
and attractive to the consumer.Marketing and product development are being conducted and evaluated
on a global scale. Comfort, performance and fashion are still key. Machine-washable woolens;
wrinkle-free linens; fabrics that offer UV protection, control body temperature, reduce friction
and resist bacteria all are there. Stretch is in everything from linen to leather. Technology is at
work to provide new fibers, yarns and fabrics that look good, offer protection and are
easy-care. Ultra-Fine Nylons At BASFAt Charlotte, N.C.-based BASF Corp., Tristine Berry,
merchandise manager, Intimate Apparel and Swimwear, directs her attention to emerging trends. She
researches world markets, then reports her findings to customers four times a year. Individual
presentations focus on specific product and marketing areas. We develop the fiber; our customer
develops the fabric. This way we are able to change with speed, and were a lot smarter working
together than alone, she said. We look at both the product and the ultimate customer, said
Berry.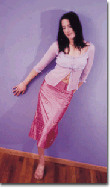 Ultra-light stretch satin is a fabric high on Berrys list. Working with Liberty, BASF
perfected a lustrous nylon microfiber to blend with spandex for satin tricot. We expect to see a
lot happening with satin in both intimate apparel and swimwear, Berry continued. Going forward, we
see a lot of embellishment. Berry showed a variety of beaded, embroidered, burned-out, flocked and
foil-printed satins. And there are floral prints reminiscent of the 60s and 70s, especially
daisies, she added. Other fabrics noted are lace, sheers, chenille and mesh. She mentioned papery
hands, cracked and coated surfaces and openwork.Seamless technology is another area BASF is
promoting for both intimate apparel and swimwear. The company has developed bright luster,
partially-oriented (POY) and flat-filament nylon yarns for this industry, marketed under the Ultra
Touch® and Ultra Micro Touch nylon trademarks. Unifi Inc., Greensboro, N.C., is a partner in this
venture. Global Fashion At BayerAt Bayer Corp., Rock Hill, S.C., Jan Nolen, marketing and
merchandising manager for fibers, said new product categories showing growth in stretch are
menswear, outerwear and childrenswear in both woven and knitted fabrics.Currently Bayers Dorlastan®
spandex has wide usage in warp knits, circular knits, hosiery, narrow fabrics and weaving. Intimate
apparel, activewear and swimwear are major product areas.Seamless is another area Nolen mentioned,
Bayer has a full-production Santoni process in our labs in Germany. We work on R and D developments
continuously, while at the same time, we bring our expertise directly to our customers.Seamless
items have become a category within the swimwear and intimate apparel industries, Nolen said. They
are also joining ranks in the performance/activewear industries. Nolen sees seamless going from
designer to mass market, in a wide variety of clothing. Comfort is the main reason she gives for
its popularity.Dutch trend consultant Marian de Ruyter forecasts color and fabric direction for
Dorlastan. For 2002, fabrics focus on four areas Texture: irregular, rough, rustic, hairy, spiny,
leathery; Reflection: luster, glitter, iridescence, gloss; Tactile: soft; NudeandNaked: light and
transparent. Celanese Opens Acetate Resource CenterGlobal marketing at Celanese Acetate, New
York City, is directed to spinners, mills, converters, manufacturers and retailers through forecast
presentations. Researching trends, Jim Siewert reports on fabric weight, weave and texture, and
color direction. The ideas he presents apply to apparel fabrics that can be knitted or woven with
acetate. At his most recent presentation, Siewert noted the return to color: The need for stronger
color ranges is seen for the season ahead. There is an infusion of intense shades not all of them
bright but certainly pure, rich color.Fabrics have sheen and luster. They are lightweight and
fluid, or they can have a paper touch. Dry-hand jersey, drop-stitch knits, and fine cobweb effects
are mentioned. Metallics and iridescents are still important; pearlized surfaces show all-over
shimmer. Irregular, slubbed or thick-and-thin yarns provide texture. One new look for prints is
large florals with a misty, lingerie feeling.Apparel producers and retailers who view Siewerts
presentations frequently stay to find new fabric resources at the Celanese Fabric Libraries. Called
Celanese Acetate Global Studios, libraries are open in New York City and Los Angeles (See K/A News,
July 2001). Cotton Covers The WorldCotton Incorporated, Cary, N.C., is working with nations in
the Caribbean Basin to develop cotton products and recently sent a trade team to three leading
garment-supplying countries in Sub-Saharan Africa.We are looking to build new markets for cotton
and cotton products, said Dean Turner, senior vice president, Global Product Marketing. Mauritius
is one Sub-Saharan African country that offers new trade opportunities for cotton growers and
producers of cotton yarns and fabrics.Mauritius imports 40,000 tons of cotton yarn and 10,000 tons
of cotton fiber a year. There are 250 apparel-manufacturing facilities, 33 textile companies and
one spinner that sells yarn to denim weavers. Elizabeth Ah Chong, deputy director, Mauritius
Industrial Development Authority, said they hope to increase spinning capacity.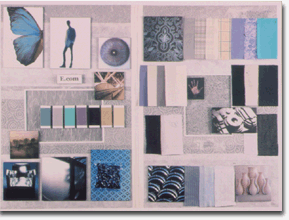 Showing colors and fabrics for Spring/Summer 2002 apparel, Kathryn Gordy Novakovic, director,
The Cottonworkers® Fabric Library, said, Theres a renewed desire for natural fabrics that suggest
their raw, unprocessed state. In color, white is important this season. Its the link color, a mixer
with which to create fresh pastels now that we have become used to more intense color, were adding
it with impunity.Fabrics and colors are divided into five groups. There are energetic fruit colors.
Warm shades of red-brown, mustard and cactus are reminiscent of a western desert. Greyed off-aqua
blues and violets are shown with blackened navy and two shades of off-white. Yellowed green is
surrounded by deep neutrals, aqua and violet; and a blue-and-white group is accented by coppery
red.Traditional fabrics include ginghams, seersuckers, calicos and brushed bottom weights. Another
range includes fabrics with a crisp hand, metallic appearance, or light and open look. There are
steep twills, reps, bedford cords and chambrays. Other fabrics have rustic textures or fancy
weaves. There are coated fabrics with a leathery look, basket weaves, small herringbones, tie-dyes
and animal prints.Denims are shown in cotton and in blends with linen or wool. They are brushed,
coated or stretch; and they are available in many weights and with different application
treatments. The Many Facets Of DuPontFocus at DuPont is on Lycra® elastane and Tactel® nylon.
Along with color and fabric trend presentations for ready-to-wear, athleticwear and intimate
apparel, special market areas include hosiery, knitwear, seamless technology and nonwoven fabrics
for apparel.DuPont Fashion Director Roseann Forde researches color and fabric trends for apparel.
Her current presentation shows five color ranges. There are dusty pastels and skin tones in a pale
group. Pinks, roses and mauves with a dried flower look are another. Cool blues and greens are
pared with black and white. Rich spice shades are suggested for pattern and print. Saturated
brights are shown with deep teal, bordeaux and khaki. Fabrics are related to garments and shown in
three groups. Power silhouettes have a military/safari look. Fabrics include black and white
graduated stripes from Dogi U.S.A.; stretch leather from Imprime Plonge of France; stretch twills,
sateens and knits from Milliken, Texfi, Burlington and Darlington; and several new nonwovens from
the DuPont Neotis Studio collection.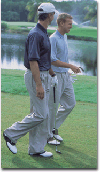 Printed sheer blouses, ruched jackets, embroidered cardigans and sequined skirts are in the
Sensuality group. Fabrics are light, sheer and lustrous. There are metallic meshes, satins, laces,
open-work knits and crinkled surfaces from Symphony Fabrics and Ge-Ray, Billon Freres, Tricot
Liesse and Birken International.Shapes in the Freedom group are relaxed. Stretch leather skirts,
pants, jeans and unique combinations of separate pieces are suggested silhouettes. Nylon/Lycra
denim from Eurojersey, satin knits from Welbeck, double-faced stretch knits from United Knitting,
and stripes and checks from Fabrictex and H. Warshow are some of the fabrics.DuPonts Leather with
Lycra program took a giant step forward this year when Easy Spirit® introduced eight shoe styles
ranging from dress to casual.DuPonts global knitwear consultant, Sheila-Mary Carruthers, developed
over 200 knitdowns made with commercial yarns containing Lycra and Tactel. Development fabrics and
concept garments include sleek, luxurious fabrics knitted with Tactel and Lycra combined with
cashmere, silk, merino wool, metallic fibers or viscose. Weights and textures range from light
cobweb effects, transparent mesh open-stitch patterns, lace and satin, to sweater stitches and
double knits.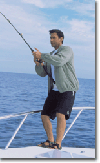 Novelty patterns include ripple effects, openwork patterns, pleats, fringe, touches of
cellophane and floating yarns. Yarns are from Grignasco, Catfil, Saint-Lievin, Utexbel,
ToddandDuncan, Meadowbrook Inventions and others.Seamless garments are selling at retail in
intimate apparel, activewear and swimwear markets. Body, leg and comfort wear are new areas where
Tactel Soft Black, Tactel metallic and Lycra Soft are have been developed to give a new reach to
this technology.Iris LeBron, fashion director for Intimate Apparel, shows functional shapewear and
seamless body slimmers from resources such as Natori as an example of the fashion level seamless
has reached. Mens underwear is another area to watch, advises LeBron.In October 2000, DuPont
introduced Inova at Premiere Vision (See K/A News and Classic Revival At Premiere Vision, ATI,
December 2000). Now called Neotis Studio, this newest business unit of DuPont produces nonwoven
apparel fabrics.According to Ninabeth Sowell, global director of marketing and sales for Neotis
Studio, the most popular end-use areas are shoes, intimate apparel, swimwear and fashion
sportswear. She describes the current collections as engineered apparel fabrics with comfort and
performance. They are lightweight, versatile and multi-functional.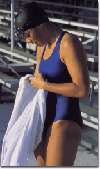 Neotis Studio is making two categories of fabrics: fashion-driven Metropolis and
performance-driven Enviroreact. Enviroreact includes thermally-adaptive materials that insulate,
shelter and draw moisture away from the body. They are intended for lifestyle functionality in the
sports and leisure markets.Fabrics in the Metropolis group range in weight, drape and texture. Some
are as light as 1.2 ounces. The focus is on lightweight, floaty and amorphous, Sowell said.All
fabrics are machine-washable. Most are fused microfiber cobwebs made from slash-spun polyethylene.
Some are multi-blends containing hemp, cotton, polyester, Kevlar® and/or Lycra. Because
polyethylene has a low melt and cant be dyed, fabrics are printed using a new process similar to
transfer printing. Through garment-washing, a distressed leather look can be achieved.Neotis Studio
has over 700 customers worldwide, including Nike, Lee Cooper, Georg Reich Sport, Mela, TKN,
Girbaud, and in Brazil, Carlos Miele. According to Sowell, customers claim this is the most
innovative thing theyve seen. It is also cost-effective because it eliminates several stops in
garment production. Hyosung Introduces Creora®With a recently opened U.S. headquarters and
distribution center in Charlotte, N.C., and offices in New York City and Los Angeles, Korea-based
Hyosung Corp. is making its presence known in America. Creora®, the companys trademarked name for
spandex, made its debut in Asia and Europe in 1992.The name Creora, according to James R. (Rusty)
Ford, vice president, Hyosung (America) Inc., is a combination of the words creation and ora.
Creation means the best spandex that opens a creative world of the 21st century, and ora means gold
in Greek.Ford noted that initial customer reaction has been excellent. We are a supplier of quality
and value, he said. Creora has a unique modulus and stress-and-strain curve, which makes it an
ideal fiber for warp and circular knitting and for use as a covering yarn. Some of the current
end-use areas are swimsuits, athletic wear, intimate apparel, tights, diapers, support hosiery,
socks, woven fabrics for fashion apparel, lace and narrow fabrics. Linen Can Be Easy
CareAccording to Pauline V. Delli-Carpini, North American representative, Masters of Linen, there
is increasing interest in knitted linen fabrics for apparel. A library of yarns and fabrics in New
York City changes seasonally. Some of the new developments in linen include blends. Linen/nylon is
good for performance, she said. Linen/wool is increasingly popular as a year-round concept, and
linen/spandex is in demand.Linen fabrics are being manipulated to give them an antique appearance,
Delli-Carpini continued. Shine remains, either through finish or by blending linen with a metallic
fiber. Twill weaves are popular; they take advantage of linens natural luster.Washable and
wrinkle-free linens are one reason for the resurgence of linen. The consumer is asking for them. We
are also getting requests for traditional qualities, said Delli-Carpini. Through tighter weaves and
new finishes, some of the heavier 100-percent linen fabrics can be made wrinkle-free. Pliana
For ApparelFounded in 1972, Pliana Inc., headquartered in Mexico City and Charlotte, N.C., produces
polypropylene yarns. Over the past 20 years, the annual growth rate for polypropylene has been 8.6
percent. Don Clark, president and CEO, attributes this increase to the high quality, aesthetic
value, performance and low cost of polypropylene yarns.Traditionally, polypropylene has gone into
products for the home and industry. Using new technologies, Pliana has developed microfiber yarns
for apparel. Development is underway to increase the melt temperature and create a dyeable
fiber.Pliana microfiber yarns are available textured and flat. There is a wide color range,
including both fashion and basic shades. Development fabrics shown include soft, lightweight
suedes, satin and twill weaves. Color cards and fabric trend information are some of the marketing
services provided.Another new development is Pliana Silken chenille yarns for the home, contract
and apparel fabric markets. These yarns are soft, lustrous, and stain- and moisture-resistant. They
are being used in woven and knitted fabrics and have been launched in 40 colors. Custom colors can
be matched in two to three weeks. Radici In North AmericaItaly-based Radici Group entered the
U.S. and global spandex market in March 2001 by purchasing the assets of Globe Manufacturing Corp.,
manufacturers of Glospan® spandex yarns.Fabrizio Calenti, RadiciSpandex president and general
manager of RadiciNylon Fashion Fibers, noted that purchase of Globe gives Radici its first North
American operation, which makes the company a global player in the fibers arena. He also commented
on the synergy that exists between nylon and spandex.RadiciSpandex Corp. continues to be
headquartered in Fall River, Mass. The Glospan trademark will continue, because of its high brand
recognition, said Calenti.Bill Girrier, vice president of sales, said sales and marketing are now
organized into fashion and performance fiber components. All marketing programs are continuing.
Recently, RadiciSpandex sponsored a fashion show at the High School of Fashion Industries in New
York City. Tencel® Focuses On DenimWith the current popularity of denim, Tencel® is focusing
on the jeans market. Workshop in Denim, held at Tencels New York office, presented new fabrics,
garments and finishing techniques to denim weavers, jeans manufacturers and retailers.June Lauck,
marketing communications manager, said innovations in the denim market are raw denim, accordion
finishes, pele denim and customized painting. All need the application of resins, polyurethane or
pigments, which make traditional denim stiff. Due to the softness of Tencel, the hard and stiff
surface is alleviated in Tencel/cotton blends.Another innovation mentioned by Lauck is Tencel
Natural Stretch. Because of the swelling properties of Tencel, up to 20-percent stretch can be
achieved through finishing.New denim fabric developments were presented by Dr. Nicola Willmott,
product development technical specialist, and Enrique Silla of Spain-based Jeanologia. Collections
included rustic denims woven with Tencel/cotton/wool; dark denims woven with Tencel A-100 a
non-fibrillating cellulosic fiber; bleached, silicone-sprayed, acid-washed, sandblasted,
screen-printed and metal spray-painted denims. The treatments give garments a frosted look, flat
appearance, tonal effect and variegated pattern.Overall apparel trend direction at Tencel is
reported by British futurist Sandy Maclennan. Fall colors are soft, misted and tonal. There is a
group of greyed blues, another of browns that go from warm amber and camel to deep chocolate. In
the red family, there is orange, coral, copper, pink and plum. Greens are yellow-cast. White, beige
and shades of mahogany are in a range called a taste for contrast.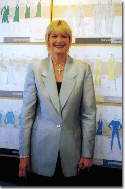 June Lauck, marketing communications manager, Tencel® Unifi Introduces New YarnsAt the
recent Expofil yarn fair in Paris, Unifi Inc., introduced several new products and concepts. Minx
is a new dull yarn developed for weaving and knitting. It is available in nylon or polyester and
has the strength of synthetic fibers with the look and touch of natural fibers. Fabrics woven or
knitted with Minx are soft and drapeable.Avada is a polyester yarn that gives fabrics a shimmering
appearance. It is a combination yarn with the feel of a microfiber, and it imparts a soft, supple
hand.One product of special interest is Sorbtex, a soft, cotton-touch, moisture-movement yarn. It
has been adapted by Nike and JCPenney for socks and is of special interest for automotive
upholstery.Color and fabric direction for Fall/Winter 2002/03 is another service being offered by
Unifi. Color is shown in three groups. Black is teamed with misty shades of oyster, dove and
mid-grey, and with cool blues. Some shades have a metallic cast. A warm range of soft ginger, hazel
and chocolate brown flows from pale to dark. Bright shades of amber, tomato and lacquer red, plus
indigo, olive, and cool aqua are in the third range.Fabric direction is related to Unifis yarns.
Tweeds, tone-on-tone effects, marls and other fabrics with surface interest are shown woven with
Donegal or Eclypse. For sparkle or a metallic appearance, there are jerseys and woven fabrics
containing Myriad. Sultra appears in suedes. Success For WellmanSince the introduction of
Sensura less than a year ago, John Anderson, vice president, Wellman Inc., Charlotte, N.C., said
the fiber is well-positioned in the market. Gastonia, N.C.-based Parkdale Mills, collaborator in
the development of Sensura, has sampled 60 weaving and knitting mills around the world. The fiber
is being used in a wide variety of products for apparel, the home and technical end-uses (See
Quality Fabric Of The Month, ATI, December 2000).Guilford Mills has adapted Sensura for fabrics
selling to intimate apparel and swimwear markets (See K/A News, July 2001).At Ge-Ray, Sensura is
used in sportswear fabrics. Delta Woodside has blended Sensura with wool. Dan River is developing a
yarn-dyed shirt line. GaleyandLord has a collection, and Sensura is found in every major name in
socks. Sara Lee is looking at Sensura in all divisions.Parkdale is selling Sensura-content yarns in
South America, Canada and Europe. Anderson reports that apparel containing Sensura will be in
stores worldwide this October, one year from the launch date of this fiber. We are now looking at
selling Sensura in dyed fiber form, he said. Carefree WoolJohn McGowan, president and group
manager, Woolmark Americas, New York City, said that with funding from Australian merino wool
growers cut off, Woolmark is now a licensing organization and technical consultancy. As a result,
he said, we can work with other animal products, such as U.S. wool, mohair and cashmere.We are
continuing to develop Easy Care wool, McGowan said. We are working with licensees in Western Europe
and Japan to develop Easy Care woven fabrics. Fabrics are being tested for mens slacks by a major
catalog. We expect to see merchandise in stores for Fall 2002.One major program at Woolmark, in
partnership with ProcterandGamble (P and G), is a program with JCPenney. Over one million Total
Easy Care sweaters for men and women, will be in JCPenney stores. Yarn is from Grignasco.Woolmark
is also working with Whirlpool and P and G on a clothing revitalizer. It is like a personal valet,
said McGowan. The concept and products are being test-marketed in Raleigh, N.C., and Indianapolis,
Ind.
August 2001