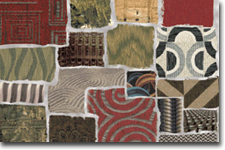 Home fashion trends reflect diverse consumer tastes. If there is one word to describe
home fashions today, that word is eclectic. Even though there may be trends in certain directions
for instance, toward special fabrics or constructions, new textures and fibers or fiber blends, or
stronger color there are so many varied influences that one could choose almost any style or color
and not be far outside some fashion mainstream. Perhaps this eclecticism can be credited to the
glut of information and images available in the current global environment.Burlington HouseSusan
Beiser, director of trend and style forecasting, Upholstery, Burlington House, Greensboro, N.C.,
confirmed this notion as she described how new seasonal collections are assembled: We are covering
the full spectrum from traditional to transitional to contemporary in a very wholehearted and
design-wise way. We used to zero in on lifestyles, but consumer tastes have become so eclectic that
it is necessary to cover everything, even trends that have nothing to do with upholstery.The
Merchandising Group at Burlington House prepares its forecast of upcoming colors and styles through
Fashion Forecast 360. Ideas might come from museum exhibitions, various entertainment sources or
current apparel fashions. Input is received from each division at Burlington. As a result of this
collaboration, were able to put more thought into color selection and end up with a more efficient,
more flexible palette, said Beiser. Were also able to create a more global variety in the colors,
textures and constructions we offer. Thanks to this rich diversity, our customers will appear to
have sourced their fabrics from all around the world.As for color, Beiser said, Everyone wants more
color. This is refreshing to us also. The palette for 2001 includes earth colors such as Mineral,
Steel and Mica and rich, lustrous highlights; as well as basic staples. Theyre substantial colors
that can easily go from organic to luxurious to very contemporary, she said.Natural fibers are
popular for upholstery fabrics, as are rayon/cotton blends, rayon chenilles and other chenilles.
Mixing fibers and processes provides a variety of textures and allows a full spectrum of looks.
Burlington House has introduced its Inspire Collection of chenille upholstery fabrics that have
been finished in a new way. The process combines blends of raw material, new equipment and process
steps to create distinct attributes in the fabrics, making them lustrous or giving them a classic
look, like a Fortuny velvet. They also affect the drapability and hand. The resulting fabrics are
comfortable as well as luxurious.In bedding, a trend toward alternative fabrics including jacquards
and voiles was noted by Charlie Barress, executive vice president, BeddingandBath. Burlington House
is using combinations of fabrics for top-of-bed ensembles that include comforters and duvets and
are heavily accessorized with pillows and other decorative elements. Color is increasingly more
important, with a move away from traditional neutrals to purples, reds and blues.Were more
master-bedroom driven, he said. This is a high-end market, which is overall more traditional, but
there is a move toward casual presentations as well.Coordinating bedsheets are 100-percent cotton
with high thread counts. The ensembles themselves are often of blended fabrics, particularly
cotton/rayon. Rayon gives a softer hand to the fabrics. Consumers are considering softness and hand
more and more as they choose among the products offered in the marketplace.For the bath, Barress
noted a trend toward sheers and burn-outs, both printed and embroidered, for shower curtains.
Traditionally, color in the bath has been dictated largely by such factors as the color of the tile
and fixtures, and more color is being seen also in this area. Weve been selling red shower
curtains, he commented.Marcia Weiss, vice president of design, Windows, noted that over the past
two to three years, the range of window fabrics has expanded to include apparel fabrics, such as
taffeta, chiffon, organza and organdy. These are happening in windows and look great, she said.
There is a growing interest in luster and opulence, but not glitz.Weiss also noted strong interest
in surface embellishments, such as crewel, embroidery, crushing or other extras. Even plain fabrics
have heather yarns or special finishes, she added.She was pleased to see a growing interest in
color for window treatments. It is exciting to see buyers moving from ivories and neutrals to
colors, she said. The whole warm palette of red/paprika/gold is doing very nicely.Acknowledging the
cyclical nature of style evolution, Weiss said pinch pleats are currently strong at the
specialty-store level. They are being shown on decorative hardware. There is also a continual
development of new top treatments that are flexible and easy to hang.When asked about shades and
blinds, she said Burlington supplies fabric to other companies for shades and blinds in the
higher-end market. She noted that where they are being used in the home, they are often combined
with soft treatments.WaverlyNew York City-based Waverlys Fall 2001 fabrics are used for upholstery,
window treatments and bedding throughout the home. The collection includes Bella Tuscany;
WILLIAMSBURG
® American Spirit; and Story Time, a childrens line. Bella Tuscany captures the color
and light of this sunny region of Italy. Textures, as seen in old stucco walls and ancient frescos,
are also important elements, according Pam Maffei-Toolan, design director, Waverly Lifestyle Group.
Our fabrics also represent both the understated villa style and more rustic summer cottage looks
that co-exist in Italy, she said.Among 13 printed designs are floral patterns, scenes of daily
life, Tuscan herbs and fruits, potted fruit trees and nondirectional patterns. Ten woven
constructions include stripes combined with herringbone or damask and Swiss dots; gingham with
diamond dobby construction; two-tone constructions; ribbons; formal but rustic cotton damask;
matelassith diamond tissue-pick; and chenille. Fabrics are cotton or blends of polyester/cotton,
rayon/ cotton or cotton/polyester/acrylic.WILLIAMSBURG American Spirit includes woven 100-percent
cotton fabrics inspired by 18th and 19th century designs found in the archives of Colonial
Williamsburg. The line is produced under license from the Colonial Williamsburg Foundation, whose
educational program benefits from the sale of these products.Stripes, solids and checks are shown
in a traditional palette of sage, red, blue, green, linen and straw. Constructions include
matelass44; damask and herringbone. Yarn-dyed sheers in checks or windowpane plaids coordinate with
solid matelassr damask for the window. A natural or white sheer features palm embroidery.Decorative
pillows and window treatments use fabrics from Bella Tuscany and Story Time. Free-standing window
coverings include textures and sheers and are topped by scarves and valances. Pillows have
self-welts or contrasting welts. There are also new designs for needlepoint pillows including
potted fruit trees, topiaries, palm trees, a Tuscan floral bouquet, a rooster and shells. Waverlys
line of bed ensembles includes two luxury ensembles, one using the colorful Bella Tuscany fabrics,
and the other in an ebony/cream colorway with an American flavor. There are also bright,
all-American looks and three childrens sets. Jhane Barnes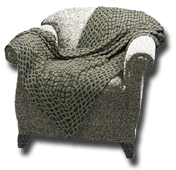 Burlington House and Waverly design their products to appeal to a wide range of buyers.
Attracting a narrower, more independent-minded market is New York City-based Jhane Barnes, winner
of numerous awards for her mens fashions, as well as for her upholstery and drapery fabrics, carpet
and furniture for the contract and commercial markets. Many of her fabrics feature innovative
fractal-patterned jacquard weaves and knits, including a patented stretch woven jacquard and a
unique plaited intarsia sweater knit fabric. Last year, Barnes introduced a line of throws for the
home. They are available in her stretch woven fabric and the plaited intarsia fabric. There is also
a line of jacquard throws handwoven under license by Textillery Weavers, Bloomington, Ind.The
stretch woven fabric is a blend of Lycra®, wool and rayon chenille. It has a soft, luxurious hand
and a weighty drape. The plaited intarsia fabric is a wool/nylon blend and is produced on knitting
machines that produce both plaiting and intarsia using a new technology that combines knitting and
weaving elements. Both warp and weft are present, as in woven fabrics, and the colors are knitted
vertically as well as horizontally, producing a unique interlaced effect. The patterns created can
have up to 48 colors four times as many as those produced on regular knitting machines.No Place
Like Home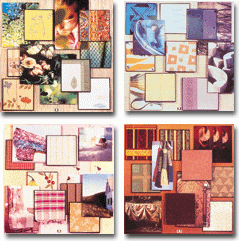 Cotton Incorporated, Cary, N.C., looks forward to 2003 in its latest trend forecast for home
fabrics, No Place Like Home. Four fabric trends are included. Homespun includes feminine elements
such as embroidery, ribbons, beads and trims on pleated, tucked and topstitched gingham,
crewelwork, lace and damask constructions. In Natural Intelligence, high-tech mixes with natural
motifs in fabrics ranging from primitive to slubbed and multi-textured. Patterns include classic
and abstract designs in stencil-like motifs, botanical prints, ethnic animal motifs and oversized
tropical prints.Frank Lloyd Wright- and Joan Mirspired geometric shapes with a soft-edged, rounder,
more feminine aspect appear on sculpted velours and terries, linear metallics, seersucker and
chenille in Geometrics Take Heart. Courageous Behavior features sateen, velvet, gilded fabrics,
metallics, mercerized cotton and woven moirn vivid jewel tones.Six color palettes refer to Dorothys
odyssey in The Wizard of Oz. Kansas features soft and pale neutral colors. Twister suggests
saturated, stormy gray, ochre, dusty green and purple. The stronger neutral hues of peach, aqua,
taupe and evergreen are included in Journey. Bright blue and gray, pink, citrus and purple appear
in Technicolor. Lollipop hues are also bright, with acidic tones. And, finally, the Jewel palette
includes rich, saturated jewel tones. Research And DevelopmentAt Cotton Incorporated, Eike
Heymer, director, fabric development and research implementation, oversees current development in
the decorative and upholstery area. We put more emphasis on construction and weaves, he said.
Almost all are dobby constructions including steep and fancy twills, very pronounced patterns,
honeycomb, herringbone and other such constructions for texture. We are also developing new
computer-generated weaves and weave combinations. The computer is able to generate new patterns
randomly, and we are discovering new constructions as a result. Heymer noted a tendency toward mock
lenos and other open, airy weave constructions for lighterweight drapery and tablecloth fabrics. He
also noted the crossover between apparel and home fashions: We are looking at similar fabrications
but using different finishes, such as soil-release and Teflon® finishes, for home fabrics than for
apparel fabrics, which require softer finishes.In towels and bathroom rugs, multicolor,
rainbow-like constructions are being developed using stock-dyed singles yarns with a space-dyed
feel. These products are intended for a mid-range market and have been very well received. Heymer
said Cotton Incorporated is also developing more and more concepts for area rugs. One example is a
stock-dyed rug mixing mercerized and unmercerized yarns for tone-on-tone effects. The rugs are
produced using a Tapistron tufting machine, which produces jacquard-like patterns in carpet and
rugs.Tone-on-tone effects are also seen in rugs mixing cationically pretreated chenille and
shoe-string yarns. Sisal looks using a tea-washed cotton/ hemp blend have an antique look. New
higher-end concepts include blends of cotton/wool, cotton/wool/ mohair and cotton/wool/cashmere.
Softness is the selling point for these rugs, said Heymer.Moving to sheets, Heymer said new
constructions in 180- to 200-count blended sheets for the mass market have higher percentages of
cotton. New spinning technologies are making it possible to improve the performance in these
sheets.The denim look is popular in both apparel and home fashions. For the home, yarns are
stock-dyed using fiber-reactive dyes to give a washed-down denim look. Coarser yarns are used in
area rugs, and 13s or 16s are used in towels. The color, however, is not limited to indigo blue.
These products can be made in any color.

June 2001