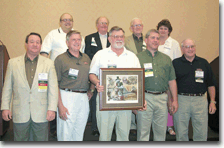 Century of Excellence
ATMA draws a full house at the Grand Casino for its 100th anniversary meeting. The Alabama
Textile Manufacturers Association (ATMA) celebrated its 100th anniversary at its annual meeting,
held at the Grand Bayview, Biloxi, Miss.Founded in 1901 as the Alabama Cotton Manufacturers
Association, ATMA is more focused than ever on the future of the textile industry in the state of
Alabama. ATMA President Tommy Johnson, president and CEO, Yarn, Russell Corp., commented that after
100 years, the industry still faces many challenges, and the organization continues to change to
meet those challenges. Johnson stated that today, with members in 65 of 67 Alabama counties, ATMA
is a leaner, more efficient and effective organization focused on grass-roots Alabama politics. He
called for local action to ensure a positive environment for textiles in Alabama. After 100 years,
there will be change we have to manage that change, he said.At the opening reception, Johnson
surprised recently retired ATMA Executive Vice President David Seagraves with a number of
proclamations presented by past ATMA presidents. The proclamations recognized Seagraves dedication
and years of service to the Alabama textile community.Seagraves, though retired as ATMA executive
vice president, remains the organizations legislative director. He provided an overview of the
groups activities over the past year. Rebecca Camerio, ATMAs assitant director for 10 years, was
named director.The TEXPAC Governmental Affairs breakfast featured Congressman Robert Aderholt
(R-Ala.), who is currently serving his third term in the U.S. House of Representatives,
representing the Fourth Congressional District.The meeting featured presentations by Jeff
Thredgold, president, Thredgold Economic Associates; and Ronald Sorini, president, Trade
Negotiations and Legislative Affairs, Sadler TravisandRosenberg LLC.American Textile Manufacturers
Institute (ATMI) President Chuck Hayes, unable to attend due to family matters, presented by way of
video, with the assistance of Carlos Moore, ATMI executive vice president, a message calling for
unity accross the textile industry.James Rutledge, Alabama Textile Citizen of the Year in 2000,
also addressed the gathering.

ATMA 2001-2002 Officers
President Bill Shugart II, W.Y. ShugartandSons Inc., Fort Payne, Ala.Vice President Hollis
Mann, plant manager, Mount Vernon Mills Inc., Tallassee, Ala.Treasurer Mark Sheffer, plant manager,
Tyco Adhesives, Albertville, Ala.Secretary Steve Adair, senior vice president, marketing/sales, JI
Fabrics Division, Johnston Industries, Phenix City, Ala.Director Rebecca Camerio, ATMA, Montgomery,
Ala.
June 2001