The repositioning of the U.S textile industry is well underway. Companies are streamlining,
downsizing or eliminating some operations, while strategically expanding others. The name of the
game, these days, is to produce a specialized product of superior quality and get it in the
customers hands faster than the competition. A master of this game is Coats American, the U.S.
sewing-threads subsidiary of Coats North America.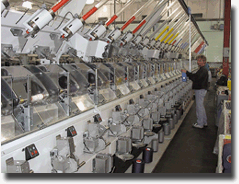 TI visited the companys Sevier Plant in Marion, N.C., in early spring, ostensibly to
update an ATI story published a few years ago about modernization projects underway at the dyeing
facility (See Commitment To Values, ATI, June 1998). Instead, it was discovered, not only has the
plant added new capacity, but Coats American has also restructured its threads business
considerably to accommodate the amalgamation of Barbour Threads, which the company purchased
slightly more than a year ago, into its operations and marketing strategies. As a result, the
mission of the Sevier plant is substantially different than it was just a few years ago.The
sewing-thread plant in the North Carolina mountains has long been a dyeing operation for spun
threads for the apparel market, but, with the recent acquisition of Barbour, it now does continuous
filament dyeing and packaging of products earmarked for industrial applications.We purchased that
group (Barbour) a little more than year ago, said Tom Borland, vice president of manufacturing for
the apparel division and Sevier plant manager. Barbour was the largest supplier in the world of
specialty thread. The company made thread for non-apparel manufacturing, such as mattresses,
furniture and automotive applications, as well as for such unusual applications as thread for the
sewing of baseballs, footballs and that sort of thing. We have significantly enhanced our presence
in these market segments. Restructuring The BusinessAs a consequence of the acquisition of
Barbour, Coats American has restructured its business into three separate business units: apparel
thread; specialty thread; and crafts.Crafts have always been very big at Coats. You walk into
Wal-Mart and you see spools of predominantly CoatsandClark thread, Borland said. The craft side of
the business was already separate from industrial, but now weve taken the industrial segment and
divided it into two distinct units one being specialty and the other being apparel. The Sevier
plant is a plant within a plant concept. We have both the specialty and the apparel lines, which
coexist within this facility.Borland said each of the businesses now has separate executive, sales
and marketing leadership in order to increase focus and efficiency in each of the business units.
Ultimately, this will enable us to better serve our customers. In most of our plants, the total
plant is assigned to one or the other of these businesses. Sevier is almost unique in terms of how
it is capturing both businesses under one roof.As well as restructuring to take advantage of the
supply chain for each respective market segment, Coats is also expanding its manufacturing presence
throughout the Western Hemisphere. We are integrating facilities south of the border with our
facilities in North America, Borland continued. We opened last year a plant in Honduras and have in
our plans this year to open one in the Dominican Republic. In addition to those new facilities, we
have an existing one in Mexico City and have bought land to develop an additional one within
Mexico. The integration of the U.S. facilities with these is based on a strategy of providing
superior service wherever we are located. For example, we will continue to supply the common,
big-volume requirements from the United States, such as white thread. But we can be very nimble,
very agile in the small, specialty orders that customers require and need very quickly.Coats
Mexican, Central American and Caribbean plants have the same three-day turnaround as their U.S.
counterparts, he said, but they realize substantial cost and transportation savings when shipping
to cut-and-sew operations in Mexico and CBI countries. Of course, the specialty customers in the
United States will continue to be serviced by the plants we have here. That is, ultimately, the
reasoning behind the integration. If we want to provide maximum three-day service, no matter where
the customer may be, then we need to have facilities within that three-day cycle a day or two days
to manufacture and a day to ship.With plants in the United States, Canada and Mexico, Borland said
Coats has greatly benefited from NAFTA. The CBI parity legislation will give us, we think, similar
advantages in Central America, South America and the Caribbean. At some time in the future, one has
to assume that NAFTA and CBI will come together, but that is some time in the future, not
now. Software InvestmentsIn addition to offshore expansion and internal restructuring, Coats
American is also investing in i2 software programs that, eventually, will segue into a complete
Enterprise Resource Planning system. This is a new tool, a software package, that can provide much
superior forecasting and planning. In addition, it will be multinational, so we will be able to
integrate all of the demand into our strategic planning with regard to customer service. We have
two distinct groupings within the company: Bulk Production Units (BPU) and Customer Service Units
(CSU). The BPUs manufacture products that have, historically, large demand. The CSUs serve more
specialized, fast-response demands. i2 will help us integrate this whole system, so that we have
capability and service in those areas in which there is demand. White thread, for example, is a
product that we know we are going to sell a certain amount. We may not know exactly who we are
going to sell it to, but we know we will sell it. But other products, the smaller, specialty
orders, you dont want to build inventory in advance, so you want small, agile, highly flexible
plants close to the customer and you want a system (i2) to ensure effective forecasting and
management. i2 is projected to be operational at Coats American by the end of this year.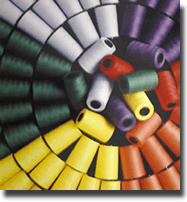 Borland says Coats has thousands of different SKUs. There is a popular notion that among
sewing threads, you have only a few products. But thats not at all true.From purely a production
point, the Sevier plant recently doubled the number of Rieter/ICBT twisters in the plant to
accommodate the added capacity generated by the Barbour acquisition. The plant operates both the
DT360 and PW360 models. As well, the company uses SSMs Digicone Combiwinder. In the dyehouse,
package dyeing is performed in 40 Gaston County variable-load machines, all of which are controlled
by Gaston Countys SuperTex+SQL computerized control system. The SuperTex+SQL provides supervision
of virtually every dyeing area, including formula management, drug room supervision, boiler-surge
control, automated chemical delivery, process analysis, machine control, dye/chemical inventory and
floor scheduling. An automated system by Color Service provides precise accuracy in weighing,
mixing and dispensing dyes and chemicals.As a company, Coats American, based in Charlotte, N.C.,
produces more than 30,000 combinations of superior thread products and colors to meet the broadest
range of sewing requirements. These products reflect the latest in thread technology and color
science and are distributed throughout the North American continent. As well, the company provides
a broad range of customized purchasing, shipping, and technical support services to suit each
customers business needs.The Sevier Plant, as well as a Coats plant in Bristol, R.I., were the
first U.S.-based thread manufacturers to qualify for the QS-9000 quality certifications awarded by
the Quality Management Institute.
May 2001