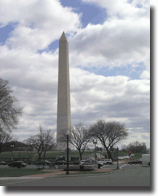 Mr. Hayes Goes To Washington
ATMI elects new officers, sets agenda for coming year. The year 2000 was one of both
triumph and disappointment for the American Textile Manufacturers Institute (ATMI), which held its
annual meeting March 22-24 in Washington. No longer does the organization count among its members
Roger Milliken, the man who, more than any other, has remained the industrys icon for half a
century. ATMI launched a spirited, but ultimately unsuccessful, last-minute campaign against the
normalization of trade relations with China and that countrys entry into the World Trade
Organization (WTO).The organization fought and won major points in marshalling through Congress the
Caribbean Basin Initiative (CBI) and then was caught off-guard by an eleventh-hour push by a subset
of its membership the yarn spinners and their separate trade association for a legislative change
that cast a large shadow of doubt over the future of U.S. dyeing and finishing.And, ultimately, as
has been the trend among its member companies, ATMI had to face the prospect of downsizing as
reduced revenues and an impending lower dues will result in a 25-percent cut in permanent staff.For
2001, with the gavel passed to Charles A. (Chuck) Hayes, the organization will concentrate on
rebuilding the unity of the informal Textile Alliance, a consortium of 13 organizations that share
the common goal of promoting the interests of the fiber/textile/apparel complex. That unity was
shattered last year when the American Yarn Spinners Association (AYSA) broke with ATMI during CBI
negotiations.As well, much attention will be devoted to lobbying both the legislative and executive
branches of government for tariff maintenance and enforcement of existing trade
agreements. New Officers ElectedHayes, chairman of the Board of Guilford Mills Inc.,
Greensboro, N.C., was elected president of ATMI during the annual meeting, succeeding Roger W.
Chastain of Mount Vernon Mills.The ATMI membership also elected Van May, president and CEO of
Plains Cotton Cooperative Association (PCCA), Lubbock, Texas, as first vice president and Joseph L.
(Joe) Gorga, CEO and president of CMI Industries Inc., Greensboro, N.C., as second vice
president.As president, Hayes will be the primary spokesperson for ATMI. In addition to being a
member of ATMIs Board of Directors and its Executive Committee, Hayes, during his term as ATMIs
first vice president, served as chairman of ATMIs Budget and Finance, and Membership Committees.Van
May is a member of the ATMI Board of Directors and its Executive Committee. He is also chairman of
the associations Budget and Finance Committee. In addition, he is a member of the Board of
Directors of American State Bank, Cotton Council International, the National Council for Farmer
Cooperatives and the Texas Agricultural Cooperative Council. Joe Gorga is a member of ATMIs Board
of Directors and its Executive Committee, and is former chairman of ATMIs Communications Committee.
He is also a former chairman of the Northern Textile Association and a member of its Board of
Directors. ATMI Must Accept ChallengesChastain, in his last official duty as ATMI president,
told the membership they must unite and work together to take on the challenges we face and do our
very best to find a strategy for survival and growth. Some companies who came to this annual
meeting just five years ago are no longer in the industry, Chastain said. We all are struggling,
yet we are here today because we are doing everything we can to meet the challenges we are
facing.Chastain noted how ATMI has responded to the challenges by sharpening its focus to promote
our members interests in decisions made in the Congress, by the administration and by international
organizations. Chastain also said that in narrowing its approach and responding to the industrys
economic difficulties, ATMI lowered member dues and reduced its budget by $1.6 million for the
coming year. ATMI Board Of Directors Adopts Plan Of ActionThe Board of Directors, at its March
22 meeting, adopted an action plan that addresses the fundamental unfairness that surrounds most of
world trade in textiles and apparel, Chastain said. We believe that even the staunchest free trader
will come to understand and appreciate our arguments.The plan includes actions to counter imports
dumped into the U.S. market or subsidized by foreign governments; smuggling and other forms of
customs fraud; barriers by foreign countries to keep their own markets closed to U.S. products; and
attempts by foreign governments to accelerate the 2005 phase-out of quotas. We will focus on
convincing our government to find solutions to these issues, he said. When the element of
unfairness is removed, our industry does very well.Chastain said U.S. textile exports to Mexico
grew 306 percent over the past five years under the North American Free Trade Agreement (NAFTA).
U.S. yarn and fabric exports to the Caribbean increased dramatically this past December over
December 1999, he said, the first benefits of the U.S.-Caribbean Basin Trade Partnership Act.In
closing, Chastain focused on the need for the industry to be united in its efforts, stressing that
the lack of unity within the industry will prove extremely damaging as we pursue our
objectives.Also at the annual meeting, the textile industrys highest honor the Samuel Slater Award
was presented to Senators Strom Thurmond (R-S.C.) and Jesse Helms (R-N.C.). The award is named
after Samuel Slater, who established the first U.S. textile mill more than 200 years ago. ATMI
created the Slater Award in 1986 to recognize exceptional contributions to the industry.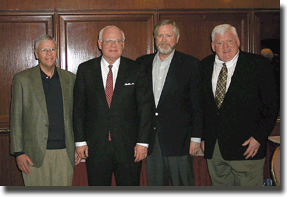 Pictured left to right: Carlos Moore, executive vice president, ATMI; Roger Chastain,
outgoing president; Van May, newly elected first vice president; Chuck Hayes, incoming
president. New ATMI Board MembersElected for terms to expire Spring 2004:Allen Barwick,
Shuford Mills Inc., Hickory, N.C.Werner Bieri, Buhler Quality Yarns Corp., Jefferson, Ga.Thomas W.
Dickson, Ruddick Corp., Charlotte, N.C.William Horowitz, The Amerbelle Corp., Vernon, Conn.Carl
Lehner, Leigh Fibers Inc., Spartanburg, S.C.Smyth McKissick, Alice Manufacturing Co. Inc., Easley,
S.C.Howell Newton, Trio Manufacturing Co., Forsyth, Ga.Henry Truslow IV, Sunbury Textile Mills
Inc., New York, N.Y.Elected to fill an unfilled term to expire 2002:James W. Chesnutt, National
Spinning Co. Inc., Washington, N.C.Elected to fill an unfilled term to expire 2003:Arthur C.
Wiener, GaleyandLord Inc., New York, N.Y.Elected to the Executive Committee for a one-year term to
expire March 2002:Roger W. Chastain, Mount Vernon Mills Inc., Greenville, S.C.Doug Ellis, Southern
Mills Inc., Atlanta, Ga.Joseph L Gorga, CMI Industries Inc., Greensboro, N.C.Charles A. Hayes,
Guilford Mills Inc., Greensboro, N.C.George Henderson III, Burlington Industries Inc., Greensboro,
N.C.W. Duke Kimbrell, Parkdale Mills Inc., Gastonia, N.C.Van May, Plains Cotton Cooperative Assoc.,
Lubbock, Texas

May 2001