Better BusinessBy Jim Phillips, Executive Editor Radici Refocuses
American market penetration spurs Somet/Vamatex/Savio merger. Consolidations continue
to be the wave of the future in the textile industry, as more and more companies concentrate
resources to decrease costs and provide maximum benefit to customers.Such mergers and
reorganizations are not limited to textile manufacturers, but are becoming more and more common
among machinery manufacturers as well. Rieter, it was revealed at press time for
TI, is in talks with Suessen. Sulzer is for sale and, by the time this article is
published, may have found a new owner. In February, the Italy-based Radici Group announced that it
was consolidating three of its flagship companies Somet, Savio and Vamatex under a single umbrella
in the North American market. The new company is to be called Promatech.
TI visited the companys U.S. headquarters in Spartanburg, S.C., and spoke with the three
individuals who will be responsible for the new directions of the combined company in the American
marketplace: Danilo Arizzi, chairman; Harold Hoke, CEO; and Nikolaos Perackis, commercial director.
Rino Morani continues as commercial director in Italy.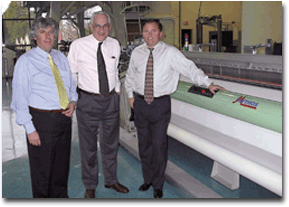 (left to right): Danilo Arizzi, Nikolaos Perackis and Harold Hoke hope to guide Promatech to
a greater American market share. Consolidation Will Increase Chances For SuccessBefore, these
entities were separate, even though the ownership was the same, Arizzi said. As long as things were
excellent, it seemed that should be the way to do it. But now the world has changed, and you cant
continue with old ideas. The future is going to be a challenge. The number of textile manufacturers
in the United States is continuing to decrease. We think that, by joining these companies and
combining resources, we create a much better opportunity for success.A primary reason we are doing
this is for research and development. We previously had two groups doing essentially the same thing
developing technologies that increase the productivity of our customers.As well, Arizzi said, the
consolidation enables the company to better position itself in the replacement-parts business.
Because there is, at times, excess capacity in the market, we were not realizing some of the
economies necessary in this segment. With consolidation, we increase both our efficiency and our
leverage in containing costs for our customers. As a result, we have improved our service to our
customers.The consolidation applies to the weaving products offered by Vamatex and Somet.
Overlapping products will be consolidated, and efforts will be directed toward gaining more name
recognition in the American marketplace. The inclusion of Savio, as a producer of spinning, winding
and twisting machinery, will enable the company to provide more of a systems approach to its
marketing efforts. Brand Names Will RemainSomet, Vamatex and Savio will remain as brand names
for the new company in order to maintain the brand equity that has been built over the years,
Arizzi said. There is a history behind these names a reputation and a value for these brand names
that we want to maintain.The company, in its various incarnations, has made tremendous progress in
developing markets for its flagship product lines. The Vamatex Leonardo series has garnered a
substantial share of the rapier market (See In The Loop, ATI, February 2001), while Somets Mythos,
introduced in 2000, represents a foray into the high-performance air-jet arena.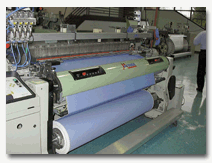 We anticipate that the consolidation of resources under the Promatech name will accelerate
our already active development program, said Perackis. This will enable us to add one plus one and
equal two-point-something, he said. This is our goal.Added Hoke: If you look at the worldwide
market for looms, its about 50/50 for air-jets and rapiers, he said. Of the 50 percent of rapiers,
Somet and Vamatex account for over half of that market. This goes to show that there is a lot of
synergy there that there are a lot of points in which Somet and Vamatex dont compete. Each company
has specific niches that they do very, very well in. While there is some overlapping, there are a
lot more areas in which they do not overlap. Its a very nice merger. It spreads our market
capabilities out through the whole line.Promatech sold more than 5,000 rapier machines in 2000.
Somet sold almost 1,000 of its Mythos model in the products inaugural year.The production of
high-technology rapier machines by Somet and Vamatex is more than the combined production of all
other manufacturers in high-technology rapier machines, Arizzi said.But, despite the worldwide
success of the products, both Vamatex and Somet suffer from name-recognition problems in the North
American market. This is part of what the Radici Group hopes to address through the creation of
Promatech.In the United States, we are perceived as a small company, Hoke said. Some of our
competitors who are perceived as bigger than we are Dornier, for example are actually much smaller.
But, the average rapier user in the United States would think just the opposite. In Mexico and
south of the border, Vamatex and Somet are considered the leaders. Diversification, Innovation
Must ContinueHoke is a big believer that U.S. manufacturers must continue to diversify and innovate
in order to compete successfully in a global market. The creation of Promatech will help them to do
just that, he said.I was with a customer just recently who talked about spinning and weaving yarns
that, 10 years ago, he didnt even know would exist crazy combinations of fibers, counts and plies
and so on. Combinations of woven fabrics and styles, pick densities and new applications. What weve
found is, in the past, the United States has purchased machines with the leading criterion being
flexibility. In reality, they didnt innovate; they ran the same fabrics they had been running for
years on these flexible machines. Its like the American market planned for flexibility, but never
reached it and then sacrificed 10- to 20-percent productivity to attain nothing. So instead of
buying Somet and Vamatex, where the productivity is so high and can run 90 to 95 percent of the
yarns capable of being run on a rapier, they would make a buying decision to sacrifice the
productivity of the 95 percent for the 5 percent. For the first time, you are seeing Americans
think about that about what the productivity increase could mean. They can move in a small number
of looms of other types to handle the 5 percent that we cant.Once that transition takes place, Hoke
predicts Promatech will become a dominant player in the United States, just like we are in the rest
of the world.Hoke said demand last year for Promatechs looms in the United States exceeded
expectations. I was thinking that there would be about 1,000 or 1,100 looms sold, but it turned out
to be about 1,450. About 20 percent of that was the rapier business. With the introduction of
Mythos and our established rapier presence, I think this puts us in very good shape for the future.
April 2001