ATI Special Report Tradition And Technology
Frotanna-Textil revitalizes terry production with Sulzer installation. The
Oberlausitz region in the German state of Saxony has a long history of textile production. The
first terry loom in Germany was put into operation there in 1856, in the small town of Grochonau.
Around 1900, there were some 2,250 looms in Grochonau, including 700 terry looms, producing a wide
range of fabrics. Today, the towns Damask and Terry Museum bears witness to the skills and quality
standards that evolved over the course of time.Frottana-Textil GmbHandCo. KG, founded in Grochonau
in 1856, grew with that tradition. Today, the 180-strong workforce produces terry products marketed
under the brand names Frottana and Move. The Move brand is noted for top-quality terry goods in
exquisite designs. Frottana-Textil supplies its products terry fabrics, finished terry towels in a
wide range of sizes and bathrobes mainly to European clients, including all leading vendors of this
type of textile, and the products are becoming ever more popular among end-users. In the past few
years, turnover has increased by over 10 percent per year.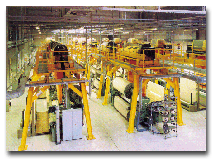 To keep pace with increasing demand, production facilities have been modernized to reflect
the state of the art. The weaving room has been completely renewed in order to create a highly
flexible weaving facility for high-end quality and exclusive patterning. The main effort in the
modernization was focused on the replacement of older looms with modern Sulzer Textil G6200 F-model
rapier weaving machines, whose short set-up times allow cost-effective production, even of small
orders. All of these machines are equipped with electronically controlled jacquard heads
manufactured by Stli.With the assistance of specialists from Switzerland-based Sulzer Textil,
commissioning of the new weaving facility at the end of May 2000 went off without a hitch. The
anticipated plant efficiency level was achieved within just a few weeks. Ludwig Marschner,
Frottanas weaving manager, said: We have achieved the flexibility we wanted. Setting up the
machines is easy and 100-percent reproducible. The error rate is minimal, thanks to the machines
far-reaching self-checking capability (by microprocessors). The G6200s dynamic pile control allows
special patterning effects to be produced. Changing from three-pick to seven-pick terry is possible
at any time. Each pick can be programmed on the microprocessor and beaten up separately. No special
tools are needed. With these machines, we can surpass present standards regarding patterning
options and quality.Managing Director Matthias Kretzschmer added: Apart from substantial cost
savings, our company will be able to fulfill customers wishes in the future with even higher levels
of flexibility and quality. This is especially true when you consider that the use of modern
weaving technology, backed up by a universal CAD-CAM system, opens up new and fascinating
perspectives in patterning for future collections. Loop Formation TechnologyTerry fabrics are
produced by simultaneous processing of two warps: the ground warp, with tautly tensioned ends; and
the pile warp, with lightly tensioned ends. A special weaving method enables loops to be formed
with the lightly tensioned warp ends on the fabric surface. With the basic method, known as
three-pick terry, three picks form a pick group. Using a special device on the weaving machine, two
picks are inserted at a variable distance the loose-pick distance from the cloth fell, according to
the desired loop height. When the third pick is beaten up, the reed pushes the pick group on the
tautly tensioned ground warps towards the fell, and the loose-pile warp ends woven into the pick
group are uprighted to form loops. Depending on the weave, loops are created on one or both sides
of the fabric.For complex patterns, the G6200 series is equipped with a jacquard machine. For less
demanding patterns, a dobby is sufficient, and simple, non-patterned fabrics can be woven using a
tappet motion. Terry fabrics are often very complex, combining differently colored warp ends with
loop patterns.Terry fabrics are subject to changing fashions and demands for new qualities and
designs. Completely new patterns can be designed, thanks to the rapid development of electronics,
with microprocessor controls and highly dynamic stepping motors combined with modern mechanisms.
One such mechanism is the special terry sley gear with dynamic pile control, as used by Sulzer in
the G6200 F. Via a servo motor, the beat-up position for each pick, and thus the type of terry and
pile height, can be freely programmed for each pick group. In this way, 200 different loose-pick
distances, and hence the same number of pile heights, can be programmed in any order desired. Thus,
the fabric designer has a broad range of patterning options, and the weaving engineer a technology
for improving the fabric structure, because the transition from one pattern element to the next can
be woven with greater precision. Sculptured TerryWith these elements, Sulzer specialists have
developed a new patterning method referred to as sculptured terry. At each full beat-up, two pile
loops of different heights are formed in weft direction. The secret of this method lies in the fact
that two loose-pick groups formed at distances corresponding to the pile heights are beaten up to
the cloth fell together.For two short loops, the pile threads are woven into both loose-pick
groups, and for one large loop, into the second loose-pick group only. It was difficult to develop
a basic weave that results in neat loops without excessive friction between warp and weft at full
beat-up. The solution was found in a special seven-pick weave combined with full beat-up at the
sixth and seventh pick. In this way, a second pile height is also formed in weft direction, making
sculptured patterning possible by the difference in pile height in warp and weft direction.For this
kind of pattern formation, freely programmable sley travel, as is found on the G6200 series, is
necessary. Microprocessor control allows the loose-pick distance to be programmed easily and
individually for each pick. The G6200 F can be equipped with a control system for a maximum of
eight different weft colors or yarns, and a jacquard machine, thus giving fabric designers
practically unlimited scope for the design of terry fabrics.
For additional information on Sulzer weaving technology, contact Verner Huber or Rudolf Vogel,
Sulzer Textil, at +41 (0)52-262 65 54 or
www.sulzer.com/str_home.html.
This story was published with permission of Sulzer Textil.

February 2001