Latest Narrow Fabrics Offerings
Mueller and Metag provide narrow-fabric weaving and knitting production solutions.
Periodically, ATI provides round-ups of technology available for specific sectors of the
textile industry. In this issue, the offerings of two manufacturers of weaving and knitting
machinery for narrow fabrics are explored: Switzerland-based Jakob Mueller and Italy-based
Metag. Jakob MuellerJakob Mueller AG continues to be active in research and development in
narrow fabric production. The company has recently introduced the Muejet® MBJL2(S) label-weaving
machine for the production of woven labels with slit selvages. For narrow- fabric knitting, the
company has available the MDR® 42 electronically controlled warp-crochet knitting machine for
patterned elastic and non-elastic tapes and lace, and the Raschelina® RD3 8/420 2KLS SN for
runproof elastic and non-elastic styles.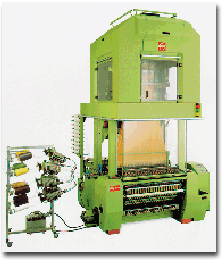 Muejet MBJL2(S) The MBJL2(S) 115 is the result of a continuous development of the air-jet
label-weaving machine MBJL 1/1150. The jacquard machine is directly mounted on the weaving machine,
the basic construction of which is reinforced and almost free of vibration. An air-conditioning
device blows fresh air into the weaving zone and, thus, reduces the electrostatic charge of the
warp ends. Heat, dust and steam are drawn out by a dust extractor that can be connected to a
central exhausting system. The climatic chamber, the exhaust device and the noise-protection covers
assure reliability and operator health protection. The drive elements and take-up are designed for
high efficiency and low maintenance.The optimized weft-insertion system allows the weaving of a
high number of yarn types. Due to the predefined values in the weft charts (included in the weft
control), it is not necessary to set the values manually when changing the articles to be woven. A
new valve control and main nozzle allow a higher weft speed and, thus, a higher number of
revolutions, with low air consumption.In order to reduce noise and guarantee free access and easy
handling of the machine, noise protection covers are mounted directly on the machine.The MBJL2(S)
runs from 1,000 to 1,400 revolutions per minute (rpm), depending upon the jacquard machines.
Nominal reed width is 1150 millimeters. Weave types include taffeta, satin and semi-satin.The
machine features weft accumulators for four or eight colors and enables free adjustment of weft
length, monitoring and detecting of empty running-weft cones and a feeding speed of up to 1,800
meters per minute (m/min).The machine, as well, is capable of 10 to 70 ground picks per centimeter
and features programmable correction functions for the elimination of start and stop marks in the
fabric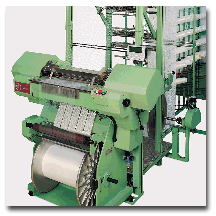 MDR 42 In knitting, Mueller has available the MDR 42, which features new, patented linear
motors that can drive up to 24 weft bars. Exact stroke control allows for the elimination of empty
spaces between the single tapes.The small thread guides mounted on the weft never touch, regardless
of the type of weave, which allows the selection of any shog movement.The back weave is introduced
by patented weft feeders that catch the pre-positioned weft ends and guide them under the crochet
needles. The small comb-like feeder allows a small stroke of the crochet needles. Additionally, the
weft bars do not have to move vertically. These two factors combine for high production speeds.
Bearded needles, as well as compound needles, can be used.Another new feature of the machines is
that the weft ends are beaten up against the cloth fell by a movement of the weft feeder. This
allows the production of higher-density fabrics. The mechanically driven warp-placing bars allow
the warping of open, closed or combined stitches.The MDR 42 is driven by a direct motor with
frequency converter. Driving elements such as motor brake, creep-speed gear, transmission,
speed-variation gear pulley and V-belts, all subject to wear and tear, are no longer required. The
machine is controlled by CAN-BUS technology, supported by an industrial PC. Typical applications
include elastic and non-elastic articles, tapes for underwear, bandaging material (long throw
tapes), lace articles (multibar tapes) and womens outerwear.Raschelina RD3 8/420 2KLS SN The
Raschelina RD3 8/420 2KLS SN machines newly developed system of double warp-laying in conjunction
with the SN compound needle make it possible to produce runproof styles of varying degrees of
fineness without having to make concessions in machine speed. Besides the runproof feature, this
technology can enhance product quality and appearance, according to Mueller.To produce a runproof
style, two warp-laying bars must be available, allowing different constructions in the same sheet.
The two warp-laying bars must, therefore, be controlled independently of each other. This is
accomplished on the RD3 8/420 2KLS SN by two chain-link drums with a repeat of six.In addition to
the two warp-laying bars, the RD3 8/420 SN incorporates the following features: an electronic warp
let-off system; the tension-monitoring and control system for warp threads; a positive warp-guide
system, which, in combination with the warp let-off system, assures constant warp tension; an
electronically controlled rubber-thread feed to maintain constant tension of rubber threads; and a
controlled rubber-thread feed from the rubber sheet in order to match the thread tension accurately
to the requirements of the individual products.Typical applications include elastic and non-elastic
styles, lingerie bands, ladies outerwear, medical articles and elastane stops. MetagMetag
offers a number of loom constructions for heavy webbings and for special fabrics.The machines,
according to Metag, are engineered for strength and designed for easy access and adjustment. The
mechanical components are deliberately oversized to withstand the rigorous requirements of heavy
webs, heretofore the province of traditional shuttle looms.Principal features of the Metag
offerings include the following: Main frame in a combination of heavy-grade steel and cast iron for
stability and strength; Precision-engineered components; Heavy-duty double take-down unit, with
large-diameter, deep-knurled rollers that can let back or advance each fabric; Double-sided reed
drive for heavy beat-ups; Heald frame in solid heavy-grade aluminum; Cam-driven shedding motion
with quick-change cams. Cams are available in all lifts. A sided cam box is provided on the TX and
TXA models, which makes it possible to combine pick-repeats and/or to fit special dobby machines;
Longer shedding-levers for a higher lift;Positive (patented) WOM-4 weft-feed units, suitable for
all yarns, that are lubricated for life and can be adjusted while running; New,
wider-warp-deflector leasing bars with greater lease combination possibilities and wide
accessibility; Centralized lubrication system with gear-type oil pump; and Heavy-duty electric
motor with standard crawl-speed facility (jog) for settings and controls.Available options include:
a rear warp beam rack (back frame); fabric winder (block or spool); automatic bobbin winder;
warp-tension frame; cone-creel structure; positive warp let-off; meter counter with pre-selection;
shedding cams for all lift patterns; conversion kit from bobbin to latch-needle; conversion kit
from latch-needle to bobbin; leno device; fabric heat-setting unit with temperature control; and
rubber-splitting devices. In addition, Metag offers custom features and designs to customer
specifications.Metag looms are available in four models. They are built for weaving multiple
high-density webs in most yarns, including the usual synthetics, as well as ceramic, glass,
asbestos and aramid fibers, and natural fibers, such as cotton and jute.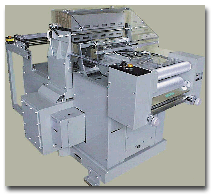 TX and TP Models The TX and TP models are particularly suitable for all heavy multi-ply webs,
according to Metag. They are provided with bobbin edge-binding that carries the spool up and down
with the catch-thread through the inserted weft yarn.The spool has a high capacity that allows long
runs between changes. It releases yarn through several tension-control units to ensure quality
edge-binding, according to Metag.A photoelectric cell monitors the amount of yarn left on the spool
and stops the loom before the yarn runs out.Potential applications include sling webbings,
freight-lashing belts, brake linings, sifter tapes, military webbings, solid woven fabrics, filters
and other industrial applications.The TX and TP looms are available for fabrics up to 320
millimeters wide.TXA Models These models have a similar range of applicability to the TX and TP
models. The primary difference, according to Metag, is in edge-binding, which, for the TXA models,
is the latch-needle system. In TXA models, a latch needle is used to pick up and knit the weft,
take a separate additional catch-thread from a cone, or combine the two operations, so that the
catch-thread is used to lock the knitting of the weft. As well, it can be used for a system that
adds one more catch-thread to the above, to double lock the weft.Latch-needle models generally
achieve higher weaving speeds than do bobbin models, according to Metag. TXA models are available
for fabrics up to 360 millimeters wide.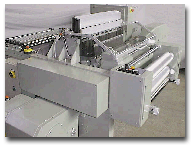 trX 600 Metag recently introduced the trX 600 as a complement to the TX and TXA series
shuttleless looms. According to the company, the trX 600, like the TX series, features robust
construction and reliability, and extends Metags technology to fabrics with a working width of up
to 600 millimeters.The new machine is equipped with a 620-millimeter-wide reed for wide
constructions. It is designed to accommodate aramid, ceramic and glass technical fibers, as well as
conventional synthetic and natural yarns. Details of the trX 600 reflect its TX and TXA roots,
including an oversized take-down motion for stiff fabrics, heavy-duty reed holder, robust drive
motion and simple component construction for ease of maintenance.The list of applications for the
trX 600 includes ceramic and conventional conveyor belts, tubular filters, brake and clutch pads,
4-ply industrial fabrics and other applications having widths of up to 600 millimeters.Specific
features include: bobbin selvage binding; a heavy-duty reed holder to accommodate a reed width of
620 millimeters (approximately 24 inches); a powerful reed drive with dual action arms; a patented
cam-driven rigid rapier weft insertion; side-mounted cam box for quick pattern changes; 12
positive-motion cams with 1:8 pick repeats; extended shedding levers for maximum shed opening;
robust harness frames with dual push rods; double steel-knurled rollers take down with manual
advance/reverse motion facilities; on-the-fly weft-feed adjustment; weft-compensating lever;
heavy-duty motors with crawl (jog) facility; safe weaving geometry; easy access for routine
maintenance; limited preventative maintenance requirements; and a weaving speed of approximately
200 picks per minute.
February 2001