FibersBy John W. McCurry, Managing Editor New Nylstar Plant Aims At NAFTA MarketsNylon yarn facility helps boost economy in beleaguered southern Virginia. A joint venture between Rhodia and Snia, Nylstar was looking for a manufacturing platform to serve the NAFTA region when it found Amfibe in Martinsville, Va., in April 2000. A nylon monofilament plant, Amfibe was founded by a group led by manmade fiber veteran Larry McDorman and began operations in 1998.Eager to expand, Nylstar began construction of a plant now known as Amfibe 2 in August 2000 and a year later it began operations. Construction crews and equipment installers worked 16-hr days to bring the new plant online. The opening of the $50 million facility is welcome news to the Martinsville area, which has been hit hard by the closing of Tultex and layoffs in the furniture industry.The plant employs about 100 and Nylstar officials expect it to reach capacity this month. The plant is capable of producing 25 to 30 million lb/yr of nylon yarns depending on the product mix."I commend Rhodias engineering groups ability to build a nylon facility," says Larry McDorman, now vice of manufacturing for Nylstars U.S. operations. Products range from 15 to 220 den. The plant also produces POY and FOY 6,6 nylon.

Nylstar yarns are used in a variety of applications, including women's intimate apparel. Meryl is Nylstars "signature" brand for its yarn products. Meryl includes several sub brands for various niche markets. Yarns made of Nylstars new Elite fiber will also be manufactured in Virginia. Nylstar says Elite gives fabrics "remarkable" hand and drape."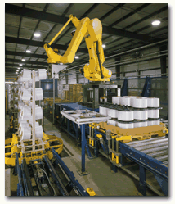 The new plant has four 20,000 sq. ft. floors with processes beginning on the top floor. Production processes began with nylon chips supplied by Nylstar facilities in Europe. Three large silos store the chips until ready for transport for extrusion into polymer. Each silo contains different lusters of chips to allow for maximum flexibility. "We can make any product on any machine," McDorman says.Plant equipment includes the latest Barmag machines. Robotic equipment supplied by Fanuc doffs yarn and transports it to an automatic packing station."Our customers are happy to see someone investing in new equipment in the U.S.," McDorman says.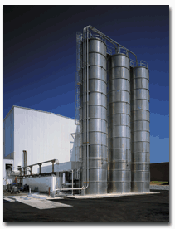 There is room for expansion at Martinsville. In fact, there are tentative plans for an "Amfibe 3" plant should business conditions warrant.During the plants construction, Nylstar sent 38 production employees and nine supervisors to its European facilities for a month of training. Of the production employees, 22 came from Amfibe 1 and 16 were new hires. These employees trained all new employees.The new plant has been a blessing for some displaced textile workers in the Martinsville area. These include Alice Tucker, who spent 11 years in the cutting and sewing department at Tultex before it closed in December 1999. Tucker, who works in the inspection and packing department, says she has "found a new home at Nylstar." Yarn produced at Martinsville finds its way into end products ranging from velcro to womens intimate apparel. Customers include weavers, warpknitters and circular knitters. Nylstar also sells POY to texturing companies."Having a strong presence in North America allows Nylstar to participate in all these markets," McDorman says. "A lot of our customers are insisting that yarn be NAFTA and CBI approved. We look for niches where we can compete best."Dina Dunn, Nylstars U.S. vice president, marketing, says the company is seeing a lot of success in a difficult textile and apparel environment. "Were in a startup mode, so its been all growth for us. Weve had lots of positive comments from customers." Dunn says Nylstar approaches business with a consumer focus, particularly in the intimate apparel and activewear markets. Seamless garments are beginning to catch on with consumers and swimwear and outerwear markets offer much potential, she says."Were a worldwide player," Dunn says. "We offer the advantages of sourcing on this continent. While Asia has comparable pricing, we reduce delivery time by three weeks. Mexico is all growth for us now. There is heavy competition on pricing, so we compete where we can."We have steady business in Canada. In the U.S., brands like the Victoria Secrets and the Vanity Fares drive the business. Theres a lot of promise in all three countries."A Quick Look At NylstarNylstar formed on Jan. 1, 1994 when French firm Rhone Poulenc (now Rhodia) and Italian company Snia Fibre (now Snia SpA) merged their fiber manufacturing operations. Nylstar produces 270 million lb/yr yarn and employs about 5,000 worldwide.In addition to Martinsville, Va., Nylstar has production facilites in:o Freiburg, Germanyo Neumunster, Germanyo Arras, Franceo Blanes, Spaino Gorzow, Polando Ying Long, Chinao Cesano/Varedo, Italyo Pisticci, ItalyOctober 2001