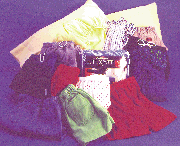 It wasnt too long ago around 1986 when a bunch of guys decided to put up everything they
owned as collateral to start a textile mill. What, you want to start a textile mill was the
somewhat incredulous response from friends and financing officers to then 42-year-old J. Keith
Crisco, founder, owner, and current president of Asheboro Elastics Corp. especially in terms of
customer service, product performance and price.So in 1986, the company was started from ground
zero, in the facilities of a former textile plant and with no employees or machinery. From day one,
the company purchased only new equipment, Crisco said. The company started to manufacture knitted
elastic fabrics for waistbands in jeans and boxer shorts, underwear, lingerie, fitted sheets,
furniture, automotive applications, hats, medical bandages, and many other usual and unusual
applications.From 1978 to 1986, Crisco was the general manager of Stedman Elastics. In addition, he
served as chairman of the National Elastic Manufacturers Association for two years, and had spent
nine years in management with Burlington Industries. Therefore, he brought some significant
experience with him, as did the other members of the original owners group. Another active owner is
Warren D. Knapp Jr., current vice president of the company, responsible for sales and marketing.
Knapp had a personal friendship with Crisco for many years that goes back to the time when both
studied at Pfeiffer College. Knapp said, From the very beginning, the company was based on honesty
and integrity. The men stressed this in their first company brochure and openly disclosed their
Christian faith, their unconditional commitment to the business and to their families. Today, the
company has about 130 crochet-knitting machines, 165 employees and three manufacturing
plants. Impressive GrowthThings started to go well from the very beginning. In fact, in 1991,
AEC earned a ranking on Inc. Magazines list of the top 500 fastest-growing privately held companies
in the country. Inc. Magazine, with a circulation of more than 600,000, is a leading business
publication for entrepreneurs and growing businesses. The ranking was based on the companys
percentage increase in sales between 1986 and 1990. AEC posted sales of $842,000 in 1986 and $7.6
million in 1990, an 800- percent increase. With that, AEC was viewed as one of the best and most
innovative companies in the world. The steep rate of increase in sales has, of course, not
continued to the present. ATI asked AECs president what current profit and sales figures look like,
Crisco pointed, with confidence, at the continuing growth in sales and market share, stating,
Expected sales in 2000 will be well above $20 million. Just to show how well things are going,
Crisco mentioned a production capacity increase of approximately 30 percent over the last three
months, and an increase in overall production of approximately 45 percent in 1999. Crisco
emphasized that in 14 years, the company has never had a short week of production, unless there was
a holiday. Every year, the company has experienced a sales increase there was never a down year.
These are impressive facts when compared to the average textile statistics worldwide.By 1993, AEC
opened a second plant in Franklinville N.C., just a few miles from Asheboro. Plant 2 concentrates
specifically on elastics for home furnishings and mens underwear elastics. This past July, ACE
announced the start-up of Plant 3 in Asheboro, and the acquisition of Sommers, Inc., Elastics
Division, Stroudsburg, Pa. This acquisition allows for the expansion of manufacturing capacity that
will be integrated into Plant 3. Versatility In Every Aspect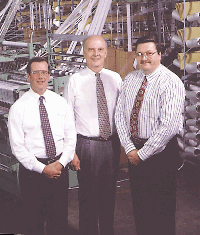 Even though the majority of the goods manufactured are still knitted narrow elastic fabrics,
the company also produces some non-elastics and narrow woven fabrics. Approximately 65 percent are
related apparel applications, while a wide variety of products about 25 percent are related to home
furnishings; and 10 percent are other, including industrial, applications.The focus has been on
customer service and adapting manufacturing for the market. Especially for fitted sheet elastics,
AEC made a special commitment to adapt the production requirements to increase the overall
efficiency for fitted sheet elastics. Crisco mentioned that doing this helped the company become
the market leader in this specific field of bedding elastics by 1996. Crisco, without wishing to
disclose actual percentage figures, explained that the market share is extremely large in this
particular segment.AEC also has offshore warehouses in San Pedro Sula, Honduras; Santiago,
Dominican Republic; and three in Mexico Aguascaliantes, Puebla and Torreon. Other remote locations
for the company include Brownsville, Texas, and Miami, Fla. These facilities are all distribution
points that help the company learn the markets and the customs of the people. It is kind of a
learning curve, said Crisco, that the company had to undergo before it would even consider
investing in actual remote manufacturing.The company also forms partner-ships with customers by
developing new products with them. Some-times we know we will never ship a yard, or maybe only for
one week, Crisco said with a sigh, but he also acknowledged that this effort has been a very
positive experience, a learning process from which at some point busi-ness will originate.
Therefore, forming partnerships with customers is a high priority for AEC. Prepared For The
FutureCrisco said he thinks there will be a lot of changes happening worldwide in the narrow
fabrics industry over the next couple of years. He emphasized that the company is prepared for this
by being debt-free; having a good balance sheet; strong distribution focus and low labor cost; and
investing in automation. The company is also continually replacing older equipment with modern
machinery. We invested in machines and in people, said Crisco. Team effort is very important at
AEC, and so is the training effort that the company puts in for its people.Just recently, the
company purchased new Jacob Mueller narrow fabrics machinery to expand its capacity. Crisco spoke
very favorably about all Muellers machinery and equipment that is installed in the three plants,
and also about Muellers service and training commitment towards the company. The Raschelina® RD3 is
the model that AEC preferred during its latest purchases. This warp-knitting machine, with weft
insertion, reflects the technology based on practical customer experience and latest technology
developments in research and development. The RD3 offers high performance, versatility,
ease-of-operation and low maintenance, exactly what AEC expects from a production machine. Another
advantage is that the RD3 offers a usable knitting width 20-millimeter wider than offered by
competitive machines, which gives the company the advantage of producing more tapes per unit.
During the interview with ATI, AEC pointed out that all gear mechanisms of the RD3 run in
dust-proof oil baths that protect against wear, avoid any fabric contamination that could relate to
gear mechanisms, and are virtually maintenance-free. Needless to say, AEC is very pleased with this
machine and is planning to purchase more of them during its continuing modernization program. AEC
has started to adapt its products even more to customer needs with respect to product performance
and price. This helps in gaining market share. For example, replacing woven goods with newly
developed knitted products is exactly what makes Crisco and his team successful in gaining every
bit of the desired market share. But, on the other hand, AEC has also added some woven products to
expand its overall coverage of the market.

December 2000