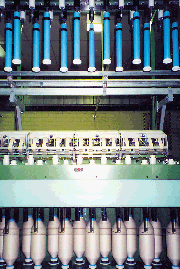 During a recent meeting of the Association of Swiss Textile and Clothing Industry in Bad
Ragaz, Switzerland, the outlook presented for the century is positive. In the first half of 2000,
textiles sales were up 5 percent.In 1999, the Swiss textile and clothing industry achieved a
turnover of CHF 4.3 billion ($2.5 billion), of which $2.7 billion came from textiles and $1.6
billion from the apparel sector.A majority of the 400 individual companies that are members of
Swiss Textiles are medium-sized firms, and many are privately owned. Combined, they employ 26,000
people. At one time, there were 25 different organizations representing different aspects of the
textile and apparel industries. Since early this year, however, for the first time in its
tradition-laden history, Switzerlands textile and clothing industry is united under one name, Swiss
Textiles.Reporting on the aims of Swiss Textiles, Ronald Weisbrod, CEO, Weisbrod-Zurrer, said,
Today, the Swiss textile and clothing industry can speak with one voice. The challenge is deciding
on a concerted approach for an industry dealing with widely divergent product ranges. The industry
must project the image of an attractive partner: innovative, flexible, creative, cooperative and
with a convincing price/performance ratio.The association has selected the theme: Swiss TEXTILES:
Dont limit your imagination get it produced. The associations vision for the future, Weisbrod
reports, includes creating an image based on quality products, service and innovative ideas. It
aims to make an impact on the market by means of highly specialized know-how, and of being
perceived as a needs-oriented partner.Attention should be directed to supporting and fostering
young talent in the textile industry worldwide, Weisbrod continued. One of our goals is to
safeguard the future of our industry, a future which will be determined primarily by the coming
generation of talent in the textile field. Annual contributions exceeding CHF 1.5 million have been
earmarked for highly innovative promotional measures for young talent, including some that are
interactive.The diversity and global impact of textile products from Switzerland is, as Weisbrod
noted, enormous. From state- of-the-art textile machinery through to the finished garment, the
common denominators that have been in place for generations are efficiency, quality and
reliability. Add to that flexibility, innovation and creativity going into the 21st
century. U.S. Upland Cotton Spun At UznabergOf the 5,200 tons of cotton spun annually at
Spinnerei am Uznaberg, between 40 and 80 percent is upland cotton from the United States. A large
portion of that is extra-long-staple Pima from California and Texas which, according to Albert
Zehnder of Spinnerei am Uznaberg, is the best cotton grown in the world. The exact amount purchased
each year is dependent upon monetary exchange and variables of the growing season.Founded in 1833,
Uznaberg embarked on major expansion plans in 1982. Along with new machinery and equipment, a new
two-story building is in place. A total of CHF 32 million has been spent on this new facility.
Today, one-third of Switzerlands ring-spun cotton yarns come from Uznaberg. In 1998, the turnover
was CHF 38 million.With Rieter Machine Works less than 40 kilometers away, we have easy access to
the latest technology, Zehnder said. There are six conventional frames and three new compact frames
from Rieter in the new facility. The new ComforSpin machines are only sold in Europe. With them,
the yarn produced has less hair; better abrasion resistance and higher strength; takes color
better; and has fewer imperfections.Raw cotton coming into the mill is opened and broken up with
Rieter UNIfloc machines and blown to the second floor, where impurities are removed and the fiber
is cleaned using Rieter UNIclean equipment. Combing, roving and twisting machines are from Rieter.
Equipment is completely automated, tubes are automatically replaced and broken yarns are
automatically spliced.The six G 33 ring-spinning machines, having 70-millimeter gauge and 1,200
spindles each, produce quality yarns at up to 22,000 revolutions per minute and have a maximum
delivery rate of 22 meters per minute. They are the longest ring-spinning frames available.All of
the machines are computer- monitored and quality-controlled online. Quality checks can be
maintained offline. The newest equipment was installed in December 1999 and started up in June
2000. When we constructed our new facility, we planned for future expansion, Zehnder stated. At the
moment there is demand for our product. Our strong point is our ability to respond rapidly and
flexibly to customers requirements. Special twists, special counts and special make-ups performed
at short notice are no problem.Fifty percent of the yarns produced are for knitting; the other half
are for weaving. More than 85 percent are for export, mainly to countries within the European
Union. 175 Years Weaving Fine SilkThe silk-weaving firm Weisbrod-Zurrer was founded in 1825 by
Jakob Zurrer as a commercial concern, trading in fabrics woven on domestic looms in local farm
houses. Business flourished, and the company soon became a manufacturing enterprise. The first
factory building was constructed in Hausen in 1850; the first mechanical loom was acquired in 1870.
In 1892, the company installed its own electricity plant.The popularity of Zurrer's specialized
silk products expanded to the international market. As the dictates of fashion fluctuated, new
looms, created by one of the founders sons, were installed and adjusted to meet the changing
demands.When the third generation took over early in the 20th century, a partnership was formed and
the company became ZurrerandCo. It was in this generation that the name Weisbrod came into the
family by marriage.With the fourth generation came the advent of synthetic fibers. Weisbrod-Zurrer
began using nylon and acrylic in 1947. In 1951, the firm entered a period of expansion with the
building of a new, modern mill with 26 looms. In 1964, the family concern became a public limited
company, operating under the name Weisbrod-Zurrer AG. In 1967 the fifth generation came into the
company when Ronald Weisbrod joined as a junior partner. In 1984, he took over as CEO after the
death of his uncle.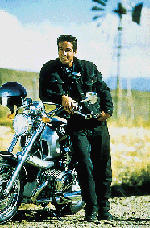 Today, Weisbrod-Zurrer Ltd. has a turnover of CHF 40 million per year. The company sells 2
million meters of fabric annually, half of which is produced in its own mill, half in facilities
around the world. In its own mill, there are 52 modern jacquard looms weaving 29 tons of silk, 15
tons of wool, 155 tons of synthetics and 12 tons of blended yarns into 1 million meters of
fabric.Weisbrod-Zurrer sells to customers in 40 countries, with 90 percent of its production going
outside of Switzerland. Sixty-five percent of its fabrics go into womens apparel, 15 percent to
interior fabrics, 15 percent to the tie market and 5 percent into a broad category that includes
products as diverse as clerical robes and flags.An average of CHF 1 million is invested back into
the company annually. Recent acquisitions include a computer network with 65 terminals and CAD
systems with 5 work stations.Today, we are concentrating on our core business, said Weisbrod. 'We
are niche-market players working in a global market. If we cant do it competitively, we give it up
and go on to something else. We work on a 7-percent cash-flow margin in order to have funds
available for appreciation and for profit.Most of the fabrics woven at Weisbrod-Zurrer are
yarn-dyed jacquards. Electronic jacquard machines operate on two floors, with as many as 1,300
threads going into a repeat. Fabrics are heat-set; no finishing is done at the Hausen
facility.Along with high quality, design innovation plays an important role in product development.
More than 1,000 new designs are created in the companys own studios every year. Here creative
experimentation goes hand-in-hand with scientific tests and high-tech processes.A wide variety of
yarns is on hand for development work, ranging from thick and thin yarns to wire, paper, raffia and
metallic yarns. Specialized products include moires, silk flag damasks, double weaves and lenos.
Special effects range from nonwoven ribbons with shrinking effects and puffed surfaces to jacquards
with cut threads. Great care is taken to remain true to the companys individual creative style a
style which is committed to traditional craftsmanship and technological innovation said
Weisbrod. Science Fiction Becomes Reality At SchoellerSchoeller Textile AG was founded in
1868. Original production was basic fabrics for mass markets. In 1979, the company became part of
the Albers Group, a holding company that, in textiles, also includes yarn companies in Germany,
Austria and the Czech Republic, and Spinnerin Inc., a garment-dye company in the United States.In
the 1980s, Schoeller made a U-turn, going away from basics to become a niche-market producer of
high-tech functional fabrics for sportswear, leisurewear, protective clothing and interiors. Its
business dropped dramatically, from CHF 80 million to CHF 6 million. Today, the turnover is around
CHF 60 million.According to Hans-Jurgen Hubner, CEO, the key to success lies in the development of
new and innovative products. Our Sevelen production facility has invested over CHF 40 million in
the last 10 years, giving us a leading edge in innovation, technology and creativity. Our
development laboratory, weaving mill, dyehouse and coating equipment form the basis of an
efficient, market-focused production operation.In the 1980s, Schoeller pioneered in stretch fabrics
for active sportswear. In 1989, it became an in-house technology company, introducing to the market
multi-functional protective fabrics that are now in demand at leading fashion houses. Schoeller is
selling techno fabrics to names like Armani, Cardin, Hechter and Lacroix, along with Bogner, BMW,
Timberland and Hartmann Luggage.We are producing intelligent fabrics, Hubner continued. We are
working with all branches of the industry and developing specialized fabrics for extreme sports,
industrial protection and fashion. Today, there are over 400 manufacturers using our fabrics.Some
of Schoellers recent innovations involve changing the optics and surfaces of fabrics. They are
producing cloth which protects against bacteria, odor, smog, sunlight, fire, static and stress.One
of the companys most sought after new developments is ComforTemp®, the Phase Change Material (PCM)
developed for NASA. Millions of microcapsules embedded in the fabric actively regulate temperatures
by storing the excess heat when it is too warm and then releasing it when it becomes cooler.
ComforTemp has been picked up by manufacturers of apparel for skiwear and mountain biking, as well
as casual streetwear.Another recent innovation is Keprotec®, which is lightweight, tear-, abrasion-
and friction-heat resistant and breathable. Keprotec contains DuPonts aramid fiber, Kevlar®,
blended with nylon and metal. Created for the world of extreme sport and work protection, it is
finding its way into street and casual wear. Currently, there are 22 Sulzer Ruti 4-gauge machines
weaving Keprotec fabrics.At Schoeller, anything is possible. New ideas mentioned include fabrics
which will stimulate heart rhythms, self-medicate and change appearance on command.One new concept
is patented hydrophobic technology based on the lotus-blossom effect and nanotechnology. Lotus
blossom leaves have a regular, rough microstructure that reduces the contact surface for dirt.
Because of their hydrophobic surface, a raindrop will roll over the surface, taking dirt particles
with it.Concern for the environment is of major concern at Schoeller. New dyeing equipment is being
installed that uses considerably less water, thereby creating less waste. Other machinery in place
treats waste to make it biodegradable.In just a few years, we have gone from being a creative
fabric manufacturer to becoming the global market leader in innovative textile technology, Hubner
said. Textile Printing As A Fine ArtThere are still things the computer and modern technology
have not perfected. At the textile print works of Seidendruckerei Mitlodi AG, screens for printing
high-quality fabrics are still largely made by hand. Here, quality is a tradition which has been
ongoing for decades.Although a majority of the original customers, who demanded the best silk or
cotton prints the world could produce, have largely disappeared, Mitlodi is still producing fine
textiles. We have been through some difficult times, said Urs Spuler, director, but the worst is
behind us.In the 1990s, we began to identify areas where we could prosper and decided to
specialize. Today, we have a turnover of CHF 15 million. One of our most profitable areas is bed
linens. We do contract printing for the home furnishings market on a global basis, and print silk
fabrics for womens outerwear, said Spuler. One of our major customers in the United States is
Brunschwig et Fils, Decorative Fabrics. Mitlodi prints a wide variety of fabrics, ranging from
knits and sheer wovens to heavy upholstery weights. The majority of fabrics contain natural fibers,
but synthetics are increasingly in evidence, depending upon customer demands.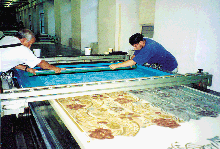 Mitlodi uses state-of-the-art flat-bed and machine-screen-printing equipment. Hand-worked
cylinders that print wet fabrics will print limited editions of 1,000 meters. Generally, this work
is done for a very few top clients, such as the silk firm Jakob Schlaepfer, which sells to haute
couture.There are screens that will print an entire length of fabric. Table printing, where the
cloth moves, can run up to 35 colors. The results are ultra-sharp. Another development is the
companys multi-colored striped printing process.Colors are controlled by computer. They are mixed
using Fimat machines. The computer can mix anywhere from five to 600 colors. Data can be stored and
recalled as needed. Color try outs are run off by hand and checked by a color artist before final
client approval. Fabrics are steam-washed to force dyes in faster. End finishing is done at Mitlodi
and at their facility in Como, Italy.We have established a good position worldwide, said Spuler.
Our niche is top quality printing and finishing and service to high-fashion markets around the
world. Embroideries For The Masses And The ClassesForster-Rohner AG was established in 1904 as
an embroidery factory by the grandfather of the present owners. Located in St. Gallen, the company
has long been regarded as the worlds major area for producing fine embroideries. In the 1920s,
embroidery was the most important industry in Switzerland. By the 1930s, that business collapsed.
It was revived after World War II, when luxury items came back into fashion.In 1965, the business
was taken over by three brothers, Peter, Ueli and Tobias Forster. As long as we adapt to fashion,
decorating garments and products for the home will always be in fashion, said Ueli Forster.In the
1950s and 60s, Forster- Rohners customer list read like the Whos Who in haute couture. Dior,
Balenciaga and Givenchy topped that list. Today, the company still sells to top names in design,
but the bulk of its business is done for branded lingerie manufacturers.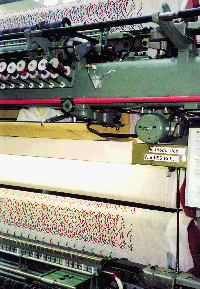 In addition to production facilities in St. Gallen, Forster-Rohner has wholly-owned
subsidiary companies in Austria and Spain. They have joint ventures in Japan, China, Thailand,
Mexico and Morocco.Tobias Forster explained that via the companys international network and with
modern technology, it can increase production by 10 percent a year. In 1992, we had 48 machines
here in St. Gallen; in 1998 we had 34 and were producing more.Bulk orders are run on 30 Saurer 21-
yard-long looms, and two 15-yard Lasser looms. Large orders can be completed in a few weeks.
Embroidery is done on both dyed and unfinished fabric. A small amount of silk or cotton is used,
primarily for couture customers. The bulk of embroidery threads are nylon, polyester or rayon.
Lycra embroidery is becoming increasingly popular.There are more than 500,000 designs in the
100-year-old design archives. Nine designers create new patterns by hand. Work is based on French
inch squares, which are longer than the American inch.Eighteen technical designers convert design
data and scan it into computers. Some designs contain as many as 5,700 stitches. Embroidery
machines were once driven by punch cards. Today, with computers doing this work, the process is
three times faster.Forster-Rohner anticipates fashion trends and presents its own forecast to
customers seasonally. Although themes are the same for all end-use areas, materials differ.For Fall
2001, outerwear fabric suggestions include silk mousseline, hand-painted velvet, brushed wool,
iridescent taffeta and lace. Gold, cellophane fringe, and matte and shiny yarns will be used for
embroidery.For lingerie, popular base cloths will include microfiber tricot, double charmeuse,
elasticized net, stretch velvet, leather-like tricot and shimmering fabrics knit with Tactel®
Diablo. Painted-effect embroideries will be stitched with soft, metallic gold threads twisted with
colorful polyester yarns. Transparent elastic will be used for shoulder straps. Swiss
Textiles: Success Through ConsolidationThe merger of various textile branches and their
associations has led to a concentration of strengths and resources, which has proved successful in
every respect. By identifying profitable niche markets in a global economy, investing in new
equipment, partnering with customers, fostering young talent and maintaining an image of quality
and service, Swiss Textiles is looking ahead to a profitable future.

December 2000