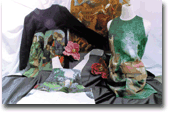 While the conventional textile industry continues to place analog restrictions on digital
printing, a growing number of graphic artists, fine artists, interior designers, custom clothiers,
photographers and sign makers dont see the restrictions, but instead see the new market
opportunities. For these people, the only limits on digital printing technology are their
imaginations.The conventional textile industry has slowly been reaping the rewards of digital
printing for sampling and presentation, which provides both a tremendous cost savings and reduction
in time to market. The industry has been resistant to look at digital printing for production, as
most of the industry has a mass production business model that cant support the slower speeds and
higher costs of digital printing. The post-processing requirements for steaming and washing of
digitally printed fabrics have also created a barrier to entry, as have fear and lack of experience
with the technology.As the textile industry tries to ascertain the future of this emerging
technology, a growing number of creative entrepreneurs are discovering and developing entirely new
products and markets to which they can sell short-run customized products. There are the movie
studios that need printed fabric for duplicate garments and backdrops, the entertainment industry
with its insatiable need for unique costumes, the sports apparel markets need for custom team
uniforms, the artists who see clothes as a new canvas for their work and interior designers who can
express themselves on upholstery as well as wall, floor and window coverings.While the flag and
banner business has been deploying this technology for a number of years, this market is still in
its infancy. The ad specialty business is another market well poised to exploit the
opportunities.As these market demands bring about a convergence of graphic arts, printing and
textile industries, there is a growing number of companies satisfying the growing demand for
fabrics that are custom treated for use on ink-jet printers. Ink-Jet PrintingThe new
generation of ink-jet printers can accommodate virtually any fabric that doesnt leave lint that
might clog the print heads. However, getting the fabric to feed through the printer; getting the
ink to stay on the fabric; getting the colors to pop; and getting the finished product to withstand
washing, sunlight, and for some applications, pollutants, acid rain, intense heat and other
environmental pressures, has become a science created from the marriage of technology, art and
chemistry. This science has created new products and market opportunities for several ink-jet
fabric companies.There are two primary methods used for stabilizing and feeding fabric through an
ink-jet printer. One is a paper backing, and the other is a feed and take-up system. While many of
the OEMs have developed feed and take-up systems that eliminate the need for backing on rolled
goods, experts advise users to work closely with their equipment supplier and to test all fabrics
to be used for either sampling or production.Most fabrics used in ink-jet printing will require a
pre-treated coating in order to prevent the ink colors from bleeding on the fabric.While some
natural fiber fabrics do not require pre-treating, the colors produced on non-treated fabrics will
end up very faded. The only way to obtain vibrant colors is by pre-coating the fabric, and for many
applications it will also require a post-process step of steaming and washing of the fabric after
printing. Ink ChemistryOne of the greatest challenges for this new market has proven to be
that of ink chemistry. The wide-format ink-jet printing vendors, which are now looking to expand
into the textile industry, have been using pigmented process color inks for output to paper. The
textile market wants to use its conventional spot color inks, which include reactive, acid and
dispersed dyes.While several ink companies are developing and delivering inks for the textile
market, the chemistry requires the finished fabric printed with reactive, acid and dispersed dyes
to be steamed and washed if it is to be applied to an end use other than presentation, sampling or
signage. Steaming will fix and enhance the color, and the post-washing will get rid of excess ink
that can adversely affect the finished hand.DuPont claims that its pigmented inks only require
heat-setting for production use on textiles.The ink chemistry issue is magnified when combined with
the various chemical compositions of the different fabric coatings from the growing number of
ink-jet fabric vendors. Each of the vendors we spoke to has its own unique formula for defining
what inks will and wont work, as well as its own methods for finishing and testing printed textiles
for commercial use.Lee Newsom, a 10-year veteran of Colorspan and a partner in Jet Effects Inkjet
Textiles, feels that the time has come for the American Association of Textile Chemists and
Colorists (AATCC) to establish testing standards for the emerging ink-jet textile market. The
Ink-Jet MarketplaceMany of the printing equipment vendors have developed strategic partnerships
with ink-jet fabric suppliers with whom they have conducted a wealth of research on the chemistry
mixes of fabric, coating, inks and washing. While end users will save a tremendous amount of time
and money in working with these proven formulas, they should be aware that there are a growing
number of new fabric options on the market.Los Angeles-based DigiFab was one of the first companies
to offer ink-jet textile fabrics to the market. The companys patented coating process has been
applied to its stock line of sheeting, twill, rayon challis, silk, polyester crepe, cotton jersey,
1X1 rib, cotton Lycra® and interlock, which is put up in bolts of 10 or 25 yards. All fabrics are
available with or without paper backing. DigiFab also offers custom coating for companies that
prefer to use their own fabric or want to coat fabrics DigiFab does not stock such as voile,
velour, corduroy and sheers.DigiFab Systems, the companys newly formed software division, offers
software products and services to support the textile design process for companies developing
prints for both rotary screen and digital printing. They also offer support to Foresight® Design
software and provide custom software development specializing in custom drivers for ink-jet
printers.3P InkJet Textiles, Germany, has been marketing its line of coated fabrics for more than
two years. In addition to a large selection of interior/fashion textiles including cottons, wool
and silk, the company also features a line of flame-retardant textiles for which it is working on
global certification.As owner Thomas Potz points out, when using textiles for printing flags or
banners, it is important that they be fire retardant not just in the country of origin, but in any
country where the finished product will be shipped. 3P claims its flame-retardant textiles require
no special textile inks.While 3P does not offer custom coating, it does offer a licensing contract
under which it will ship coating to mills to allow them to do their own coating. They also offer an
office-size fabric steamer that will hold up to 23 yards of 62-inch-wide fabric. Complete
SolutionsJacquard Inkjet Fabrics, Healdsburg, Calif., is a division of Rupert, Gibbon and Spider, a
company with more than 18 years of experience supplying the fine arts industry. The company
manufactures its own inks and coatings and offers a complete solution from design through
production for ink-jet-printed textiles through alliances with mills, software vendors and printer
manufacturers and the development of a short-run steamer that holds up to 50 yards of 60-inch
goods.We dont just offer solutions, we offer know-how. We have been training people for 18 years on
how to color fabric, said Mark Trimble, principle, Jacquard.Jacquard has leveraged this experience
to create several consumer products that demonstrate a few of the many new market opportunities.
Kits offered by Jacquard feature everything including fabric, solution and instructions that allow
the home craftsperson with an ink-jet printer to create doll pin kits, ties and handkerchiefs, silk
scarves and quilts.While early commercial adopters of Jacquard Inkjets systems have been in the
flag and banner markets, the company is expanding its focus to high-end goods where traditional
dyestuffs will apply. It offers 75 fabrics including silk, cotton, wool, linen, rayon and nylon and
knits. All stock fabrics are available with and with-out paper backing. Custom coating with a
50-linear-foot minimum is also available. Jacquard is the only company selling its goods by the
square foot, a convention derived from the digital printing market. From Diapering To
DyeingKimberly Clark Printing Technology, Roswell, Ga., is a division of the Kimberly-Clark Corp.,
best known for consumer products such as Kleenex and Huggies. The company leveraged its surface
science technologies in 1998 with the acquisition of FormuLabs, a company with experience in ink
technology. The new business unit is focused on developing solutions for digital printing
applications, one of which is textiles.Its initial product launch included fabrics and inks for
textile design sample printing, as well as its EPIC brand products for signs and banners. Product
Manager Laura Cochran has been working closely with the mills to source a broad range of fabrics
with consistent white point throughout the line.Design products are formulated for color and hand,
while the companys sign and banner products are focused on durability. The base fabric line for use
in sampling includes cotton, silk charmeuse, crepe-de-chine, polyester georgette, polyester chiffon
and nylon Lycra. The company will soon be launching the second generation of fabrics, designed to
work with reactive and acid-dye inks. These production-quality fabrics will need steaming and
washing. All fabrics are paper-backed. The company offers custom coating.In addition to its
full-width fabrics, the company is offering a line of desktop fabrics designed to be used on the
Epson 3000 desktop ink-jet printer. The fabric is put up in 16 1/2-inch widths by 3 yards and is
designed for the production of fabric swatches. In addition to the fabrics, the company offers
several ink sets for the Epson 3000 printer. This is an easy-to-use and compact solution that can
fit in any design studio, Cochran said. Lab To ProductionJet Effects, Las Vegas, is the most
recent entry into this emerging consumables market. Owner Lori Dvir-Djerassi operated a fine arts
gallery for 15 years in the lobby of the Anaheim Hilton Hotel, where she found an increasing number
of clients wanting to reproduce art on garments.The Jet Effects coating process and results are
patent pending. Dvir-Djerassi expects the patent to be issued sometime this fall. Jet Effects has
worked for three years to get the process from the lab to production. The company has just
completed its first full-scale production runs. Jet Effects claims its coatings will accept any
type of dyes or pigments including reactive, acid and even direct dyes. Its printed textiles
require no steaming, and target customers are doing production applications, not strike-offs or
sampling.Jet Effects commercial line of fabrics includes lightweight cottons, heavyweight cottons,
twills, canvas, silk, crepe, denim, rayon, basic knits, velvets and cotton/poly blends. Custom
coating is available on pfp (prepared for printing) goods with a one-bolt minimum. While the
company does offer its textiles with paper backing, Dvir-Djerassi claims to have developed a
manual-feed technique that can be used with nearly any printer, and will feed the fabric without
either a backing or a feed and take-up system. The FutureAll of these textile pioneers are
betting their businesses on the future growth of ink-jet printing for a variety of different
markets and applications. A good indication of the markets potential can be found in the
wide-format printing industry, a market that didnt exist prior to 1994.According to I.T.
Strategies, the estimated retail output for wide-format printing in 1999 was $16.2 billion, with
2000 output estimated to be $21.3 billion. Early adopters, much like the textile industry,
complained that the technology was too expensive and too slow.Just as the paper web press industry
lost a portion of its market to this new digital printing market, so too will the analog textile
printing industry. As the cost of the ink-jet printers falls, more and more of the market will
shift from analog to digital printing. Projections on how much fabric will be digitally printed
range between 12 to 15 percent and 50 percent in 10 years. It is estimated that the market will
shift from 50 major textile printers to 500 smaller ones, many offering short-run customized
solutions to satisfy more sophisticated customer demands.These short-run printers will create new
products and new markets. Potz envisions fabric stores that carry only white goods printed on
demand. He sees this as an excellent solution to seasonal/holiday merchandise, which will no longer
need to be stocked or marked down after the holidays. Potz also sees seamstresses, tailors and
custom clothiers offering their services with printing capabilities in alliance with traditional
retailers. And he sees service bureaus with printers, steamers, washing machines and irons as
playing an expanded role in the market.Trimble envisions mom-and-pop operations approaching local
niche markets, supplying costumes for their kids dance groups and local teams. He also sees the
service bureau operation, specializing in 100- to 500-yard lots, as playing an expanding role in
this emerging market.Service bureaus will work with interior design and decorating studios. Trimble
claims a third tier will offer the complete solution to include cutting and sewing finished goods.
With early adopters all in agreement that sewing the finished product is the greatest challenge,
many see this as a market opportunity and resurgence for the seamstress, tailor and home sewer.The
bottom line is that while the technology isnt perfect, technology limitations are no excuse to
avoid the future. The markets will develop and the limitations will be overcome. Early adopters
will be the big winners. The question is who will these early adopters be, and how much of the
emerging market share will the textile industry give up before it wakes up to the opportunity Editors Note: Teri Ross is a writer, speaker and consultant focusing on CAD/CAM technology and
process improvement strategies for the sewn products industries.She is owner and president of
Imagine That! Consulting Group, publishers of the award-winning techexchange.com. She can be
reached at tross@techexchange.com or at (952) 593-0776.

June 2000