FOCUS 2000By Eric Vonwiller, Senior Technical Editor Bayer Continues World-Class ManufacturingThe Bushy Park spandex fiber plant remains on target with its product and customer
commitment.In June 1998, ATI reported on Bayers technologically advanced Bushy Park, S.C.,
facility and its $60-million expansion of the Dorlastan® spandex fiber plant. In this issue, ATI
will focus once again on this outstanding manufacturing facility, its success and continuous
growth. Even though this plant is not a typical textile mill, it demonstrates true management
leadership, rapid response and extreme safety consciousness throughout the entire facility.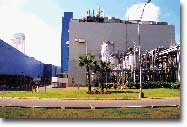 The Bushy Park management, headed by Neal E. Tonks Ph.D., director of manufacturing, call
themselves "the new kids on the block." In 1995, Bayer took the North American spandex market by
storm with the opening of its first U.S.-based spandex fiber manufacturing facility. While Bayer
had been producing Dorlastan spandex in Germany since 1964, the company identified that the U.S.
market was looking for alternate spandex suppliers. This prompted Bayer to develop the facility in
Bushy Park with an initial 4,000-metric-ton capacity. Spandex Demand GrowsBased on know-how and the
leading image of Bayers Dormagen plant in Germany, the Bushy Park plant was designed and furnished
with the finest equipment available. In 1997, Bayer considered itself one of the top spandex
suppliers around the world and announced an expansion, supplying Dorlastan to some of the best
textile mills on a global scale. The response to the South Carolina facility was overwhelming as
the demand for Bayers high-quality spandex grew. This prompted a further expansion of its facility
to nearly double spandex production annually. The expansion of the North American plant, combined
with the latest expansion in Dormagen, doubles Bayers global production capacity of Dorlastan. The
company emphasizes that this is the commitment to meet and exceed customer needs, while delivering
the same high-quality product, service and support worldwide. The Fibers Group of Bayers Fibers,
Additives and Rubber Division manufactures and markets Dorlastan spandex fibers for textile and
industrial applications. Bayer has been producing Dorlastan spandex for the global market since
1964, and today it is the worlds leading supplier of the polyurethane raw materials and technology
that are the bases of spandex production. The Fibers Group is an integral part of Bayer, a
research-oriented company with major businesses in healthcare and life sciences as well as
chemicals. Headquartered in Pittsburgh, Bayer Corp. is a member of the worldwide Bayer Group, a
$29-billion international life sciences, polymers and specialty chemicals group based in
Leverkusen, Germany.Safety FirstBayer had the advantage of starting with a greenfield plant for the
spandex production, which permitted a very modern approach in reference to equipment, building
layout and infrastructure. But even more important is the human factor at Bushy Park the selection
and education of its personnel throughout the plant.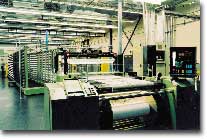 Ben L. Bruner, manager, quality and technical service, explained that approximately 150
people were selected from thousands of applications. They were then taken through intensive
training on all technological and practical aspects of manufacturing: hands-on training,
housekeeping, quality training and, on an extremely high-priority level, safety training. Tonks
mentioned an almost unbelievably good safety record, and stated that Bayer has received numerous
safety awards. Since the initial start-up, the plant has not had any incidents that reflected in
lost time and workmens compensation. The Bushy Park plant is a very "lean" operation, and even
after several expansions, the total number of employees is still not more than approximately 240.
"This includes everybody technical people, administration, all," Bruner said.Rapid ResponseBesides
excellent product performance of all Dorlastan fiber and yarn variants that are shipped to
customers, Bushy Park is very proud of its flexibility to fulfill customers needs, even for the
smallest orders. It is not uncommon for a customer to request a small quantity of yarn for tests
and trials. Such orders often require super-fast response time. Karen E. Flowe, who is responsible
for customer service as well as the material handling side of the business and warehousing,
shipping and receiving, has seen orders come in and go out the door within a few hours. Even when a
customer places a trial order for less than 50 pounds at 4:00 p.m., he gets the same priority as a
large order. Therefore, no matter how big or how small an order is, it gets the utmost attention to
satisfy the most demanding customer needs. This commitment is clearly reflected in more than 500
customers the Bushy Park plant calls its own. Many of the customers may be considered low-quantity
yarn users, but their needs are exactly what drives Bayers innovation, the quality consciousness
and the quest to ultra-quick response. Because quality is always a top priority, the company
executes continuous internal audits and quality insurance tests, as well as supplier
audits.Terrific Customer ServiceBayer is determined to be the most responsive spandex manufacturer
in the world. The entire quality system is built on customer standards. Fiber testing is performed
at the customers plants. "In case of a problem, generally, we are there in a matter of hours," said
Bruner. "If there is a problem with the shipment, its replaced in less than 24 hours." Tonks
explained that Bayer fully understands the problems customers face today with just-in-time
inventory control and low inventory, that supply chains can get very, very tight. Bayer has
therefore made the commitment that within NAFTA, the company will respond in less than 24 hours,
with much commitment often in less than 12 hours. Technical service representatives will analyze
the problem, try to solve it on the spot or get fresh yarn out, and even help the customer to
adjust their equipment if necessary. "All of the technical support people are on call 24 hours a
day, seven days a week, 365 days a year," added Bruner. "Most of our customers have our home phone
or cell phone numbers." People InvolvementCommunication throughout the entire plant is on a
high-priority level. All personnel groups are self-directed workteams. The typical workteams are
intensively cross-trained to avoid any production problems should an operator be absent. All people
on the production floor are computer literate. Therefore, almost everybody needs to serve time in
the control room where the entire plant is monitored to gain knowledge about the production. If an
operator has a problem with the equipment, everyone will know this immediately, because every
person on the production floor has his own e-mail access. The managements confidence in its
operators is so great that only 30 people are responsible for the entire production over weekends
and holidays without any on-site supervision.Technological EdgeTo keep the top-quality production
going all year round, the plant has a world-class predictive and preventive maintenance program.
This helps to ensure that all vital components are cleaned, exchanged or repaired before any
quality loss occurs down the road. It also eliminates a lot of surprises that typically happen at
the worst times or on weekends. Besides this, every spinning position is 100-percent traceable. For
example, just in case a customer should encounter a problem with some materials, a quality team
member from Bayer can instantly identify the package and trace it back to the specific machine and
operator. The Bushy Park facility received ISO-9002 registration from the International Standards
Organization in April 1998, and offers a fully operational fiber mill on-site to pre-test its
knitting, dyeing and finishing properties. The Dorlastan knitting applications lab is committed to
excellence, using only the best mill equipment including: advanced warp knitters, a Monarch
single-jersey circular knitter, a Lonati hosiery knitter, circular knitting and hosiery machines
such as Karl Mayer warp tricot and raschel knitters and several Karl Mayer warpers. The warping
business plays a significant role in the companys overall market strategy. By being a technology
leader, Bayer continues to support the warp knitting industry and invests in application
development for swimwear, sports apparel, intimate apparel and many other leisurewear spandex
applications.The on-site dyeing and finishing lab also includes equipment typically installed in
customers mill facilities, using either jet- or beam-dyeing machines. Scalvos and Thies are Bayers
preferred brands that simulate mill-dyeing conditions. Proper stretching and fixation of the fabric
is done on a Bruckner tenter frame. After the fabric is heat-set, it is cut and evaluated.
Installation of Santoni seamless equipment is currently underway in the Dorlastan applications lab
in Germany, and the technical team at Bushy Park and their German colleagues will use this
technology to collaborate on product development with garment manufacturers. Bayer is actively
pushing the seamless trend by developing a broad array of applications in activewear, intimate
apparel and even select mens garments. The Logistics Advantage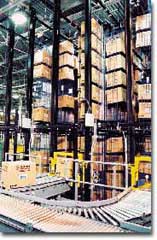 Bayer invested several million dollars in its new warehousing and shipping department. Headed
by Karen Flowe, the warehouse has undergone an installation of the latest state-of-the-art
computer-controlled storage rack designed and delivered by ALVEY Material Handling Systems, St.
Louis and Cirrus Technologies, Raleigh, N.C. A high-tech warehousing and shipping facility is an
absolute must and one of the key factors to success, according to management. After Dorlastan is
produced, the spools are packed in labeled boxes. Each spool is tracked throughout the
manufacturing process until it reaches the customers operation. Bayers new material handling system
stores and retrieves boxes based on customers orders, which are then shrink-wrapped and shipped.
Even in the warehousing and shipping area, Bayer is environmentally conscious in every aspect and
uses recyclable materials. The storage area is climate-controlled so that the customer receives the
yarn in the best possible condition. At the same time, the customer receives detailed instructions
on how to handle the Dorlastan spandex. Management proudly told ATI that Bayers Bushy Park plant
achieves the on-time delivery goal almost 100 percent of the time.Fiber ExcellenceAccording to
Bayer, Dorlastan offers a number of outstanding characteristics that make it a preferred type of
spandex for almost all applications, including consistent and uniform processing characteristics,
high-stretch and reactive forces for comfort, high-elastic retention for a lasting fit and
excellent dyeability to allow uniform colors and shades. The Bushy Park facility currently produces
Dorlastan spandex in a full range of deniers, from 10 to 1,220 denier, in dull and clear lusters.
Dull Dorlastan is preferable for white color applications and light pastels, while clear Dorlastan
echoes the colors of the yarns with which it is spun and adds brilliance and clarity to color.
Dorlastans quality and value have enabled customers to incorporate the fiber easily into their
lines, including lace interknitting, circular knits, core-spun fabrics, woven fabrics and narrow
elastics. Bayer is committed to being a strong supplier of quality spandex for the global market.
Market research predicts a steady growth in all applications of spandex, specifically in reference
to intimate apparel, hosiery, activewear and swimwear. As fashion trends continue to dictate
stretch and functionality of fabrics and garments, Bayers Bushy Park plant is right on target with
its product and customer commitment.

June 2000