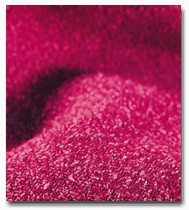 The Woolmark Company, New York, showcased its licensed Total Easy Care Wool at a Wash Me Wool
reception held during the recent Yarn Fair International. Total Easy Care Wool was first introduced
to the American apparel industry in August.
(See Technology Advances At Expofil, ATI August 1999). According to the company, it is the
next step in making wool a high-performance fiber.As a follow-up technological advancement to
washable wool, Total Easy Care Wool can be machine washed at 40°F and tumble dried on low heat. It
is being marketed globally. In 1998, more than 3 million garments were merchandised at
retail.Working through the supply chain from spinner, knitter and weaver, to garment manufacturer
and retailer, The Woolmark Company offers technical advice and assistance through each stage of
production. Approved Woolmark Total Easy Care garments will not shrink or loose shape even after as
many as 50 washings. The fabrics retain their soft wooly hand and luster. Easy Care
DistributionIn this country, The Kent Manufacturing Co., Pickens, S.C., is selling worsted yarns.
Jasco Fabrics has a line of knitted fabrics for cut and sew. Garments are available for both men
and women from Liz Claiborne. Lands End and Nova Knitting are also developing apparel in Total Easy
Care Wool.Worldwide, there are more than 100 spinners supplying machine washable yarns. With 20,
Italy leads the list. Grignasco, Lanerossi, Luigi Botto, Lineapiu and Zegna Baruffa are some of the
names.Schoeller of Germany; Amalric and Christory of France; John Smedley, LaidlawandFairgrieve,
Patons and Thomas Ramsden from the United Kingdom are other European spinners on the Woolmark list.
There are also 16 companies from China, 11 from Taiwan and five from Japan.The weavers selling
machine washable wool fabrics are primarily from European countries. Lepoutre, France; Dechamps.
Germany; Luigi Botto, Lanerossi and Pecci, Italy; and the Parkland Group, the United Kingdom, are
some companies listed. Easy Care DevelopmentTotal Easy Care Wool has been developed in
response to the influence of sportswear and casual attire, and consumer demands for easy care
apparel.Consumers have been asking for washable wool in a range of wardrobe items and were
answering their call with the most tremendous advancement yet washable wool wovens, said Stephanie
Garbarini, general manager, marketing communications and retail for The Woolmark Company.
"Woolmark's Total Easy Care Wool now allows consumers to wash wool sweaters and trousers at home
for the first time."The 1999 revised edition of The Woolmark Company's report, "Easy Care in Wool,"
focuses on five areas: the demand for easy care products; global growth in laundry appliances;
manufacturing industry capacity; Woolmark test methods and labeling; and a global source guide. It
is available from the Woolmark Company for $90 for licensees and $120 for nonlicensees.

October 1999