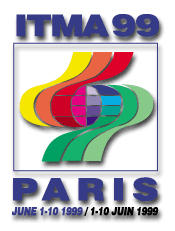 Italian manufacturers from the finishing sector were among the leading lights at the ITMA 99
fair in Paris.In order to achieve the important results shown at ITMA, as well as hefty investments
in research and development, a number of companies have called in expert partners from allied
sectors: fiber producers or manufacturers of dyestuffs and auxiliaries.This kind of synergy was, in
fact, one of the biggest developments apparent at the ITMA show. Other successful partnerships,
already tried and tested, still include those that are established with specialists operating in
the fields of electronics, pneumatics, robotics and automation. This is the continuation of a trend
which first emerged in October 95 at the last ITMA fair held in Milan. Brazzoli and Cimi, in
collaboration with Clariant, have developed a new class of sulfur dyes (for dyeing processes in
inert atmosphere) and auxiliaries for the Lavableach process (combined, continuous, for desizing,
preparation and bleaching).Meanwhile, Sperotto Rimar, in close collaboration with Australian
technologists from CSIRO, has developed a revolutionary application for the continuous decatisting
of quality wool fabrics. (DECOFAST).Others, in a number of application sectors, have worked with
DuPont specialists to resolve the any problems associated with the processing of stretch fabrics
containing Lycra®.The Prato-based company Tecnorama has been able to supply manufacturers like
DyStar, Ciba and Bayer with new, fully automated laboratory systems. Meanwhile, Biancalani has with
the second generation of the famous AIRO machine, managed to solve a number of problems relating to
the finishing of Tencel. Brazzoli's Nitro ProcessWith the Saturno Vacuum machine, the
Lombardy-based company has launched the revolutionary Nitro Process for dyeing, which is carried
out in an inert nitrogen atmosphere using a new class of sulfur dyes (the Diresul dyes) recently
developed in the United States and marketed in Europe by Clariant.These dyes are characterized by
minimum contamination levels as well as high technical fastness properties. Furthermore, their
application cycle operates on low energy and water consumption levels and process times are
considerably reduced, thus making this process extremely cost-effective even in comparison with
well-known dye classes such as reactive dyes.The vacuum dyeing process developed by Brazzoli is
based on the creation of an inert atmosphere inside the machine, obtained by creating a vacuum and
then introducing nitrogen. Sperotto Rimar's DecofastIn the final stage of the treatment of
quality wool fabrics, finishers carry out a setting treatment aimed at getting a suitable hand and
make-up properties, together with obtaining the desired fastness characteristics before the
making-up stage.These processes, characterized by different intensities and carried out using hot
water or steam, naturally lead to variations in the physical and mechanical properties of the
fabric. This affects fabrics reaction to tensile, cutting, flexing and bending stress.At ITMA 99
Sperotto Rimar presented its Decofast model, a continuous decatising machine that works with
pressurized steam to guarantee appropriate fabric dimensional stability and ensure performance
levels roughly between those reached by the classic discontinuous atmospheric decatising process
and those reached by the kier treatment.Decofast also improves the appearance of materials, giving
it the so-called finish decatising effect which improves surface appearance and make-up
performance. Cimi/Clariant ParntershipCimi has made its relations with customers and (more
recently) with a supplier like Clariant, the basis for its further development and success. Already
a well-known and established brand thanks to its continuous washing system for open-width woolen
fabrics (the Lavanova range, which even outperformed its famous German rivals), Cima exhibited the
Lavableach model for the treatment of cellulose fabrics at ITMA. Lavableach is also the name of the
processing technology incorporated into the machine.As far as Clariant is concerned, the
application has allowed the Swiss company to obtain all the necessary expertise (and obviously
develop the whole range of specific auxiliaries) for tuning the process chemistry. MAIBO's
TMB/SV/trOn the exhibition space shared with OBEM in Hall 3, the Biella-based firm rolled out one
of the most striking novelties of ITMA 99. It is the first time that automation in yarn dyeing has
been extended to skeins. This revolutionary technology has been applied to the star-frame dyeing
machine, mainly used for very fine and luxury materials, such as silk, viscose, acetate, superfine
wools and mohair.The new model, TMB/SV/tr, is equipped with triangular rotating arms and runs with
a very harmonious rotation movement which ensures a delicate shift of the textile substrate. In
comparison with previous versions, it offers significant operational and qualitative advantages.The
most important technical advances are the following: smaller overall space occupied by the machine,
lower liquor ratio, greater loading capability, possibility of coupling two machines and full
automation with shuttle.According to MAIBO, an automatic plant of this kind has been purchased by
Botto Poala of Lessona. PMT's UniversalPMT, a subsidiary of Cubotex, exhibited its Universal
model, developed by PMT for dyeing delicate garments. It is a fully automatic machine, fitted with
an on-board industrial PC with PLC programmable logics. It features advanced ancillary technologies
including color kitchen adjustable to specific needs and a patented sampling device with revolving
cylinder, which allows the user to withdraw samples without the need of stopping and opening the
machine.Also the final hydroextraction is very efficient. According to the company, it has an
internal material basket is divided into three parts with or without staves for material shaking.
Upon request, the Universal can be supplied without internal divisions. Dye liquor can be
circulated outside of the basket and/or through the central sector to increase the dye penetration.
The Universal can also be connected to a centralized PC and with the software for production
management in line with machines equipped with the same automation, according to the
company. Comet's PolaraComet showed the Polara, an electronic combined raising/shearing
machine. The Polaras major features include: an operator control panel with touch-screen PC; an
industrial PC for machine control; programmed maintenance control; recipe storage; drum with 14
pile raising rulers; two contact areas of the drum, adjustable by touch-screen; shearing cylinder
with spiral blades; variable fabric speed from 9 to 30 meters per minute by three-phased motor and
inverter; seam detection by electronic sensor for the displacement of shearing table and velveting
comb; velveting unit consisting of a brush and its rest for the pile preparation to shearing; and
shearing height and velveting brush depth adjusted by a PC. CROSTA's MC-10/24 XXLOne of the
most significant novelties that Crosta showed at ITMA was the raising machine model MC-10/24 XXL.
The machine is a single drum raising machine with 24 raising rollers for processing special
fabrics. It has a working width of 4,500 mm. Its main technical features include: raising rollers
driven by synchronous belts, electronic control of the cleaning brushes, remote assistance via
modem and a control panel with touch-screen color display. Loris Bellini Shows RobodyeThe
company showed its Robodye 2000 integrated robotised installation for dyeing hydroextraction and
drying of yarn in bobbins.According to Loris Bellini, the Robodye 2000 has been designed for fully
automatic functioning. The idea in studying the system has been to realize a line receiving the
yarn bobbins in modular columns in which the bobbins number can be varied in function of the actual
needs, which permits to process automatically in order to obtain at its exit the same columns of
bobbins dyed and dry, the company says.With Robodye 2000 the only intervention consists in filling
the columns with the greige yarn bobbins, and in unloading the dyed and dry material from the same
columns at the end of the process. This phase can also be fully automatic. Loris Bellini has been
producing for years the largely tested Hydrocolumn system, which allows the handling of the yarn
bobbins from dyeing carriers to centrifuge and from centrifuge to drying carriers.The dyeing
machine, based on the well known RBNV system, has been optimized in its shape and volume so to
obtain the ideal liquor ration. Termoelettronica's U.R.The U.R. is the latest innovation in
the field of powder dyes transfer and dissolving units, developed by Termoelettronica.According to
the company, a patented vacuum process applied to the system allows the direct transfer of powders
from the weighing bucket to the mixing tank.No robots or automated handling systems are needed on
this purpose. The transfer phase does not involve any powder floating or fumes emission, so much so
that no hoods or exhausters are mounted on the equipment, which yet meets all safety and
environmental requirements. Powder transfer speed ranges from 150 to 300 g/s, depending on product
chemical-physical characteristics. The complete absence of mechanical movements and the units
operational simplicity guarantee total reliability and a user-friendly approach. Lawer's Color
KitchenLawer was at ITMA for the seventh time, celebrating at the same time 29 years of activity
and experience in the field of textile automation, mainly oriented in the field of color kitchen
equipment.Lawer production is based on a wide range of plants and systems, manufactured in a
customized way, according to the specific customers needs, in order to achieve a total automation
in the metering and dispensing of all the products used in textile dyeing and finishing cycles.At
ITMA 99, Lawer was showing a modern automatic color kitchen for dyeing and finishing departments,
equipped with the latest Lawer Systems. It had an automatic weighing system for powder dyestuff.A
dissolving and dispensing system for powder dyestuff was also shown at the ITMA show.In addition
Lawer exhibited new systems, especially designed for small-medium size companies. These include
semi-automatic weighing system for powder dyestuff. This system is capable of the measuring liquid
products, and the dissolving and dispensing of powder dyestuff. New Dispensing
SystemColorService showed an entire automatic production system for the dosing, disolving and
delivery of all the products used in the dyehouse. The system handles the dosing and dissolving of
powder auxiliaries and chemicals.It has storage up to 35 cubic meters, dosing, dissolving and
delivery to the dyeing machine for 300 kilograms of salt in eight minutes.The evolution of the
powder dyes dissolving system has doubled productivity and less water consumption. Dosing and
dissolving of dark powder dyes can be done easily. The unit has been purposely studied to dose,
dissolve and deliver big amounts of dyes.An innovative system for laboratories with a powder dye
dosing machine called SuperLab is also available.

September 1999