Automobile designers are a strange breed. True, they get their inspiration from the
not-so-surprising places like fashion runways and home furnishings shows. But then, sometimes the
muse comes from a rusty manhole cover, Grandmas two-tone antique brooch or childrens playthings. In
fact, Nissans top automotive designer, Jerry Hirshberg, admits to harvesting successful automotive
design themes from a grasshopper and even the movie, Silence of the Lambs.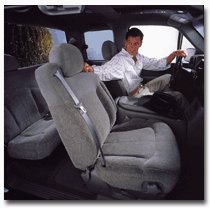 Watch for renewed interest in gray interiors, exemplified by this Guilford Mills body cloth
currently seen in a domestic production truck (Photo courtesy of Guilford Mills Inc.) Think
about the challenge facing automotive textile suppliers who must find ways to translate their auto
maker customers design themes into color, texture, pattern and performance.Nevertheless, the
opportunity for automotive textiles has never been better than it is right now. The automotive
interior has become not only the new design frontier for automotive companies, but also the
strongest selling point for consumers. People are spending increasingly more time in their
vehicles.Jose de la Vega, interior designer of the award-winning 1999 Volvo S80, puts it best: When
I see a beautiful woman, it is her outside appearance that first attracts me and gets my heart
racing. Its only after I get to know her on the inside that I can determine whether shes someone I
want to commit to and spend a lot of time with.With auto-mobiles, its the same way. People are
first drawn onto the dealership lot by a vehicles exterior design. But its only after getting into
the car and experiencing its interior environment that the potential buyer knows if thats the car
he wants to spend the next several years with.And herein lies the opportunity for textiles. Fabrics
play a leading role in so many of our creature comforts from bed linens to sofas to sweatshirts
that introducing better designed, top-performing textiles into vehicle interiors is a win-win
situation for car maker and consumer alike.Most textile and fiber producers agree that three main
factors contributing to success in the automotive market today are cost, design and long-lasting
performance. CostLets face it, contributing to the creation and success of a new automobile
has a certain dramatic allure, a heart-pumping high simply put, cars are cool. But, getting into
the automotive supply chain and remaining a player is no easy task, unless you master costs.Yearly
improvements in cost structure are the minimum entry into the automotive industry, said Steven
Graves, manager of Freudenberg-Vitechs automotive business, in addressing the INSIDE DESIGN 99
Conference last April in Long Beach, Calif. Not only are cost reductions expected, but the cost
gains must be shared, if not given completely, to the automotive manufacturer.The obvious challenge
is balancing the demand for more cost-competitive materials with the expectations for more
creativity and design flexibility. Such pressures have forced successful material suppliers to look
for more radical solutions to meet the needs of the automotive market and still manage an
acceptable return, Graves says. And this means developing cost competitive materials that meet
stringent requirements for, among other things: processability; UV stability; abrasion resistance;
cleanability; aesthetic appeal; and a wide range of colors, patterns and textures.Another challenge
is the need to address global supply, says Graves. Due to the tremendous emphasis on cost,
suppliers need to be selective about their developments, as well as their capital investments, he
says. Essentially, this forces suppliers to develop a single-technology or base material, but this
material needs to be easily modified to meet the various trends of the markets around the world.No
doubt, a big part of the cost of doing business in this market is being global. The world has
become a much smaller playground, says John Pierce, director of design, Guilford Mills Inc.
Automotive Business Unit. It helps to be global so you can chart global trends. And, if a customer
wants a European flat woven in the U.S., you have to be able to provide it. Its no longer: Whats
hot in North America Its: Whats hot globally DesignA broad topic within the automotive
spectrum, but one that can be made relevant to textiles quite simply: To win business, you must
have on-target designs and be able to translate an idea to product more quickly than your
competition, says Pierce.If you want to know whats going to be hot in automotive, Pierce says look
no farther than pop culture, fashion and surface finish trends. The metallic look is in right now,
he says, as well as the use of matte and gloss sheens in tandem. Other trends at work in
automotive include: textiles that take their design cue from brushed metals for mid-size and luxury
cars and the incorporation of extreme sports into textiles, techno fabrics the rip-stop look from
parachuting, the coarse knitted look from tennis shoes, for example.Our perceptions today are
multi-sensing, points out Larry Cole, executive product planning manager, DuPont Automotive, Troy,
Mich.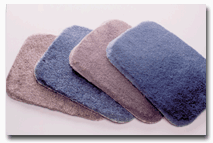 Auto makers are turning to companies such as DuPont for "residential-like" carpets for
high-end luxury vehicles. DuPont fiber technology helps auto makers achieve the durability and
aesthetics needed for this market. (Photo courtesy of DuPont.) One of the senses getting a lot
of attention in automotive interiors is touch. An increasing emphasis is being placed on softness
of hand, and this is most critical on the surfaces we contact the most seating fabrics and floor
coverings, Cole said.In fact, Cole thinks there could be an untapped market for micro-denier
technology in automotive fabrics, especially high-end luxury vehicles. Although there are no
microfiber fabrics currently used in production vehicles, its a new development area for DuPont.The
challenge, of course, is in wear-resistance it would take a creative fabric construction to make it
work, but the resulting fabric would answer consumer demands for softness and comfort.Another
important part of design is color
(see Color Trends 2000, sidebar). Over the years, auto makers have been forced to decrease
coloration choices for economic reasons, said Carol Byrne, head of TransporTex, a Scottsdale,
Ariz.-based textile color and design trend consulting company. But the way accent colors are used
and what they are thats what provides newness on textiles.Byrne says the use of color, texture and
pattern in automotive fabrics can be a cost-effective way to provide the foundation for a vehicles
brand image. For example, in luxury vehicles, the trend is a textile with depth, layering and
veiled illumination. Mid-size vehicles are using accent colorations to marry the exterior and the
interiors. In SUVs, theres a cooling trend, she says, away from warmer greens. Sports cars are
dipping into high-intensity colors, defined by the textiles themselves (i.e., a yellow spot instead
of blending).Pierce sees patterned fabrics gaining ground in headliners. Designers are looking to
expand brand imaging into headliners, he says, and they are doing that with patterned fabrics.More
than ever, cars are being styled with their own design statement inside, she says, and textiles
play an important role. This places a greater demand on the textile designer. In fact, I wouldnt be
surprised if custom-ordered automotive interiors were the norm soon after 2005.Pierce agrees.
Dealerships will offer different types of materials in a variety of colors, and consumers will be
able to mix and match, he predicts. Long-Lasting PerformancePerformance demands placed on
todays automotive textiles include crush, wear and mark-off resistance, stretch and recovery, and
moldability. Auto makers dont just expect fabrics to perform theyve got to last a long time
too. We use the 10-year car concept as the basis of nearly all our fibers, says Cole.
Developing fabric applications with interesting tactile surfaces combined with long life is a
priority.Its a strategy thats working. Currently, more than 80 percent of North American automotive
fabrics and carpets contain fibers of DuPont nylon and polyester.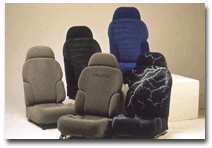 Delphi Automotive Systems' 3-D knitting process While trilobal cross-section polyester
for fabric and bulk continuous filament T66 nylon for carpet are DuPonts workhorse products, Cole
says the company has three new technologies that answer carmakers demands for aesthetically
pleasing durability.These technologies are: Corrugated Ribbon Cross-section: Slated for commercial
application in 2000, this technology uses a Dacron® polyester fiber cross-section to improve crush
and wear resistance while retaining softness. Quatra-Channel Cross-section: A product that
optimizes aesthetics, providing a good balance of hand, softness, wear resistance and mark-off. 3GT
polyester: This technology is under development and features the benefits of both polyester and
nylon. It imparts significantly more stretch and recovery to fabrics, which helps molding and
tailoring in seating. Additional benefits include more enhanced pile resilience and resistance to
crush and finger mark-off. The most exciting part, Cole says, is that this material can be derived
using biotechnology from renewable sources such as cornstarch, rather than oil.Pierce agrees that
other than UV resistance, one of the greatest performance demands being placed on automotive
textiles is elongation and flexibility requirements.In efforts to create a distinct brand image for
their vehicles, automotive designers are incorporating more extreme, high-contour shapes and
undulating surfaces, which present a real challenge to textiles and inherently make some fabrics
more naturally suited for these new designs than other constructions, he said.If your fabric cant
trim around nicely on a high-contour seat, you might have a problem meeting the needs of todays
automotive designer, he added. These days, most seat designers want to make wrinkle-free
seats. A Nod To NonwovensAlthough new applications for nonwoven materials in automobiles have
evolved rather slowly, nonwovens should begin making more headway, because they can often meet the
car makers battle cry of more for less.For sure, nonwoven producers would like to see the same
market share in the United States that nonwovens enjoy in Europe and Japan, where about 60 percent
of all headliners use nonwoven fabric. But the efforts of a handful of nonwoven companies to gain
U.S. marketshare in automotive so far have met with limited success.Enter a new generation of
nonwoven producers who are automotive market savvy and determined to tell their story again and
again until auto makers buy into it.For example, one company attempting to make strides in
nonwovens for the automotive market is Tietex International, Spartanburg, S.C. Tietex is targeting
opportunities in headliners perhaps the one fabric in the automobile that has had no real change in
over 20 years (primarily tricot knit and PU foam laminates), even though it is the largest, single
uninterrupted expanse of surface area in the car interior.Tietex is offering a new headliner fiber
technology that overcomes the traditional nonwoven fabric pitfalls of coarseness, difficult
conform- and mold-ability, failure to meet auto makers abrasion standards, higher scrap rate due to
undesirable glossing/polishing of the fabric in tool pressure points, UV stability, etc. The
answer, says Tietex, was starting from scratch.We didnt build on an existing product, or even
knowledge of automotive textiles, says Mike Hardegree, vice president of business development. We
didnt even build on existing fiber technology, but developed a new fiber with different properties
than any that were available.Hardegree describes the new technology by what it is not. It is not a
nonwoven, nor is it a knit, he says. The process is really a hybrid technology that combines
certain nonwoven formation principles with knitting.The material, called Deepdraw Fleeceknit, is
made with staple fibers which have the pigmentation already in the fiber. This fiber is carded and
cross-lapped into a web structure similar to the web in a nonwoven fabric prior to needling.At this
point, the web is knitted needles penetrate the web structure, gathering bundles of fiber in the
throat of the needle. The fiber bundles are then knitted together, a process similar to tricot
knitting, except it knits fiber bundles instead of yarns. The result, says Hardegree, is a fabric
face which has parallel rows of knitted fiber bundles, creating the appearance of a knitted
fabric.Advantages this fabric offers for headliners include: Appearance: the knitted loops enhance
the visual character of the fabric. Moldability and formability: good performance even in severe
headliner tool conditions. Abrasion resistance: better than nonwovens without chemical binders. The
knitted loops tie down the fiber ends, reducing the likelihood that they will be disengaged from
abrasion. Another aggressive player, Freudenberg Nonwoven, recently reviewed the automotive
interior market and saw an opportunity for nonwovens. The result, says the company, is a nonwoven
technology that meets the need for a cost-competitive material with high performance and design
flexibility. This new product is highly suitable for interior facing in headliners, door panels and
package trays and is marketed by Freudenberg-Vitech the joint venture between Freudenberg Nonwovens
and Japan Vilene Company.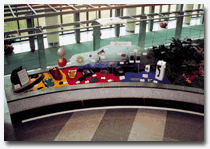 An automotive display at BASF's corporate headquarters in Mt. Olive, N.J., showcases the
dozens of critical car components that BASF produces.
(Photo courtesy of BASF.) Freudenberg-Vitech produces needlepunched fabrics that can
be supplied in mono color and color blends, and can be printed and/or embossed for texturing. The
nonwoven facings are moldable, process very well and are easy to handle. The fabrics are also
100-percent PET and fully recyclable, the company says. Key To New GrowthThe steady erosion in
price coupled by a request for increasing quality is no news to automotive fabric suppliers, but it
still remains a challenge. You cant meet the auto makers cost and quality demands as easily
with a known technology, says Byrne. You have to think outside the box. That way, your customers
demand becomes a challenge not something to moan about.Are there no applications for textiles
inside vehicles that might bring about some growth, at least Not really, says Pierce. In recent
years, weve seen a regression of fabric in automobiles due to cost pressures, he says. Thats why
needled nonwoven carpet and vinyl have made such headway.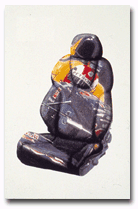 Recaro North America's proprietary technology provides a combination of knitting and weaving
to help auto makers customize interiors. However, weve sacrificed about as much fabric from
inside the vehicle as the consumer will allow, he says. I think well see fabric start to gain back
some of those applications in the near future.Pierce says the key to growth in automotive fabrics
is design and development. When business is open for bidding, if you have the best, on-target
design youll win, he says. In the customers eyes, engineering and cost are a given its a level
playing field for everyone there. Design is what wins the business.Safety Opens Doors For
High-Performance Textiles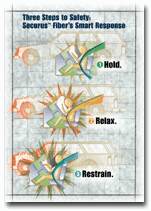 AlliedSignal Inc. has developed a new automotive seatbelt fiber called Securus that increases
automobile occupant safety and reduces safety belt system costs.AlliedSignal says seatbelt fabric
(or webbing) made with Securus fiber slows and lessens a passengers impact with an airbag during a
collision. The fiber works in conjunction with the airbag. Woven as a seatbelt strap, it limits the
movement of an occupants upper body so that it moves more slowly into the airbag. It works this way
for a broad range of body types.Securus is the first in a new family of synthetic fibers called
PELCO, based on a patented polyester-caprolactone block copolymer. The product is the outcome of a
decade-long search for seatbelts that would better correspond to the deceleration action of airbags
in a vehicle crash, says Fred Festa, vice president and general manager of AlliedSignal Performance
Fibers.One big attraction: Festa projects seatbelts made with Securus fiber will lower a cars
safety-belt system cost by 25 percent for each seating position.So, how does it work Seatbelts made
with Securus fiber deliver a three-step restraint reaction during a crash. First, they hold
occupants in position at impact. Then, the fibers relax or stretch as needed to limit the force
imposed on the occupant, complementing the deflating action of the airbag and allowing the
occupants bodies to decelerate. Finally, their high-strength comes back into play, helping to
prevent impact with dashboard, steering wheel or windshield.Commercial shipping of Securus fiber
began in July. The company projects sales of $10 million next year, rising to $100 million annually
in five years.Festa said the company is exploring the use of Securus fiber technology for other
applications requiring high-load strength and excellent energy absorption.Color Trends 2000: The
Social Context for ColorAutomotive textile designers spend a great deal of time tracking color
trends and predicting which might have an impact on future fabrics. This is no easy trick these
days, as exposure to color is globally instantaneous via TV, magazines and the Internet. Still,
distinct market segments for color are identified based on cultural, economical, geographic,
historical and other identifiers, says Christine D. Dickey, color and trim manager, Toyota Motor
Sales USA.Key social trends that will influence product and color design include: more balanced
lives; making things simple, down-shifting the pace of life; merging opposites; blending cultures;
and more reflecting, e.g., finding a sacred balance between outer stimulation and inner peace.Now,
how will these trends specifically impact automotive interiors and therefore, automotive fabrics
Dickey predicts: Pattern: Europeans will lead a trend in new grain patterns, particularly distinct
pebble grains in BMW, Volvo and Audi. Two-tone interiors: Black or Dark Gray plastics combined with
other fabric colors on seats and door panels red, blue, green, teal. Increasing importance on
texture: There will be an increased use of metal in vehicle interiors, and consequently, metal-look
materials with pearlized or metallic painted finishes. Mix n match: Grains and textures in
plastics, textiles and vinyl. Colors: Silver and blue are the colors of the new millenium. Beige
continues to lead over white – still, watch for renewed interest in gray interiors (consumers are
tired of too much beige and ivory). Blue interiors will be revived.

September 1999