Deep in rural Duplin County, N.C., lies the heart of Guilford Mills Inc.s Worldwide Automotive
Business Unit. The Kenansville plant is both a major manufacturing site and division headquarters.
It houses manufacturing, design, research and development and product development functions.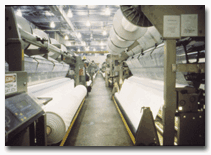 Warp knitting machines at Kenansville produce flat and pile fabrics. Dyed yarns also give
pattern flexibility. The automotive division also has a marketing and sales office in Detroit;
a headliner and bodycloth lamination plant in Greensboro, N.C.; and a newly opened weaving
operation in Wallace, N.C., about 25 miles from Kenansville.To service the needs of multinational
auto makers, the division also has major manufacturing operations in England, Mexico and
Brazil.Since the Kenansville plant is both a headquarters location and a manufacturing site,
ATI had a unique opportunity to discuss the vital forces shaping the automotive fabrics
business with Guilford executives and then immediately see the results on the plant floor.The three
major challenges facing this segment today include reducing cost, shrinking development time and
developing global resources. Leaving Cost BehindLike most textile market segments, automotive
fabric makers are working to reduce costs, while meeting increasing customer demands. Guilford has
discovered a way to use screen printing to gain styling flexibility and reduce product development
costs.Prints reduce costs by allowing proven fabrics to be touched up with new designs without
having to go to all of the trouble to develop and test a completely new fabric.There is a lot of
cost in proving out prototypes, said Robert Nolan, executive vice president, Automotive Business
Unit, Guilford Mills Inc. Once you get a prototype base fabric in that works, you can reuse the
core fabric and change the print. You eliminate all the engineering and prototype costs.The company
has been working with prints in automotive applications for about five years, with their first
placement in the 1996 Ford Taurus. General Motors launches its first prints this year in the
Camaro, Monte Carlo and Impala vehicles using Guilfords print technology. Automotive designers work
three years out, so Guilford is just now seeing its new printing technology take off in the
automotive marketplace. The design team is currently working on fabrics for the 2002 and 2003 model
years.This three-year time cycle is beginning to be trimmed. There has been a tremendous change in
timelines, Nolan said. We are taking the development time for cars down from 36 months to 30 months
to 24 months. There is a constant drive to shrink the timelines. Moving Toward World CarsA
trend toward producing world cars the same model built and sold on a worldwide basis by auto makers
like Ford and Fiat, has pushed companies like Guilford to develop global resources. The most recent
example is the Ford Focus, said Alan Mackinnon, vice president and Ford Global Sales Director,
Worldwide Automotive, Guilford Mills Inc.One of our fabrics is in the worldwide bolster
application. We manufacture in the United Kingdom for European production, in the United States for
U.S. production and were looking at how we are going to service the cars that will be built in
Argentina.You have to be able to manufacture and support Ford in each of the areas that it is
producing the cars. Now, youve got the logistics problem of satisfying that market place at the
same price. Grand TouringThe Kenansville plant is a multi-technology vertical operation. Its
manufacturing processes include warp knitting, circular knitting, weaving, dyeing, finishing and
printing. It has 800 associates and occupies 650,000 square feet.We are a multi-technology
operation all within the same facility, which is unique, Nolan said. Youve got all of your
technical forces working as a team. Thats a plus. The only negative is the complexity it can raise.
Its more positive than negative, if youve got the facilities to manage the flow.ATIs tour began
with the design department. Here product placement boards showcase Guilfords many automotive
successes. These include current and future automotive fabrics.The plant has a large, well-staffed
and well-equipped design area. Design is critical in this market because the point of sale is
designer to designer. This is a very targeted design process. Auto makers have a kick-off meeting
with the Guilford staff before serious design work can begin.The days of making a thousand samples
and having them in a new line is gone in automotive fabrics, said John Pierce, director of design,
Worldwide Automotive, Guilford Mills Inc. Fabric ProductionFrom the design area, the tour
moved to the warp knitting area. The plant has 2-, 3- and 4-bar tricot machines, which gives it
good styling capability. Solution-dyed yarns expand patterning possibilities in this process.
Kenansville does not have warping equipment, so warps are shipped in from other Guilford plants.
Pattern changes here are steady, giving a diverse mix of styles.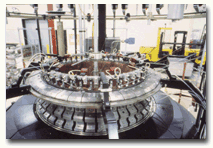 Jacquard circular knitting machines give Guilford style flexibility. The next process
was velvet weaving. Here two pile fabrics are made simultaneously on each weaving machine. Some of
the styles in this area run for a considerable period of time. Others come and go in a few
weeks.Just a few yards from the weaving machines, Jacquard circular knitting machines are producing
fabric. It is truly unique to see three entirely different fabric forming processes at one
production facility. DyeingandFinishingThe first finishing area
ATI visited was headliner napping. A typical production sequence for knit headliner
fabrics would be something like knitting, dyeing, drying, napping, heatsetting, splitting and
inspection. This is a good example of the level of complexity that each of the plants products
require. There are four napping lines two for polyester and two for nylon.The plant is heavy in
surface finishing including napping, shearing and tigering. The dyeing operation uses both
jet-dyeing machines and beam-dyeing machines. All dye processes are controlled from a central
control room. An automatic dye and chemical system provides good dyeing consistency.The newest
section of the plant is the screen printing area. Here a five-head rotary screen printing machine
is used to print patterns on dyed fabrics. Guilfords investment in screen printing is beginning to
pay off. Pierce estimates that prints are about 10 percent of Guilfords automotive offerings.Inline
with the printing machine is a new four-chamber washing machine. The washer simplifies the process
greatly. Before it was installed, the plant used a jet dye machine to wash the screen-printed
fabrics.The final stop in the tour was the shade room. Lot-to-lot shade changes are checked to make
sure each lot stays within tolerances. Shade control is vital in automotive applications.
September 1999