Textile mills arent that common in Tennessee. But the Dyersburg Fabrics organization actually has
three plants in Tennessee in Cleveland, Trenton and in Dyersburg. The original Dyersburg plant is
now in its 70th year of operation. The plants outside appearance harkens back to its foundation in
1929. But the outside look belies the effectiveness of manufacturing systems inside.As soon as a
visitor enters the main lobby, he realizes that a very modern heart beats here. Today,
Dyersburg Fabrics is known as a textile industry leader in circular knit fleece fabrics and
performance cotton jerseys.Dyersburg Fabrics was purchased by Wesray in 1986, which fueled the
growth momentum even more, and in 1992 the company went public on the New York Stock Exchange
(NYSE).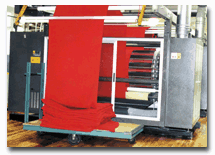 The Mario Crosta nappers have become one of the most favored machines in Dyersburg's
finishing department. The history of Dyersburg is a story of hard work, determination and
enthusiasm. Best of all, it is a story of success written by generations of great cooperation
between management and dedicated employees. That same spirit continues today. Setting
BenchmarksIn the early years of operation, the first fabrics that shaped Dyersburgs business were
for cotton sweaters, long underwear and fleece gloves. Since then the company had added several
firsts in the market. For example, it introduced:the first knitted fleece fabric (wool blend) in
1935;the first flame retardant fleece (SEF Modacrylic-Monsanto) in 1972;the first post-consumer
recycled E.C.O. (Environmentally Correct Origins) fleece from recycled plastic soda bottles in 1992
and E.C.O. Lite in 1996; andnew fabrics for technical underwear and outerwear (Dyertech
Stratasystem) in 1998.Dyersburg Fabrics joined forces with Patatgonia and Wellman Inc. to pioneer
the first fleece product made entirely of recycled soda bottles, now known as the DyerSport E.C.O.
Fleece. This double-sided technical fleece has been a landmark product as it is part of an on-going
attempt to integrate environmental issues in fabric and apparel manufacturing.The E.C.O. Fleece is
available in Dyersburgs technical and sportswear line. E.C.O. fabrics can be specifically designed
for moisture management, durability, warmth, high CLO ratings, low pill finishes, stretch and other
applications. The versatile fabric offers a lush feel, combined with strength and breathability, as
well as color and shrinkage control.Dyersburg sees this product as being a part of the solution in
managing the huge amount of solid waste that consumers are creating every day. The Dyersburg
company is determined to maintain its leadership position in its core categories by using efficient
and aggressive product development strategies. The company is ready to expand further into
specialty product applications and to develop new niche markets. Also, the company focuses on new
packaging solutions and strives to maintain lowest possible production cost throughout the
operation. To achieve this, Dyersburg has continuously invested in new machinery and processes, and
is still constantly evaluating new capital investment directions. Production RunsWhen walking
through the plant, H. Lee Lundsford III, executive vice president of Operations, made the point
that not every department has been upgraded with the absolute latest machinery.For example, in the
Yarn Department, certain thoughts have been entertained that had put the capital investment
decision on an observation stage, while priority was put on equipment in other areas. However, that
should not indicate that the spinning equipment is old because it is not.The yarn area covers
approximately 85,000 square feet, which includes modern Truetzschler preparatory equipment, Marzoli
Cards, Rieter RSB drawing frames and Schlafhorst SE9 rotor spinning machines.The Dyersburg spinning
facility produces blended yarns made of polyester, nylon, acrylic and cotton fibers. Dyersburg
fills approximately 2/3 of its yarn needs with its spinning operation, while 1/3 of the required
yarn is purchased from outside sources. Quality testing is done on a continuous daily basis. This
includes Sliver Data, on-line testing of cards and drawing equipment, as well as off-line testing
for sliver and yarns. The yarn lab features the newest technology the Zellweger-Uster Tester UT III
is just one of the latest acquisitions.Dyersburgs Knitting Division was relocated in 1994 from the
main building to a new building, approximately 3 miles down the road. The facility has over 153,000
square feet of floor space. All departments are laid out for the most efficient work flow, and also
the infrastructure of the plant, like air-conditioning and lighting, was selected in a way to
provide its highest efficiency. Knit SuccessSince this facility is young, so are the knitting
machines and auxiliary equipment that it houses. Dyersburg has a wide variety of knitting machines,
mainly categorized for specific purposes and applications. The fabric styles that are knitted are
mainly jersey, fleece, rib and terry.Currently, there are more Vanguard knitting machines, followed
by Monarch knitting machinery. Mayers knitting machines are used for microfiber and terry styles of
technical outerwear fabrics.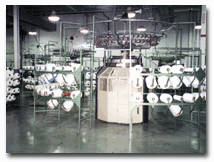 The Camber Knitting machines received high praises at Dyersburg for their dynamic performance
and versatile features.The company recently purchased electronically controlled machines from
Camber/Mellor Bromley, Leicester, England (Schloss Griffin Associates Inc., Charlotte
N.C.). Paul B. Agee, plant manager-Knitting Division, and Lee Lunsford agreed that the Cambers
advanced technology has not even been taken to its fullest potential, and that the plant personnel
is still at a learning curve to use its versatility and all technological features. There was a
true enthusiasm for this machine, and Dyersburgs praises are certainly reflected in recent
re-orders. The knitting plant has a capacity of an average one million pounds per week. Dyersburg
adjusts its production schedule between 5 to 7 days per week, depending on actual requirements.An
important part for the knitting operation is the separate R and D department, where strong emphasis
is put on development of new fabric styles. Besides all regular production machine models,
state-of-the-art machinery, like the Camber knitting machine, are 100-percent designated for R and
D purposes.Dyersburg also puts strong emphasis on quality control and physical testing in the
knitting lab. This includes audits of machine changes, physical testing of purchased yarns, dye-cut
and grading and the full data and production preparation of all styles for the knitting
plant. Material ManagementDyersburg is proud of its state-of-the-art greige goods storage
area, where a 212,000-square-foot expansion project was just completed two years ago at a cost of
$7 million. It stores up to 3.5 million pounds of bar-coded fabric in 16,000 individual high-rise
storage positions.The Frazier Industrial rack stores cloth rolls up to 34 feet high. The high-rise
storage area is serviced by six wire-guided Raymond swing-reach trucks that are equipped with radio
frequency equipment.When the batch clerk receives demand instructions from the dyeing operation he
priorities these instructions and relays the information by radio frequency transmission to the
operators on the lift trucks. The information is then electronically stored and displayed directly
to the drivers on the truck.Even though this facility is laid out to operate without any manpower,
due to present speed advantages, a combination of automation and manual operation has been
selected. The system places the pounds required into containers by dye-port. These containers are
transferred to the main plant by semi-trucks. Dyersburgs yarn storage area is 60,000 square feet
and has 3.1 million pounds of storage capacity. The yarns are stored by month in aisles marked by
ceiling-mounted bar codes which can be scanned from the floor. The software for the greige goods
and yarn systems was developed in-house. Dyeing DepartmentThe total square footage of the
dyehouse is approximately 58,000 square feet. There are several generations of machines in
operation, each machine group is used for a specific task.There are several generations of Gaston
County dyeing machinery, including the Aquavel, Aqualuft and Aquaflow models. Also on the floor are
the Theis Ecosoft and the Scholl Bleachstar.The companys latest addition is a fleet of automated
Then AFS dyeing machines (PSP Marketing, Charlotte N.C.). Quality, repeatability, dye- and
water-consumption have lived up to the promises of the vendor, and the two plant experts feel that
the full potential of the Then machines has not even been reached.The Then AFSs use computerized
batch weighing of dyes and automated dispensing of chemicals. It also allows to drain the machine
at elevated levels and perform direct rinses at high temperatures. The soft-flow characteristics of
the machines protect the fabric surface from abrasion and damage throughout the dyeing process.The
Dyersburg management team explained that the purchase of the new Then equipment has helped to
expanded its product line to satisfy customer needs. While the Then dyeing machines are mainly used
for 100-percent cotton fabrics and high-end cotton fleeces, the other machines are used for
synthetic fabrics and cotton blends. Based on a 7-day schedule the total dye-house capacity is
approximately 78 million pounds per year. Dyersburgs dye lab is in operation 24 hours a day, seven
days a week.In 1998 the lab completed over 7,000 projects for internal and external use. Daily, the
lab can accommodate more than 300 dyeings. The current color library consists of over 6,000 colors.
The latest dye lab equipment includes 12 lab dyeing machines like the Ahiba Polymat, Datacolor
Nuance and Datacolor Spectradye, as well as two Datacolor lab dispensing machines with the
Datacolor Autolab solution maker and two Datacolor SF-600 Spectrophotometers with Smartmatch
software. The Final TouchIn the finishing department, Dyersburg has a wide variety of
tenters. As with the dying department, different equipment is selected for specific applications.
There is a Krantz pin tenter frame, Kenyon pin tenter and different models of the recently acquired
Santex relax dryers. Management pointed out that there are seven heating zones on this Santex dryer
instead of the usual four zones. This is reflected in a high-quality cloth treatment without
sacrificing production speed. It features a state-of-the-art computer system that can store
individual style programs that control zone temperatures, nozzle heights, fan speeds, line start
speeds, tenter width and all overfeeds.Dyersburg has the capability to fold the fabrics into a box,
or the goods can be routed directly to the finishing room by means of a sophisticated conveyer belt
system.When it comes to cloth finishing, Dyersburg has a wide variety of equipment in its
approximately 150,000-square-foot finishing area. One of the latest additions are Mario Crosta
shearing and napping machines (PSP Marketing, Charlotte N.C.).By being fully computer controlled,
the machines enables Dyersburg to precisely control tension, speed and energy. Furthermore,
computer programming can duplicate settings exactly from batch to batch.According to management,
the finishing department has a weekly production capacity of total 1.3 million yards per
week. Superior Delivery Set-UpDyersburgs modern distribution center is a 147,000-square-foot
facility that contains up to 90,000 pieces of finished fabric. The Frazier Industrial rack system
has 17,000 single-roll and 8,700 pallet positions that reach a height of 38 feet. Finished rolls
are sent to the distribution center by the conveyor system, bar coded and shrink wrapped with a
polyethylene film. The wrappers can handle fabric rolls up to 26 inches in diameter.Shipping orders
can be arranged in various sequences, according to customer requirements. Although order
preparation can be filled around the clock, the actual shipping is done on a 5 day, 8 hour basis.
Up to 7,000 rolls of fabric can be shipped in one day. SafetyandHousekeepingSafety and
housekeeping is a continuous theme throughout the company. At Dyersburg the philosophy is: It comes
before anything else. This relates directly to modifying job procedures, upgrading to safe and
modern equipment, and to educate all plant personnel on a continuing basis. Ahead Of The
GameIn the development area of Dyersburg, task teams work diligently to meet the needs of the
ever-changing market and to efficiently manage multiple product lines. These teams focus on
Activewear/Sportswear and technical applications.Dyersburgs management emphasized that its status
as a leader and innovator in the industry begins here. Besides specially designated R and D labs,
any of the knitting machines on the production floor are available for new product
development.Dyersburgs philosophy is that putting some of the best technicians into R and D paves
the way for the present leading market position and is certainly the foundation for the companys
future long-term success.
For more information on Dyersburg Fabrics, call them at (901) 285-2323, or fax at (901)
286-3474.

June 1999