Buhler Quality Yarns Corp., Jefferson, Ga., was incorporated on October 26, 1995, and from the very
beginning its purpose was to produce top-quality combed cotton and ring-spun yarns, by using only
high-grade Supima (American grown PIMA) cotton.Buhler also markets and sells the yarns produced by
its Swiss parent company, Hermann Buhler AG, in the NAFTA region. Fine Count LeaderHermann
Buhler is a family-owned company that has been in business for more than 180 years and is renown
for producing the highest quality 100-percent combed ring-spun yarns. The organization has been a
worldwide leader in fine-count cotton yarns for many years. Hermann Buhler has also developed new
yarns with Modal and Micro-Modal, a high-quality viscose fiber produced by Lenzing AG, Austria.
Furthermore, the company has developed a strong line with Supima Organic, a naturally grown
cotton with a slight green color. Hermann Buhler can produce yarns as fine as Ne 120, But Ne 100 is
todays standard, said Jean Claude Allemann, chief operating officer of Buhler Quality Yarns.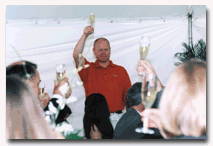 Buhler CEO Werner Bieri leads 140 guests in a toast celebrating the completion of Phase II at
the company's May 8th open house (Photo courtesy of Bert Brantley, MainStreet Newspapers
Inc.). Plant HistoryBuhlers Jefferson, Ga., facility occupies 150,000 square yards.We started
soft, conservative, with used machinery and half the capacity to test the market, said Allemann,
who along with CEO Werner Bieri, worked with Buhler before coming to the United States in February
1996 to start the operation at its present location.In July 1996, the first machines were started
up on 50 percent of the plants total planned floor space. Buhler decided to install brand new
equipment in yarn preparation. Rieter (Rieter Corp., Spartanburg, S.C.) received the lions share in
this area and supplied opening, carding, combing preparation and combing machinery. Spinning room
machinery was purchased used from plants in Europe. The company installed still-modern Zinser
equipment to fill the void in roving and ring spinning. These machines were linked to Schlafhorst
278 winders. By the end of 1996, the first phase of the mill start-up was completed. Phase II
ExpansionOn November 17, 1998, Buhler decided to start Phase II and fill the rest of the building
with brand new machinery. The total investment plan calls for an additional $20 million, which
would more than double the original production capacity and create 30 additional jobs.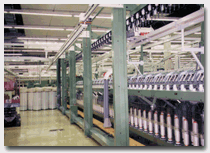 Rieter F 30 roving frames spinning for final yarn preparationThe expansion includes
additional C51 cards from Rieter; an automatic lap transport system, SERVOlap, which will supply
new Rieter model E 70 R combers; new Rieter D30 drawframes; and new Rieter F30 roving frames.
Rieter G33 ring-spinning frames with 1,200 spindles each complete the equipment lineup. The Rieter
machines are linked with new Schlafhorst winders. To enhance the efficiency even further, a
new roving bobbin transport system from Electro-Jet (PSP Marketing, Charlotte, N.C.) was installed.
This automation covers the entire operation and includes both Phase I and Phase II. A total of
eight roving frames will be linked to the older Zinser and new Rieter ring-spinning machines. The
Electro-Jet system integrates the return of the clean and empty bobbins to its main station.The way
the machinery was selected, there will be no difference in quality between Phase I and Phase II of
the project, according to Allemann.Some machinery installed in Phase I was upgraded to meet this
criteria. Since the main focus of Buhler is definitely quality, the company will install the latest
version of Rieters SPIDERWeb mill monitoring system, which will provide plant personnel with
instant access to production and quality data. Every manufacturing process of the ring-spinning
plant is integrated. Also, Rieters C-control will be installed to control all the cards. The
C-control will be integrated in the SPIDERweb system. The company will also use a new and specific
ring-data system that will monitor each ring spindle.Buhler also installed another interesting
monitoring product on its winders. This quality monitoring system is the latest development, based
on Windows NT, from Loepfe, and will be officially introduced at ITMA 99 in Paris.The brand new
spindle identification system from Schlafhorst will allow plant personnel to supervise the Yarn
Master foreign fiber detector from Loepfe and the quality parameters on each ringspun bobbin at
each winder position. If a bobbin has too many faults or defects, it will be extracted.This system
is truly capable to identify online which ring-spinning bobbin is bad, and where it came from,
Allemann said. Improved InfrastructureBuhler invested heavily in a new infrastructure for the
plant. Luwa-Bahnson, Winston-Salem, N.C., was selected as the supplier for all air and waste
handling issues. This new equipment includes chillers, a cooling tower, a filtration system, a
press and a high-vacuum system for transportation of the fibers from different
locations.Luwa-Bahnson took care of this project as a general contractor, Allemann said.Luwa will
install the latest version of the Digicontrol system, which will be officially presented to the
public at ITMA 99. The system will enable the company to check every temperature and humidity level
in the mill and will feature the latest energy management features. Digicontrol will be connected
via modem to Luwa-Bahnson in Winston-Salem to support the mill on-line. Safety SystemsBuhler
put also a strong emphasis on fire protection. Besides the standard sprinkler system additional
fire protection detectors were installed by Certified Fire Protection, Duluth, Ga. This included
equipping all cards with automatic CO2 discharge and power discharging in each filterhouse of the
air conditioning system. Infrared detection is installed in many locations, including air ducts and
piping systems, air return tunnels and fiber transport systems. Rieter provided the metal detection
system.The plant also has a new lighting system from Mor-Lite (PSP Marketing, Charlotte, N.C.).
Mor-Lites technology offers good illumination of the production facilities and saves the company a
significant amount of energy compared to conventional lighting systems. Buhler put a strong
emphasis selecting energy conserving equipment. New SullAir oil-free air compressors were another
enhancement to the mills infrastructure. Allemann said that it is extremely important to provide
quality air for the plants high-tech machinery, to enhance the advantage of a truly quality
oriented spinning mill. Minimizing WasteRecycling waste materials has been a high priority for
the plant. Examples include comber noils and card waste, which is efficiently captured, baled and
sold.The yarn is shipped on plastic pallets that are returned by customers to be re-used by Buhler,
eliminating cardboard boxes.Zellweger Uster (Charlotte N.C., Knoxville Tenn.) provided the majority
of the plants testing equipment. The companys laboratory installation includes Zellweger Usters
UT3, TensoJet, and Autosorter. All this equipment is connected to Zellwegers Expert system to allow
long-term analyzes of all data. Buhler Corp. will further install a new host control system based
on Windows NT that combines all information from Rieter, Loepfe, Electro-Jet, Luwa-Bahnson, and
Zellweger Uster. I can be in New York, or Switzerland, anywhere, and I can log-on with my laptop to
see how our combers are running, Allemann said.When Buhler began its operation in 1996 it started
out with 15,120 spindles. After the latest expansion the company will have 31,920 spindles
installed.There are 92 people in our budget to run this mill, including sales, marketing, and all
floor personnel, Allemann said.The company runs a continuous operation, 24 hours a day, seven days
a week. The average yarn count is approximately Ne 45, and fine yarn range from Ne 16 to Ne 80.
Yarns with Ne 60 are easy and the most efficient to produce, according to Allemann. Thread
manufacturing of plied yarns is done on request. All of Buhlers Supima cotton yarn is
electronically monitored to detect foreign fibers and particles.Buhlers goal is to be known as the
most reliable partner to customers and to produce the best possible yarns on best quality packages.
The companys ambition is to set global yarn quality, which means to provide best and most
consistent yarn qualities for applications around the world, and to offer excellent service to its
customers.Buhler stocks no yarns. Everything is sold, Allemann said. Actually, Buhler has to import
yarn from its parent company in Switzerland to fill customer orders in the United States, Canada
and Mexico.Typical customers are weavers, knitters and warp-knitters. At present, the yarns are
used in shirting, blouses, ladies and mens apparel fabrics, high-end T-shirts and polo shirts,
lingerie, underwear and nightwear, hosiery manufacturing, fiber and downproof fabric (bed ticking),
bed linen, other home furnishings, covering yarns and thread manufacturing. Buhlers customers
include Fieldcrest Cannon, Springs Industries, L.L. Bean, Parkdale Mills, Jockey International and
WestPoint Stevens (Ralph Lauren).Buhler's Supima Product LineBuhlers Supima product line is
manufactured from extra long staple Supima cotton (fiber length 1 7/16 inches (34 – 38 mm).
American grown Pima cotton is used exclusively. Using Buhlers Supima, customers can obtain a
license from the Supima Association to use the Supima label for their marketing purposes.Buhlers
cotton experts test each bale of Supima cotton in its growing region. The raw material concept,
aimed at quality, ensures that the cotton blend is consistent during an entire crop year. Buhler
customers benefit from the uniform dyeing characteristics which allows yarn production batches to
be mixed at the customers site. Buhlers state-of-the-art, on-line monitoring systems is set to
recognize defects and irregularities in any production process. The companys Supima product line is
designed to minimize production costs. This goal is obtained through the excellent performance of
Buhlers Supima yarn in subsequent processing. Mature fibers allow an intense and even dye
penetration, and a superior fabric and garment quality can be achieved.
For more information on Buhler Quality Yarns, call (706) 367-3900, or fax at (706)
367-9837.

June 1999