.
Ramtex, Inc., Ramseur, N.C., is a true pioneer in many ways. The fact is, contrary
to the common opinion that textile manufacturing can only be successful in low-labor-cost
countries, Ramtex proves just the opposite. In 1962, Mr. C.C. Lee, a pioneer in the Hong Kong
textile industry, merged with Jardine, MathesonandCo. Ltd., a major trading company in Hong Kong,
to form Textile Alliance Ltd. (TAL). This was, at that time, the largest vertically integrated
textile organization in Hong Kong. In 1983, TAL was restructured. South China Holdings Ltd. was
formed, made up of the garment division of TAL and investments in spinning, weaving, dyeing and
finishing in Thailand. Ramtex On Its OwnWhen the Asian owners acquired Ramtex from Burlington
Industries in 1988, plant management knew that great challenges would lay ahead. Today, Ramtex is a
fully self-contained U.S. operation. However, to gain success on U.S. soil the company needed a
great strategy, great people and great equipment to fight the odds. Ramtexs Sales Corporation was
founded in March 1988 to act as the exclusive sales agent for Ramtex Inc. Goals from the beginning
were quick response, high-quality products, competitive pricing and great flexibility.On the
product side Ramtex caters to the needs of the home furnishing, apparel and institutional markets.
The main customers are located in the United States, and a certain percentage of the production is
exported to NAFTA countries. Jim Patterson, Ramtexs executive vice president of Manufacturing
Operations, was with Burlington Industries when the transfer of the plant to the new owners
happened. Patterson said he remembers clearly that the new owners had one subject in mind to
modernize the plant with state-of-the-art machinery.He added that the Asian/foreign ownership has
helped to understand what it takes to compete globally. He feels that this has provided the company
with a lot of positive feed-back.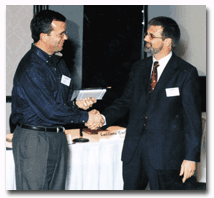 Jim Patterson (l), Ramtex executive vice president of Operations, accepts the Sulzer Textil
Innovation Award from Philip Mosimann, CEO Sulzer Textil AG.The companys mission statement has been
clearly directed towards quality and customer service. We want to provide the best quality
with customer-oriented spinning and weaving, and to compete with anybody in the world, Patterson
said. The sole focus of Ramtex is to satisfy the customer.The company has its production line set
up for high versatility, starting with the different fibers, and ending with many differently woven
styles. With the new machinery Ramtex has prepared itself to shift very quickly.We run whatever the
customer asks us to run to accommodate his needs, Patterson said. We challenge the tradition
running efficient as many styles as we need to. Since the Asian Flu hit, it was certainly much more
challenging, but our customer relationships, the commitment of our employees, as well as our
equipment has helped us to get through, and we really enjoyed some measures of success at the same
time. Sticking TogetherRamtex has built a very cohesive management team in which everybody
has the same vision. Everybody is supportive, Patterson said. We have a very solid, aggressive, and
calculated risk taking team of managers and employees.Ramtexs philosophy is that no one will be
criticized for mistakes, but individuals will be criticized for the reluctance not to try.
Paradigms are constantly challenged. Once again, Patterson said, the main focus of the teams is on
customer satisfaction and product quality. Ramtex has a stable workforce with little turnover. The
company employs approximately 720 people.Choosing and educating its personnel is an other important
part of Ramtexs success. Several years ago, Ramtex offered educational opportunities for its
personnel. At the same time the standards were raised for certain tasks and positions in the plant,
and a thorough training program was established with the community college. Modern
MonitoringMonitoring is now all over the plant, from fiber to fabric. Some of the monitoring
equipment is bi-directional, which means absolute quality parameters can be set and kept. Recently,
monitoring terminals were put on the production floor so that an employee can see how his/her
particular set of machines is running. Patterson said that this has had a positive effect on
efficiency, and employees make use of it quite frequently. We want the employees to see what is
going on, emphasized Patterson. Hungry For TechnologyRamtexs manufacturing facility covers
approximately one million square feet and is the companys only manufacturing plant in the United
States. A fascinating part is that it includes a wide variety of different yarn spinning and
weaving technologies that are usually not placed under the same roof of the typical textile
mill.This is certainly proof of an open-minded management style and, at the same time, it documents
the full support which the owners obviously provide to Ramtexs management.Since 1988, Ramtex has
created a modern yarn and weaving operation. With a present investment of approximately $130
million, Ramtex systematically modernized the entire facility.With new equipment, PC-based computer
systems were implemented to monitor and process all manufacturing and administrative data. All
systems and procedures have been upgraded to keep pace with the new manufacturing
equipment. Building RelationshipsRamtex has not only focused its attention on developing
successful partnerships with its customer, but applied this principle also in respect to its
vendors. It seems at Ramtex there is hunger for progress; every possible opportunity is immediately
explored.For example, when Sulzer Ruti (today Sulzer Textil) presented its new M8300 multi-phase
weaving machine at ITMA 95 in Milan, Italy, the Ramtex management team thought that this machine
had to be tried on the companys program.It wasnt Sulzer Ruti who wanted to place a machine or two
in this plant, it was Ramtex who had to convince Sulzer Ruti that they would like to have a small
M8300 pilot installation, making it the first company in the United Sates to have one.To tie all
the different machine manufacturers information systems together, Ramtex decided to use M and Ms
electronic controls (M and M Electric Service, Gastonia, N.C.) for some applications, and
concentrated other information systems onto a PC platform. Patterson said that the older Marzoli
cards and the recently purchased Truetschler cards use M and M electronics, and this is definitely
an advantage for the mill concerning the card room.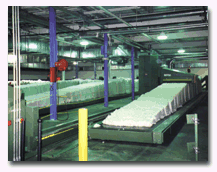 Truetzschler BDT020 incline bale openers deliver first-class fiber blending from the
beginning.In the preparation department, Ramtex has Truetzschler machinery from bale opening to
cards, as well as Marzoli cards that run 100-percent polyester slivers. Ramtex does drawframe
blending on Rieter RSB drawframes, and uses Rieter E70R combers with a new overhead lap transport
system. Combed yarn accounts for about one third of the production. The companys current
Zinser roving frames are on the list to be replaced at a later date. In spinning, the Murata 802H
air-jet spinning frames have done a great job for the company for 3 to 4 years, as well as the
Toyoda RX-100 ring-spinning machines that are linked to Murata winders. Air-jet yarn and ring-spun
yarn hold about an equal share inn the approximately 650,000 pounds of yarn produced per week. All
air-jet yarn is used internally.In the spinning plant, Ramtex typically runs 50/50 poly/cotton
blends and deviations from the standard 50/50 mix, but also 100-percent cotton, which includes Pima
cotton.Polyester content in Murata air-jet spun yarns is typically 57 percent, while in ring-spun
yarns it is mainly around 40 percent.Ramtex has one R20 open-end spinning frame from Rieter. The
company uses this yarn strictly for internal applications.When Ramtex had a difficult time to find
some special open-end yarn blends from vendors, they just bought one rotor-spinning machine to
fulfill its customers needs.Ramtex also has a great quality control lab, which is used for quality
control for purchased yarns, as well as off-line checking for additional production control. A
majority of the testing equipment was supplied by Zellweger Uster.In the warping department, the
two recently purchased Benninger warpers (Benninger Corp., Spartanburg, S.C.) with the integrated
Ben-Vac overhead vacuum system received high praises from Patterson, Walter Bosch, director of
Manufacturing, Spinning, and Charlie Morgan, director of Manufacturing, Weaving. Everyone agreed
that Benningers warper has contributed greatly to the mills efficiency by preparing quality warps
for all high-speed weaving machines. This is especially related to the reduced fiber fly, fiber
orientation, and dust contamination which the Ben-Vac system tackles.Ramtex is also pleased with
the technology and performance of its Ira Griffin slashers. The Ramtex team feels the slashers are
extremely important to size the warps on a high-quality level for the air-jet and multi-phase
weaving machines. Weaving Into The FutureAs already mentioned, Ramtexs philosophy is to stay
in a close and loyal relationship with its vendors, provided of course that product technology,
performance and service match the vision of the company.Patterson explained that product price is
important, but not essentially the final decision criteria for the purchase of the equipment. It is
the over-all package that must be attractive to Ramtex, the product performance, the after-sales
service and the commitment of a vendor to support the company in technological aspects. Since 1991,
Ramtex has been adding L5200 air-jet weaving machines on a continuous basis and just recently
completed an additional installation which brings the total of the L5200s to 260.The obviously
great relationship with Sulzer Textil led to the purchase of five M8300 multi-phase machines, The
last of which was installed in February. However, Ramtex is also happy with the 60 Picanol PAT-A
double-wide air-jet machines that are used for especially wide styles.At the present time the
M8300s run at 2,400 ppm, and the current styling is the same as on the L5200s. The fabric
appearance and physical characteristics do not show a noticeable difference in the greige fabric,
and after finishing, even the slightest differences are completely diminished. According to the
management, the M8300 requires quite a high level of warp preparation. Even though Ramtexs
management feels that the preparation department did a good job for the L5200 air-jets, the M8300
required an even higher level in warping and slashing.We are constantly taking our warping and
slashing employees into the weaveroom and show them what happens if, explained Patterson.The M8300,
being a double-to-triple fast weaving machine when compared to conventional machinery, also
requires a high level of discipline in reference to any machine stop. The faster a weaving machine
runs, the more critical the aspect of lost production. Time management becomes an extremely
important issue.Patterson admitted that the company is still in a learning curve, every machine
stop is analyzed, and warp and style change times are under critical observation. Also, with the
M8300 a mill has to invest in appropriate materials handling equipment. The cloth beam sits on top
of the machine, while an entire warp-beam module with drop-wires is prepared outside the machine
for quick exchange.At the present time Genkinger and Hubtex are developing new material handling
trucks for M8300 customers around the world. Advanced InfrastructureThe M8300 machines have
an integrated vacuum and air conditioning system that keeps the vital parts clean and removes
fiber-fly and dust directly from the machine. It is connected to the traditional Pneumafil A/C
system. In the rest of the plant, Ramtex has consistently upgraded the Pneumafil system and every
department is fully air conditioned. This sets the foundation for high efficiencies and comfortable
work environments.By purchasing the M8300s, Ramtex installed another new technology a VRS Video
Response System (Hartness Technologies, Greenville S.C.) that enables the company not only to do
the typical video-conferencing (VC) with the manufacturer, but also includes many additional
features. It has a wireless camera that allows support for on-line machine maintenance, machine
monitoring, remote machine diagnostics and camera macro features that can bring the eye of a remote
observer right on the spot of a troubled area, often better that the human eye might be able to see
details, in any aspect.Patterson mentioned that Sulzer Textil in Spartanburg, S.C., and the R and D
center in Switzerland have the same system. Therefore, on-line research, training and technical
support could be performed 24 hours a day. The on-line connect time is presently still a little too
costly to justify using the system on an extended daily basis, but as high-speed data transfer
connections will become less expensive, the VRS will be used more and more.Ramtex recently
installed the EVS electronic visual inspection system (Elbit Vision System, I-Tex, Greenville,
S.C.) which is a further leap into automated fabric inspection.The EVS system is integrated in a
sophisticated, massive fabric transport module that is manufactured by Intra (Spartanburg, S.C.).
EVS provides the advantage that any visual defect in the fabric will be digitally recorded. Should,
for example, at a later date a fabric dye defect arise, the company can then retrieve its visual
data and literally inspect the fabric once again.
For more information about Ramtex Inc., call (336) 824-5605, or fax at (336) 824-5689.

June 1999