In this final series of preview articles on ITMA 99, ATI takes a look what some of the key
machinery manufacturers in the weaving and weaving preparation areas will show in Paris.A-BAmsler
Tex AG, Switzerland, will exhibit in Hall 1, Stand A 51.Benninger Co. Ltd., Switzerland, Hall 4,
Stand B 41/49, Hall 3, Stand D 31/39, will show its newly developed Ben-Direct beaming machine with
new process monitoring system and infrared touch screen, its Ben-SizeTec system with Savesize
pre-wetting technique and its Ben-Indigo vatting system based on a continuously operated tubular
reactor. In addition, the company will show other machine models and finishing machinery.Bonas
Machine Co. Ltd., United Kingdom, Hall 4, Stand A 61, will show two new electronic Jacquard
machines, two new Jacquard controllers and a new networking system. In addition, the company will
present its PC Edit system, based on Windows technology, which allows the modification of existing
designs without using a CAD system. The PC Weave system works with the PC Edit to create jacquard
designs with the help of Windows software. The Electronic Jacquard Networking System enables
designs to be sent from a centrally located computer via a cable link to the jacquard.Briggs
Shaffner Co., Winston-Salem, N.C., Hall 7/3, Stand C 43, will show textile beams for fiber
production, fabric weaving and warp knitting.C-DComez S.p.A., Italy, will exhibit in Hall 8, Stand
B 32.Cortex SA, France, Hall 4, Stand A 02, will show the Speeder system used to increase weaving
efficiency, and the Loomprinter system used to print the warp while weaving.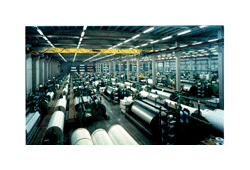 Dornier GmbH, Germany, Hall 4, Stand A 21, will introduce a new generation of high
performance machines with simplified handling and new selvedge formation devices. The air-jets and
rapier weaving machines will demonstrate the exceptional flexibility of both filling insertion
systems with shorter downtimes as major features, according to the company. This will be further
augmented with style changes on-the-fly for jacquard weaving. In addition, the company will have a
QSC demonstration for machines equipped with dobby shedding. The Dornier Global Communication
Network DoNet will be demonstrated for the first time during this exhibition. E-FEL&M
S.p.A., Italy, will exhibit in Hall 8, Stand A 09, will be showing for the first time on automatic
drawing-in machine, the VEGA KL.Enka Tecnica, Germany, will exhibit in Hall 2/2, Stand B 4.Fehrer
AG, Austria, Hall 1, Stand G 10, will be showing three needle loom and one DREF friction spinning
machine with 12 heads.Fimitextile S.p.A., Italy, Hall 8, Stand A 03, will introduce the RD3000, a
new rotary dobby for the field of shedding machines; the cam motion ME2001, for weaving; and the RD
802 an electronic rotary dobby.Fischer Poege, Germany, Hall 5, Stand A 40, will introduce the Model
PU-CC-DKU, which it says is the latest technical state-of-the-art development in warp tying
equipment.The unit has an extended repeat counter, electronic repeat pre-selection with
dialog-regulated operator guidance and software updates for customer specific applications. They
will also show a new technology for the knotting of glass filaments.G-ITalleres Galan SA, Spain,
will exhibit in Hall 1, Stand C 40.Genkinger GmbH, Germany Hall 4, Stand B 60, will show motorized
trucks for the transport of cloth beams. Also, other equipment for material handling in weaving and
knitting plants will be on display.Giorgio GiamminolaandCo. Srl, Italy, Hall 8, Stand A 21, will
show spare parts and accessories for several brands of weaving machines including Somet, Nuovo
Pignone, Nuova Vamatex, Saurer, Picanol and Sulzer.Griffin Sons Inc., Charlotte, N.C., Hall 5,
Stand F 22, will show the Griffin Vertical exit ILG-11 size box, designed for spun yarns in single
sheet and wetsplit configurations. Its patented horizontal three-roll configuration with vertical
nip maximizes the effects of wet-splitting and provides for much greater operator access, according
to the company. It will also show the Griffin 10-ton Pre-Wet box, designed to run dry as a draw
roll or by adding water to the box, run as a pre-wet box. The box design features clean lines with
no arms, levers or bearings exposed and all roll journals extend through the frame before being
supported. All mechanicals are located outside the integral frame and are covered with stainless
steel guards. The Griffin Remote winding Atlas Front End is precision designed to provide superior
winding consistency, increased operator access, more user friendly operation, and dependable
service. Instead of moving the head and tailstock assemblies in and out when doffing, the drive
spindle retracts into heads by means of air cylinders.Grob Horgen AG, Switzerland, Hall 8, Stand B
22, will show Grob healds with Optifil thread eyes measuring 5.5 x 1.2 mm and 6.5 x 1.8 mm. The
healds are now also available with thread eye of 8 x 2.5 mm. This new dimension enables
manufacturers of technical fabrics as well as wool and denim weavers to benefit from the Optifil
advantages, which include reduced friction between warp yarn and healds during shed change, optimal
guidance of the warp yarn and less size abrasion. A new Grob warp stop motion for terry towel
weaving machines will be introduced. It offers optimal functioning and easy handling. Furthermore,
Grob is exhibiting its well-proven heald frames, leno harness frames and the entire heald
assortment.Grob Ltd., Switzarland, Hall 4, Stand B 39, will show an electronic warp let-off,
electronic cloth take-up systems for broad and narrow fabrics, center winders for special fabrics,
big batching units, and tire cord weaving equipment.Grosse Webereimaschinen GmbH, Germany, Hall 4,
Stand C 60, will show four different electronic high speed Jacquard machines EJP for all types of
fabrics in modular quick-change-technology. The company will show an electronic Jacquard machine
over an air-jet loom. This is a special execution with 6,000 hooks. Home furnishing fabrics will be
woven with a speed of 800 – 900 rpm. An electronic Jacquard machine EJP-2000 over an air-jet loom
will be shown with 2,688 hooks, running at a speed of 900 rpm. Cover fabrics for the
automobile/upholstery areas will be woven. An electronic Jacquard machine EJP over a rapier loom
for terry fabric with 5,376 hooks will be shown. One end per hook, maximum flexibility will be
shown. Fancy terry towels will be woven.Hollingsworth On Wheels, Greenville, N..C., will exhibit in
Hall 2/1, Stand B 19.Hubtex Maschinenbau GmbH, Germany, will exhibit in Hall 5, Stand B 31, will
show equipment in the area of material handling. New equipment to be shown include the Model
KHHW-V, a 1500 – 2000kg motorized high lift truck for weaving and knitting mills. They will also
show several established models including the Electro-Fourway-Sideloader, a cloth roll doffer
truck, WHW-DL/600, an Electro-Walkie-Tractor, EGS-Z/4000 and a motorized cloth roll doffer truck,
WHW-EF/600. They will also be showing two motorized warp beam trucks, a heavy version, the
KHW-TSEF-II/3000, and the KHW-TSEF-II/2000 with electric harness carrying device, E-Gev/400.
(According to Hubtex they will also have equipment on display at the stands of Staubli Uniport,
Dornier and Trutzshler.)Hunziker Ltd., Switzerland, Hall 4, Stand B 37, will show ring temple
systems, temple rings made of brass and synthetic material, chain and sun temples, fabric cutting
devices, full-width temple, and maintenance and control equipment. All these items are applicable
to all kind of weaving machines., including air-jet, water-jet, rapier and projectile.ICBT, France,
will exhibit in Hall 1, Stand D 10.IRO AB, Sweden, Hall 5, Stand G 31, will be exhibiting a range
of feeders including the new Stell, Luna and Orion weft feeders for use with rapier and projectile
weaving machines.Nuova ISOTEX S.p.A., Italy, Hall 7/2, Stand D 22, will be exhibiting its new
K-2000 Coating Station. According to the company, the machine is suitable for knife over roll and
floating knife coatings.K-LKnotex Maschinenbau GmbH, Germany, will exhibit in Hall 5, Stand E 20
will be showing several new developments along with improvement to their current lines. The new
machines that they will be showing include several tying machines and a reed drawing in machine.
The warp tying XS/2 quattro machine is available with or without computer controls and has a
removable tying unit suitable for all four tying methods. The RSD/2 warp tying machine is developed
for single and double knots and has fully interchangeable tying units for all tying methods. For
all Knotex tying machines, a yarn break detector will be introduced that will stop the machine if
it finds a broken thread after a knotting cycle therefor ensuring the elimination of imperfect
knots. They will also be showing improvements to the AS/2 quattro warp tying machine and to the
semi-automatic Knotex PLUS drawing-in system. The special purpose warp tying machines are also
improved.L.G.L. Electronics S.p.A., Italy, Hall 5, Stand A 08, weft feeders for rapier and
projectile looms. The company will show the Sirio Micro a compact weft feeder with reduced
dimensions; the Sirio Progress, which the company says combines the most sophisticated technology
with maximum simplicity; the TWM tensioning modulator, which can be fitted on all LGL weft feeders,
the Sirio Light which combines high technology with competitive pricing for air-jet and water-jet
looms; and the Sirio Jet pre-measuring winder.Loepfe Brothers Ltd., Switzerland, Hall 4, Stand 20a,
will be showing the WeftMaster, a comprehensive selection to monitor all weft insertions systems.
The company says this will optimize the fabric quality, minimize machine stops and improve
productivity.M-PMageba Textilmaschinen GmbHandCo., Germany, Hall 5, Stand B 21, will show its
complete line of advanced systems for the narrow fabric industry. The company will demonstrate its
direct warping machine, Type BSC 24-G with creel and yarn tension equalizing device for elastic
yarns; its narrow fabric needle loom, Type SFX-12/35JJ to produce weft patterned Jacquard tapes
using four weft colors; and its narrow fabric needle loom, Type SFX-6/45-J for weaving warp
patterned Jacquard tapes of one weft color. Addition machinery will also be on display.Karl Mayer
Textilmaschinenfabrik GmbH, Germany, will exhibit in Hall 5, Stand C 08 and Hall 7/2, Stand A 50.
They will be showing several new machines for the weaving industry. Among these will be a sectional
warper for short warps which is their latest version featuring 12 packages, a automatic sectional
warper that accommodates full length warps and a slashing machine which allows for yarn to be
pre-wet before the sizing process. They will also show their latest innovations in direct beaming
and draw-off creels.McCoy-Ellison Inc., Monroe, N.C., Hall 5, Stand F 34, will show the new Model
350 Warper for 50-inch diameter section beams. Structural framework of the machine is designed to
easily load and doff the heaviest beam weights and various beam widths. Spindles are equipped with
air brakes on both sides of the machine for the quickest response time. The spindles can also be
fitted to accept European gear head or standard section beams. A 40 horsepower Eurotherm AC
Inventer Drive and Motor controlled by an Allen Bradley PLC programmable controller provide smooth
and consistent operation at the highest speeds available. The hydraulic system is leak proof using
flat face O-ring fittings throughout the entire machine giving positive, fluid movement on all
moving components.A variety of press rolls are available including fiberglass, phenolic, rubber, or
felt. An operator lift assist can be provided with the warper for operator safety and proper
machine functions. The Model 350 Warper can be equipped with a variety of options to run with
V-creels, in-line creels, gate creel, and truck creels. Also shown will be the new PowerDisk
tension system for spun, filament, and industrial yarns. The tension system is easy to thread and
applies smooth, accurate zoned tension from front to back of the creel on all yarn styles. Tension
range is available from 5 – 150 grams depending on the application. An optional operator interface
is available to program and store tension profiles. The system requires minimal maintenance and can
be easily retrofitted to existing creel structures, according to the company. All types of
McCoy-Ellison tension systems will be demonstrated and will be equipped with the latest in motion
sensor stopmotions, the BTSR SMART 2000tw motion sensor system. This stopmotion is
microprocessor-based and has a data collection system which used self learn software to learn which
ends are running when each style is started. The controller displays the number of ends running at
all times, the location of yarn breaks, and the number of occurrences at each location. The system
activates at very slow speeds and response is quicker than comparable systems, according to the
company.Menegatto Srl, Italy, will exhibit in Hall 2/1, Stand C39.Mesdan S.p.A., Italy, will
exhibit in Hall 2/1, Stand A 15, and Hall 7/3, Stand K 03.Jakob Muller AG, Italy, will exhibit in
Hall 5, Stand C 19, and be showing a variety of narrow fabric applications and machines. In the
narrow fabric weaving and make-up area Muller will be showing the NF53, NG28, NG28G and several
others. These will show a wide range of machines, from 10 shafts to a 768 function Jacquard
machine. The narrow fabric knitting area will be showing the RD3 8/630, RD3 8/420, 2KLS SN and the
MDR42. There will also be a complete range of machines offering pattern variety and optimized
design. The label weaving area will have Mugrip, Mujet, and Multicolor MVC, all having a complete
range of machinery. They will also show Mucad, Mucard and Mucam machines for pattern creation and
programming systems.NedGraphics BV, the Netherlands, Hall 7/3, Stand M 22, will exhibit new CAD /
CAM systems for carpet, woven fabrics and printed fabrics. They will also show products for the
networking of looms, Internet / Intranet communications software and product data management
software.OF.FRI, Italy, Hall 3, Stand G 17, will be exhibiting rolling machines with platforms.
They will be showing a fabric artificial vision system with cameras, a fabric cutting optimization
system and a fully automatic fabric rolling and cutting machine with sorting platforms.O.M.M.,
Italy, (O.M.M. Di Mascheroni Riccardo) will exhibit in Hall 2/1, Stand C 42.OMM Montenero O.M.T.P.
SNC, Italy, will exhibit in Hall 2/1, Stand B 36.Panter Srl, Italy, will exhibit in Hall 4, Stand C
40.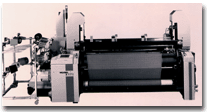 Picanol, Belgium, Hall 4, Stand A 19, will show rapier and air-jet weaving machines. An
additional two Picanol air-jet machines will be on display on the booth of Jacquard machine
manufacturers. Gunne was purchased last year by Picanol, and will demonstrate its machines in Hall
5, Stand E40. Air-jet machines, split between Delta-X and Omni's will demonstrate Picanols presence
at ITMA. These air-jets have proven in the last years as the best performing weaving looms on the
market. It is a first appearance of Delta-X at an ITMA. Machines will mainly demonstrate the
outstanding versatility of air-jets at high productivity speeds. Gamma rapier machines will be
shown for the first time at ITMA. Since its launch the Gamma has known a spectacular success in
many field of applications, according to the company. This rapier machine will demonstrate the
outstanding operational features such as versatility and ease of operation. Picanol's unique Quick
Style Change System, introduced in 1992, just a while after the ITMA 91, will be shown. Picanol
says that its QSC system is by far the most successful with over 3,500 references operating all
kinds of weaving mills and in any region of the world.Ditta Michele Ratti S.p.A., Italy, will
exhibit in Hall 2/1 Stand B 22.S-TSAMT-D, France, Hall 4, Stand A 01, will show spare parts for all
SACM spinning machines, spare parts for all SACN weaving machines, adaptable spare parts for
spinning and weaving machines.Schonherr, Germany, Hall 5, Stand E 22, will show a double gripper
weaving machine, the Alpha 300.Somet, Italy, Hall 4, Stand A 41, will exhibit 12 looms on its more
than 1,000 square meter stand. These include seven SuperExcel rapier machines and five Clipper
air-jets. At ITMA, Somet will officially present its new SuperExcel HTP machine, a renewed version
of its Thema SuperExcel. The company plans to focus attention on new electronic devices that
increase the versatility of the machine. The Clipper machines will be shown weaving a variety of
fabrics from heavy denim to eight-color Jacquard upholstery fabric. Staubli AG, Switzerland, Hall
4, Stand A 03, will show its new automatic drawing-in machine, the Delta 110. The company notes
that just 1 1/2 years have passed since the market launch of the Delta 100 at OTEMAS 97 in Japan.
While the Delta 100 was designed for use in the filament area, The Delta 110 is designed for
universal use. Target customers for the Delta 110 are small to medium mills with exacting demands
on draw-in quality, flexibility and automation. The company will also show the Delta 200. The
Topmatic and Topmatic PC knotting machines will be shown for warp tying applications. In addition,
Staubli will show its Uni-Link system with system components Warplink for warp yarn welding.
Finally, the company will demonstrate its complete line of Jacquard and dobby heads for shedding
control.Sucker-Muller-Hacoba (Moenus Group), Germany, will exhibit in Hall 3, Stand B 42 and D
41.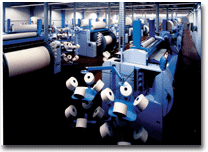 Sulzer Textil Ltd., Switzerland, Hall 4, Stand B 03, will show a complete range of weaving
machines under the motto, Your Success Is Our Future. The company will show 14 rapier weaving
machines; five projectile weaving machines; customized weaving technology including a model P7M
projectile weaving machine for ultra heavy fabrics; two M8300 multi-phase weaving machines; two
air-jet weaving machines and a computer-based training system.The company also notes that the M8300
is a mature weaving machine and has been approved for global sales. (For a more detailed
description of Sulzers ITMA exhibit please see a separate report also in this issue.)Suzuki Warper
Ltd., Japan, Hall 5, Stand G 20, will show warp sampling machine, the NAS-140 Super Hi S type, and
an automatic sectional warper, SW-K7A type.Teijin Seiki Co. Ltd., Japan, will exhibit in Hall 1,
Stand C 20.Toyoda Automatic Loom Works Ltd., Japan, Hall 4, Stand B 40, is planning to exhibit
air-jet and water-jet weaving machines designed to fulfill the expanding market requirements. These
machines have numerous improvements incorporated in pursuit of the widest versatility in the
weaving application in spun and filament fabrics, the best quality and the highest productivity,
flexible and quick market response, according to the company. Toyoda has also announced plans to
expand its textile machinery manufacturing business with the take-over of the water-jet loom
business from Nissan Texsys Co., Ltd. This move follows Toyodas recent entrance into the sizing,
the automatic drawing-in and rapier loom businesses.Tsudakoma, Japan, Hall 4, Stand A 51 will have
seven air-jet and two water-jet weaving machines on display. For air-jet weaving company will show
a 390-cm machine weaving sheeting; a 240-cm machine weaving a spandex fabric; a 210-cm machine
weaving suiting; a 340-cm machine equipped with a Jacquard head weaving terry; a 190-cm machine
weaving denim; a 190-cm machine weaving a Pongee fabric, a 340-cm machine weaving voile curtain
fabric and a 190-cm machine weaving shirting. For water-jet weaving, the company will show a 190-cm
machine weaving polyester taffeta and a 210-cm machine weaving a womens pants fabric. The company
is proud to announce that it has sold 155,000 jet weaving machines and celebrates its 90th year in
business.V-ZNuova Vamatex S.p.A., Italy, Hall 4, Stand B 21 will be showing a total of 12 machines
in their stand. This will include eight LEONARDO, two 9000Plus.es, one P1001es and one SP1151es. Of
these machines, they will have a variety styles showing. (According to Nuova Vamatex, they will be
showing Jacquard machines at the Grosse, Bonas, Staubli and Kawaba stands.) Van de Wiele,
Michel, Belgium, Hall 5, Stand E 04, will present at the ITMA in Paris with carpet weaving machines
including a carpet weaving machine equipped with the Piletronic PTX, suitable for eight to 10 color
frames, in a fine reed density. This machine will show the additional design possibilities of a
triple rapier system. A high speed double rapier carpet weaving machine will demonstrate high
production capacity. The company plans to show a carpet weaving machine for the first time on ITMA
that demonstrates new weave structures and design possibilities, both for wall to wall carpets as
for area rugs.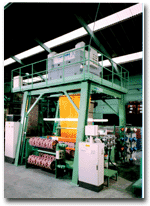 N.V. Michel Van de Wiele Velvet Master VMm32-175 In the velvet weaving machine area,
the company will show increased productivity on a Velvet Master equipped with the Dobbytronic, a
rotary dobby programmed by microprocessor. Design versatility will be demonstrated on the Velvet
Master Jacquard execution equipped with a Piletronic and producing Italian Velvet (patent applied),
a combination of flatwoven Jacquard fabric and pile fabric. Van de Wiele will also show a network
permitting central programming and production follow-up of the carpet weaving machines.Vaupel
Textilmaschinen GmbHandCo. KG, Germany, will exhibit in Hall 5, Stand D 40.West Point Foundry and
Machine Co., West Point, Ga., Hall 4, Stand B 57, will introduce and display more new products in
Paris than at any show in company history. Products for pre-wet sizing, filament sizing, and large
diameter beam winding capabilities will be emphasized.The Model 863-PW Size Box with accompanying
Size Concentration Control System will display West Points breakthrough in precise pre-wet sizing.
The unique concentration control system is applicable to both pre-wet and non pre-wet.The company
will also introduce its new Model 998 Filament Size Box. Features of the box include a new loading
system for a larger immersion roll, independent adjustment, load-cell monitoring on each end of the
loaded rolls, Teflon-coated vat, and both LPI and PSI loading display.Sulzer Textil At ITMA '99At
ITMA 99, Sulzer Textil will be demonstrating a global approach to weaving technology and
partnership. At a pre-ITMA conference in Spartanburg, S.C., the company emphasized strong customer
partnerships and its desire to fulfill all needs with a wide range of machinery technologies.Sulzer
Textil has manufacturing facilities and manufacturing partnerships in Switzerland, Italy and
Japan.The companys main ambition is to offer added values to its customers under the motto Your
success is our future. M8300 Multi-Phase WeavingEven though introduced at ITMA 95 in Milan, Italy,
the M8300 multi-phase weaving machine will be still one of the most head-turning attractions at
this ITMA.The latest generation of the M8300 multi-phase weaving machine is a weaving system for
the most efficient production of top-quality standard fabrics, according to the company. The
machine has evolved from a concept prototype to a production-ready, ultra-high speed, weaving
machine. Its present performance is several times higher than other conventional high-speed weaving
machines. (Approximately 3 to 5 times higher when compared to different conventional high-speed
systems.)This multi-phase weaving system allows weft insertion at a constant, uniform yarn velocity
of just 22 meters per second, and reduces substantially yarn stress in weft and warp
direction.Sulzer Textil states that following advantages set the M8300 apart from single-phase
high-speed weaving machines: high output of simple standard fabrics, lower specific energy
consumption, small floor space, lower building costs due to low vibration, lower air-conditioning
cost (integrated dust extraction), easier operation, substantially lower noise level and lower
personnel requirement.At the ITMA preview Sulzer Textil officials pointed out that to receive all
benefits of this machine mills have to go through a fine tuning and learning process to become
fully compatible with the preparation requirements of the multiphase technology. Special focus
points are material handling, preparation of warps and weft yarn packages, as well as, very time
conscious management of down time related to machine stops and warp changes.Two model M8300
multi-phase weaving machines will be exhibited. Compared to ITMA 95, Sulzer Textil will be showing
an expanded range of applications (different styles) at an even higher output. The M8300 has been
officially approved for global sales.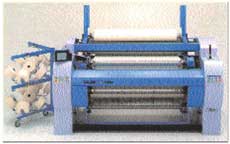 Sulzer Textil M8300 multi-phase weaving machine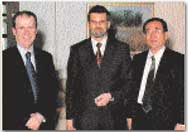 Luciano Corain, Sulzer Tessile Srl (l); Philip Mosimann, Sulzer Textil AG (center); and
Tatsuo Matsuura, Toyoda Automatic Loom Works Rapier Weaving MachinesAt the ITMA Sulzer Textil
will be exhibiting 14 rapier weaving machines. This combines the rapier weaving systems from the
Sulzer-Ruti and the newly integrated Nuovo Pignone company, which are now all under the corporate
umbrella of Sulzer Textil.For ITMA the company is showing following developments: improved ease of
operation, enhanced performance, expanded range of application, new weaving widths, optimization of
weft insertion to improve fabric quality, new fast acting electronics and features, new intelligent
feeders, new waste savers and new shedding mechanisms.The companys philosophy is that with rapier
weaving machines there is no limit to the weavers creativity. Designed for all-round applications,
Sulzer Textil rapiers can handle all classic yarns like wool, cotton and man-made fibers, as well
as delicate filament yarns, finest silk threads, fancy yarns and even metallic yarns. Sulzer Textil
will show the model series G6200 and FAST S / T rapier weaving machines which will demonstrate a
wide array of applications up to 3.40 meter (about 134 inches) weaving width. The machines will
feature Quick Style Change options for minimum down-time and maximum flexibility.Sulzer Textil is
also planning to demonstrate a new concept high-speed rapier weaving machine with insertion rates
up to 700 picks per minute.Projectile WeavingSulzer Textil stated that projectile weaving machines
still satisfy all requirements of the textile industry in regards to quality and performance. These
machines represent cost-effectiveness and versatility. With projectile weft insertion, practically
all yarns can be woven, such as cotton, wool, silk, single- and multi-filament yarns, tapes, as
well as jute and linen, and metallic yarns. Sulzer Textil will have five projectile weaving
machines of the model series P7100/7200 and custom application at the ITMA.The newest developments
which will be shown are: improved performance, substantial modification of the weft acceleration to
reduce yarn stress, smaller/lighter projectiles, new electronics, further improvement on ease of
operation, lower vibration through counter balancing the sley, new reinforced Jacquard drive and a
new cam box.Besides standard applications for projectile machines Sulzer Textil plans to show a
prototype which will demonstrate the future potential of projectile weaving.Sulzer Textils CWT
division (Customized Weaving Technology) will show a model P7M projectile weaving machine for
ultra-heavy fabrics. Depending on customer requirements this special machine can be built with a
working width of up to 12 meters (about 36 feet). These are special-purpose machines for the
production of filtering fabrics for paper machines, agricultural and geotextiles, conveyor belts,
canvas, wire fabrics, and other unconventional woven applications.Air-Jet WeavingThe air-jet
weaving machines are the result of a collaboration between Sulzer Textil and Toyoda Automatic Loom
Works Ltd., of Kariya, Japan. Special versions are available for spun, filament and woollen yarns,
and for fine glass fiber fabric.Sulzer Textil will be exhibiting two air-jet weaving machines of
the L5200 series.The main improvements are: additional weaving widths and weft colors, performance
enhancements through a new shed geometry, improved of shedding mechanisms, capable of using up to
1,100 mm (43 inch) warp beams, reduced floor space, improved operator-friendliness, expanded range
of applications in denim, terry and glass fiber weavingTerry Weaving MachineThe air-jet weaving
machines can be equipped with shedding systems to match all application, from simple tappet motions
to Jacquard heads. Pre-programmed styles ensure quick start-ups after style changes. The machines
have, besides many other advanced features, a sophisticated weft insertion control system, a touch
screen terminal, electronically controlled central lubrication, and an automatic filling repair
system for weft breaks. The latest generation of the electronic take-up and let-off motions ensure
defect-free start ups. At the pre-ITMA seminar Sulzer Textils air-jet machine demonstrated very low
vibrations at high weft insertion rates.Computer TrainingSulzer Textil has invested substantial
effort, time and money to develop computer based training (CBT) programs for its weaving
machines.At ITMA, CBT will be demonstrated for projectile, air-jet and multi-phase weaving
machines, and will be available in seven languages. Next year, this system will also be introduced
for rapier weaving machines. Support ServicesBesides the wide variety of weaving machines the
company offers an extensive program of customer support services. These include: project
consulting, production economics, weaving trials, Sulzer factory training, or customer in-house
training and parts Electronic Direct Ordering System (EDOS). by Eric Vonwiller, Technical Editor.
May 1999