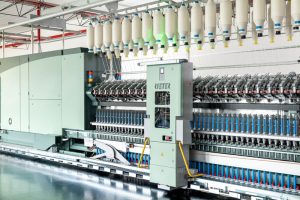 TW Special Report
Two factors that have a particularly strong impact on spinning mill output are efficiency and productivity. The fully automated piecing robot ROBOspin for ring and compact-spinning machines offers a rise in productivity as well as consistent quality during piecing. Spinning mills around the world reduce their manpower requirements by 50 percent and the robot reliably reaches up to 95 percent piecing efficiency.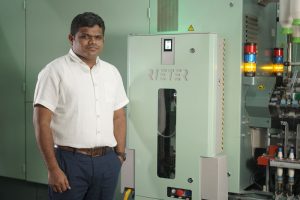 ROBOspin is the industry's first fully automated piecing robot (See Figure 1). On the market since 2019, it is proving its worth in a variety of countries such as the US, Turkey, and India. The piecing robot is a response to the constant challenges of spinning mills to find dedicated operating personnel to quickly repair ends down and thus ensure full machine performance. Working in the ring spinning department is challenging due to long walking distances, high noise levels, and the dusty environment. "ROBOspin is the perfect automation solution to efficiently schedule the workforce. Our technical team is very happy with the operation and maintenance of the ROBOspin," said Durai Arun, managing director of Poomex Clothing Co. in Tiruppur, India.
ROBOspin was installed at Poomex Clothing in 2020 on an existing ring spinning machine G 32 (See Figure 2). "The compact design and consistency in piecing quality are the standout features of this robot," Arun added.
The Key To High Efficiency
ROBOspin shortens the time for ends down detection and its repair as much as possible – this is the key to higher machine efficiency. The downtime of spinning positions while waiting for operating personnel to repair the ends down is reduced significantly. This increases production and minimizes raw material waste. With ROBOspin, the spindle speed can thus be increased, which boosts productivity while the efficiency remains the same.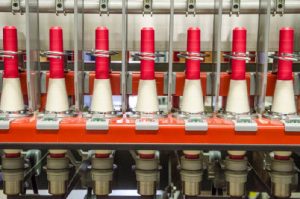 Fully Automated From A To Z
The fully automated piecing robot ROBOspin repairs ends down that occur during production or doffing. This improves the efficiency of the spinning positions and ensures higher productivity and a reduction in labor costs.
Each machine has one robot per machine side. Ends down are detected by the individual spindle monitoring system ISM (See Figure 3). ROBOspin travels directly to the affected spinning position and repairs the ends down in the shortest possible time. The entire piecing cycle runs fully automatically, from searching for the yarn end on the cop to threading into the traveler and placing the yarn behind the delivery roller.
Consistent performance with minimal personnel deployment
ROBOspin runs with consistently high performance in various spinning mills around the world. ROBOspin piecing efficiency reaches up to 95 percent, and the robot reduces personnel requirements in the ring spinning department by 50 percent. With Rieter's unique yarn end search device, piecing is carried out without affecting the yarn layers on the cop. In addition, the automated piecing process ensures consistent piecer quality. The operator does not have to handle the cop during the cycle, and top-quality yarn is produced.
October 12, 2023