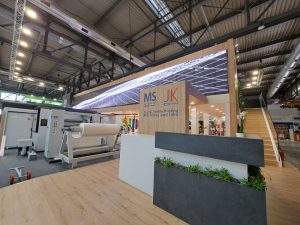 Sustainable innovation is the light that has been guiding MS Printing Solutions/JK Group in its projects over the past few years.
TW Special Report
MS Printing Solutions/JK Group looks to permeate its new products with sustainable innovations and this drive is evident in the technologies showed at ITMA 2023.
Among these products are the Pigment Solution — a whole system made up of four different components that together have proven to be innovative and useful.
Digistar Pigment 4K is JK GROUP's newest and patent pending digital pigment ink. It's a new formula that doesn't require pre- and post-treatment, and is a most environmentally friendly and sustainable ink option thanks to a 50-percent reduction of the printing process steps. If compared to the same process made with reactive inks, it offers an environmental impact reduced, on average, by 95 percent — decreased water and energy consumption, but also a reduction in chemical waste. As per hydric resources impact, for example, the reduction time is 85 percent; while when talking about CO2 emission it reaches a reduction of about 15 times. These data come from a study developed by Next Technology Tecnotessile Società Nazionale di Ricerca.
Digistar Pigment 4K boasts a significant general fastness: as per EN ISO 20315-M — alkaline and acid perspiration — EN ISO 20615–M — domestic washing at 40 degrees — all tests showed 5 as results. As per EN ISO 2035 — dry and wet rubbing — the result is a solid 4. These results are achieved all while maintaining a high printability. Textile Standard certifications are an extremely concrete and tangible guarantee of the sustainable and ecological production of our latest ink formula and its low hazardous profile: Digistar Pigment 4K is certified Ecopassport (certificate nr 22EP00004) and ZDHC L3.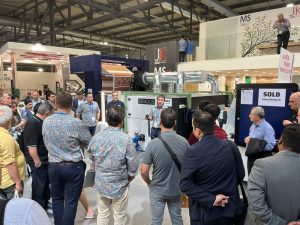 A completely re-engineered version of MS PRINTING SOLUTIONS popular digital scanning printing machine — the JP7 — is another fundamental component of the solution. MS Printing has revolutionized the JP7, both in electronics and mechanics, so that in combination with the new water-based pigment ink it can provide the best achievable results. The aim was process sustainability, which is why a new zero-wastewater recirculation system was implemented that will internally recycle a previously filtered fixed amount of water in a dedicated tank. Pigment printing already is a waterless process, the only water involved is the one used to clean the belt, and with this system the amount of cleaning water is reduced by up to 95 percent.
In addition, the JP7 machine has undergone other improvements. It has been implemented with the Ink Recirculation and the Nozzle Shooting System, both developed to work on IDLE and while printing. These upgrades help customers to keep the ink always running, therefore avoiding any sedimentation to keep the nozzles active. As a result, there is an improved printing quality, as well as an enhanced and sustainably maintained printhead lifetime. Such enhancements also increase the life of filters and degassers and allow to always offer the same printing quality and nozzles performances within different printing hobs or printing designs, since the Nozzle Shooting System keeps the nozzles active even when they are not used for a specific job or during the night.
Easy-Clean, the new carriage plate, is a further upgrade. It improves the cleaning process of the carriage plate, significantly avoiding damage, while also empowering printing quality and efficiency.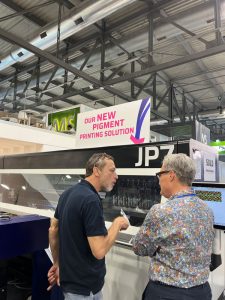 Last but not least, MS Printing also has changed the appearance of the JP7. The new casing is lighter, with an interior space layout made even more rational than before, thus assuring the best positioning of the new electronic and mechanical components.
Gradus is a new dryer designed ad-hoc to work in-line with the system. It enables drying and curing in one step, which is a unique offering that allows a white fabric roll to be inserted in the machine that exits the machine ready to be sold. A faster time to market, an almost print on-demand flow and reduced waste are all collateral effects of this solution. Moreover, Gradus has minimal energy consumption, the best achievable emission control and a modularity that contributes to CO2 emissions reduction in the whole process.
A new software that integrates both calibration and printing software has been designed to make the entire calibration procedure easy and intuitive. The full integration of such software into the system offers half the calibration time, increases the color yield up to 20 percent and increases the brightness of the colors by up to 15 percent.
With MS Printing Solutions/JK Group's innovative solution, pigment printing becomes an easy and waterless process, which enables customers to carry out a sustainable production chain ensuring a cost-effective printing output. One of the main advantages of the full inline printing solution is that it makes pigment printing almost on demand since no time goes by in between the order and the production. Customers have the chance to exploit this inline system, whose pieces have been developed to work together to maximize their output, with a significant reduction in costs, emissions, energy and water consumption. When MS Printing started the project, it had sustainability in mind — overproduction in the fashion industry results in billions of garments unsold and wasted every year.
Nowadays, it is fundamental to be careful towards the environmental impact as companies. This is a merit the European Parliament values a lot and it is evident in the commitment to policies and laws created to prevent, and ultimately to end, the waste of fast fashion. The EU's microplastics restrictions, the EU waste framework directive, the EU Ecodesign Directive, the EU Ecolabel for textile and clothing products, and the directive on Green Claims are all clear signals of a requirement becoming more and more urgent day after day. The lack of clarity in the definition of what is greenwashing may mislead the members of the textile value chain who would like to rely on truly sustainable partners but have troubles in identifying them. On the other side, customers who are becoming more and more aware of the importance of supporting companies that work transparently, by working for them, buying from them and investing in them, find themselves with little to no guidance at all, in a mare magnum which is extremely difficult to navigate. There are some key factors to recognize the authenticity of a company's commitment to sustainability, such as consistency, tradition, actions and certifications. The next steps companies have to take in this industry are clear — no more time to walk, let's run to a greener future.
| | |
| --- | --- |
| TECHINCAL IMPROVEMENTS | MAIN BENEFITS |
| PATENT PENDING INK | It is an innovative formula and a new, original, concrete and useful solution for the market |
| NO PRE – POST | Environmentally friendly solution that doesn't require any waste in terms of water, energy and reduces CO2 emissions |
| HIGH GENERAL FASTNESS | It reduces the waste of fabrics, since you can use a piece of clothing again and again |
| NOZZLE SHOOTING SYSTEM | It keeps the ink always running, therefore avoiding any sedimentation, while keeping the nozzles active, as a result there is an improved printing quality and a reduced use if chemicals |
| PHS PROTECTION SYSTEM | It enables to fully exploit printheads' lifetime, thus reducing printheads use |
| EASY CLEAN CARRIAGE | It improves the cleaning process of the carriage plate, significantly avoiding damage, while also empowering printing quality and efficiency |
| NEW CASING | It is lighter, with an interior space layout made even more rational than before, thus assuring the best positioning of the new electronic and mechanical components, thus improving the components' lifespan |
October 2023